Survivor of 1941 attack on Pearl Harbor dies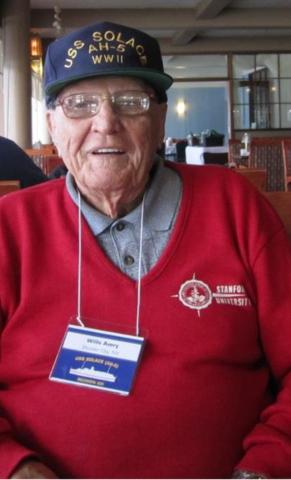 Willis Avery was worlds away from home on the morning of Dec. 7, 1941.
The 19-year-old from Vestal, N.Y., was on the Hawaiian island of Oahu, home of Pearl Harbor, about as far away as he could be from the dairy farm he was raised on.
Although his war years were decades in the past by the time the Boulder City resident died May 13, his daughter Sandra Sanders said he always carried Pearl Harbor with him.
"Certainly what he saw that morning bothered him for the rest of his life," she said. "I would say it was very sad for him to talk about, but I think he was glad he was there so he was able to assist those people. He was honored to have done that, and he did it with compassion."
Sanders said her father was getting ready to go off-duty from the hospital ship, the USS Solace, when the Japanese unleashed a relentless aerial attack on the vulnerable American naval base.
"They called in for all single men to report to the deck. My dad jumped into the very first crew boat and went directly to the USS Arizona," she said. "He was on the Arizona for what he recalled to be about two hours helping those who were wounded and helped them abandon the ship."
By the end of the two-hour attack, nearly 1,200 sailors and Marines lost their lives on the Arizona.
Avery's family said he was reluctant to speak of those tragic events from that fateful morning. In total, more than 2,400 people lost their lives at Pearl Harbor.
"My father-in-law didn't talk about Pearl Harbor until much later in his life," daughter-in-law Maureen Avery aid. "They were pulling people off the Arizona and, at one point, they ordered him off the ship while they were still trying to save people. He would've gone down with the Arizona. It's horrifying, and it's very difficult to imagine."
After Pearl Harbor, Sanders said her father served on a hospital ship in New Zealand, where he met his future wife of 54 years, Miriam.
"She was a war bride," she said with a light chuckle.
Sanders said her father loved to play both the clarinet and the saxophone. He played in a band while in the Navy, one of the qualities that garnered her mother's attention, she said.
After the war, Avery spent 33 years working as a trouble shooter for IBM Corp.
Clark County Museum Director Mark Hall-Patton said Pearl Harbor survivors serve as living connections between past and future generations.
"The fact that we still have them living among us today is wonderful," he said. "In the wake of 9/11 and having been attacked again, I think the case that somebody was there makes the past real in a way that a book, movie or television show can't. That's what survivors bring, and they are important for us to be aware of and listen to."
In 1991, Avery was able to reconnect with an old shipmate from the Solace. Since then, survivors from the ship meet once a year for a reunion. Sanders said they'll meet again in September, where she'll represent and honor her late father.
"The Solace was just an amazing hospital ship with an amazing crew that my father was proud to have served with," she said.
Avery's family said one of his favorite places around Boulder City was the senior center. He could be found playing pool for hours at a time.
"He considered the senior center his second home," Maureen Avery said.
Sanders said her dad never looked at his Pearl Harbor service as a personal victory, even though he was awarded a naval commendation of service for his "distinguished devotion and extraordinary courage and disregard for his own safety."
"He never really thought of himself as a hero, he just did what he thought he had to do that morning," she said. "He loved life and he loved people. People loved my dad. He was quite an inspiration."
Avery is survived by a son, Bill Avery of Boulder City, and a daughter, Sanders of El Dorado Hills, Calif. He also leaves four grandsons and two great-granddaughters.
A memorial service will be held inside the chapel at the Southern Nevada Veterans Memorial Cemetery at 10:40 a.m. May 29.
Contact reporter Steven Slivka at sslivka@bouldercityreview.com or at 702-586-9401. Follow @StevenSlivka on Twitter.