Students witness impact of impaired driving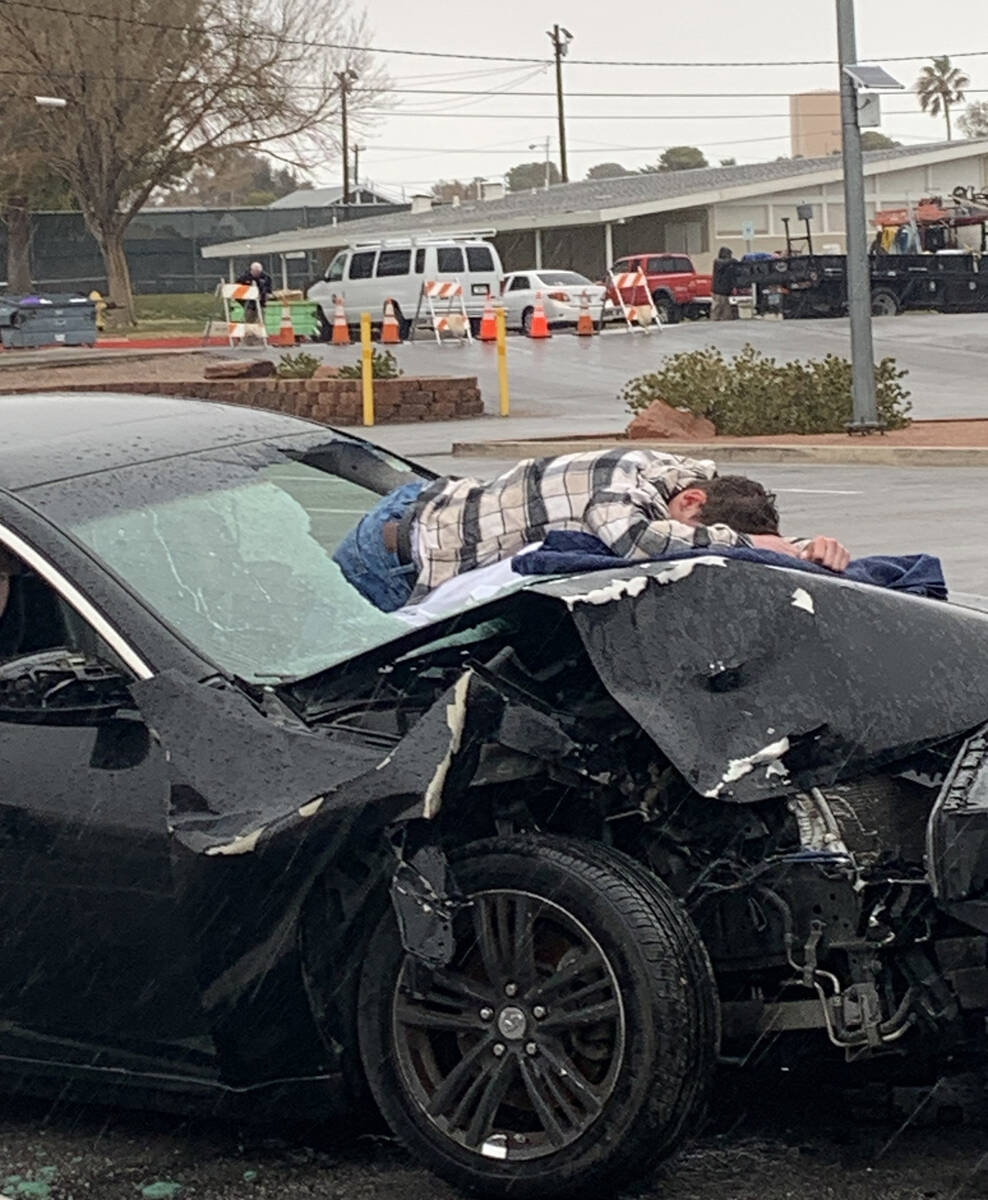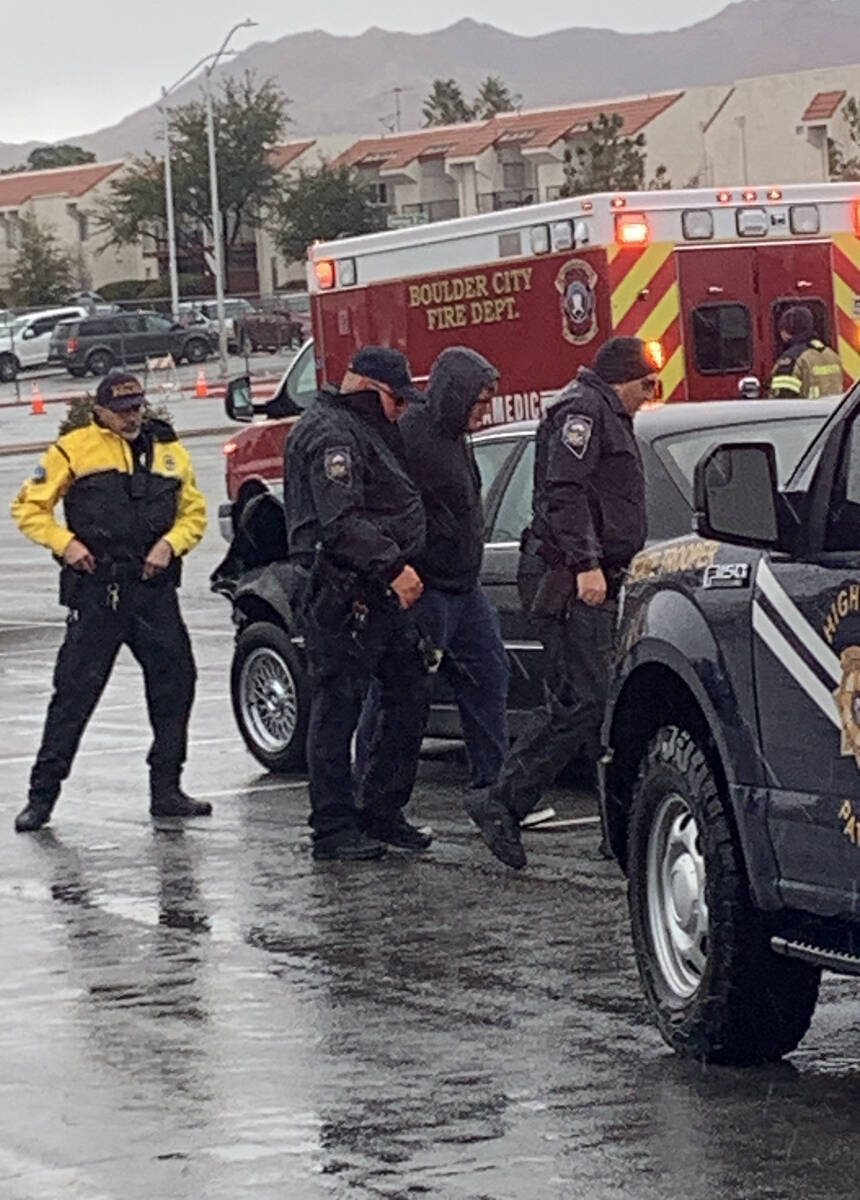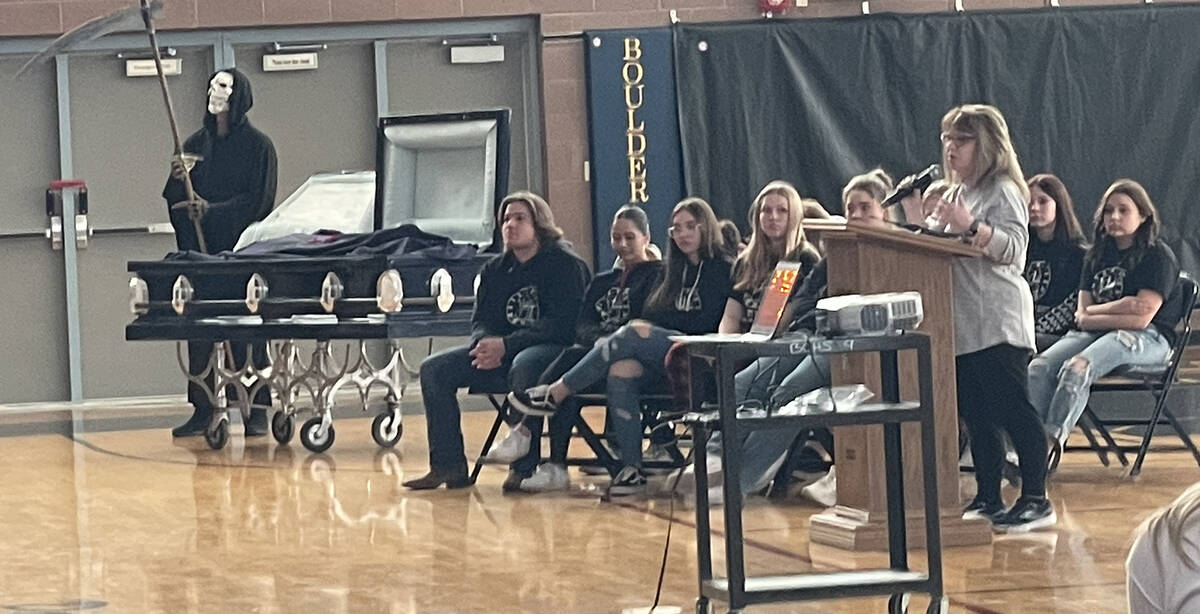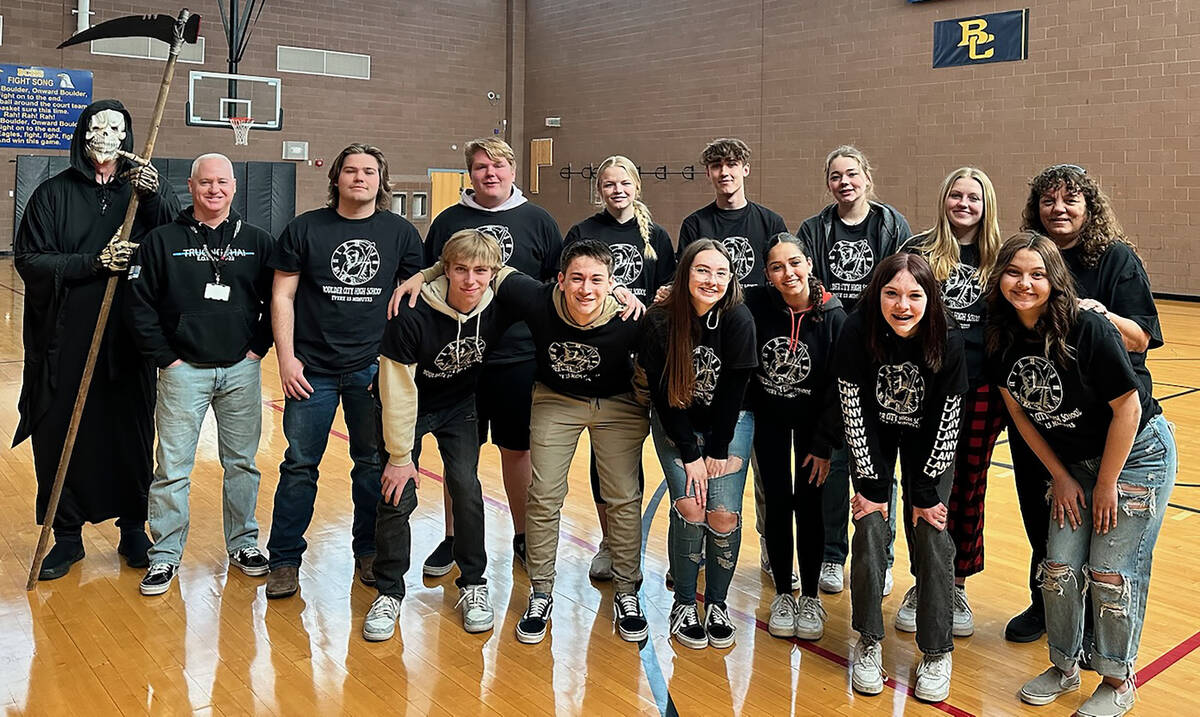 Shattered lives and limbs can be a consequence of choosing to drive impaired and the "Every 15 Minutes" program aims to bring that home to students and parents in high schools throughout the U.S. and Canada. The latest local iteration of the event took place Feb. 28 and March 1 at Boulder City High School.
"It is always an emotional experience," said Barbara Agostini, registrar at the school who served as the organizer and point person for this year's event. "When we do the final assembly, I always have to kind of hide in the corner because, no matter how many times I am involved in the event, I end up bawling my eyes out."
The name of the event stems from statistics from when the program was started that noted that someone died as the result of a drunk-driving accident every 15 minutes. This was the first time the school has hosted the event since 2019.
In a typical two-day event, things start when someone dressed as the Grim Reaper begins to arrive in classrooms and points out one person in each class. That student leaves with the Death figure and then returns in makeup so that they appear to have died and wearing a black Every 15 Minutes shirt. Student participants do not speak to or interact with other students for the remainder of the event.
Normally, students are confronted with a re-creation of a horrific fatal accident. They are able to see the dramatized consequences of impaired drivers as their fellow students lay on the ground or in wrecked cars seemingly lifeless and covered in blood. They see police appear to arrest a student playing the part of the impaired driver and put that student into a squad car and take them to jail.
But an unexpected winter storm that brought heavy rain and some snow and hail to the area meant foregoing that part of the program. Instead, organizers staged a crash and took video, which was shown to students at an assembly the following day.
Andrew Bennett, who heads up traffic safety efforts for Clark County, told those assembled about his experience with loss due to impaired driving. He shared the story of his sister, who, as a 19-year-old student at the University of Nevada, Las Vegas, was involved in a head-on crash with a drunk driver who got on a local freeway heading in the wrong direction. She did not survive the crash. Bennett also shared pictures of his sister's car after the crash with students.
As Bennett spoke, there appeared to be an observable lack of emotion among the students in the school's gym. But, the parents in attendance as well as administrators and some of the students who had participated as faux victims were visibly moved.
"The event really opened my eyes to how often people drive while impaired," said senior Ava Del Rio, 18, who portrayed one of the students killed in a crash this year.
"Not only that, but how the decision to drive while impaired can really impact the lives of people who don't drink at all," added senior Karsen Jolley, 17, who also portrayed a crash victim.
Twelve students participated this year, either as the driver or victims of the deadly crash.
While parents and participating students know in advance what will happen, no one else in the school does.
"We knew, but we could not tell anyone," Del Rio said.
Jolley noted that students she knows who are freshmen seemed particularly affected by the events.
Participation has historically been limited to sophomores and juniors, Agostini explained, saying the program was thought to have greater impact on these new and soon-to-be-drivers. "But this year, we opened it up to seniors because the pause in doing the event since 2019 meant that most of our students had never had this experience."
Another change in the past few events has been the participation of Boulder City Hospital.
"We used to have to go to UMC," Agostini explained, saying that was difficult just due to distance.
As part of the event students tour the hospital and jail to see how people are affected.
And lest anyone think this is an easy way for student volunteers to get out of other school work, real sacrifice is involved —which includes a total ban on communication with friends or family from the time they are called out by the Grim Reaper until the assembly that ends the event. And, yes, that means no phones. Which led to its own challenges.
"They gave us an alarm clock so we could get up in the morning," Jolley explained. "But none of us could figure out how to use it because we set alarms on our phones."
Contact reporter Bill Evans at wevans@bouldercityreview.com or at 702-586-9401.