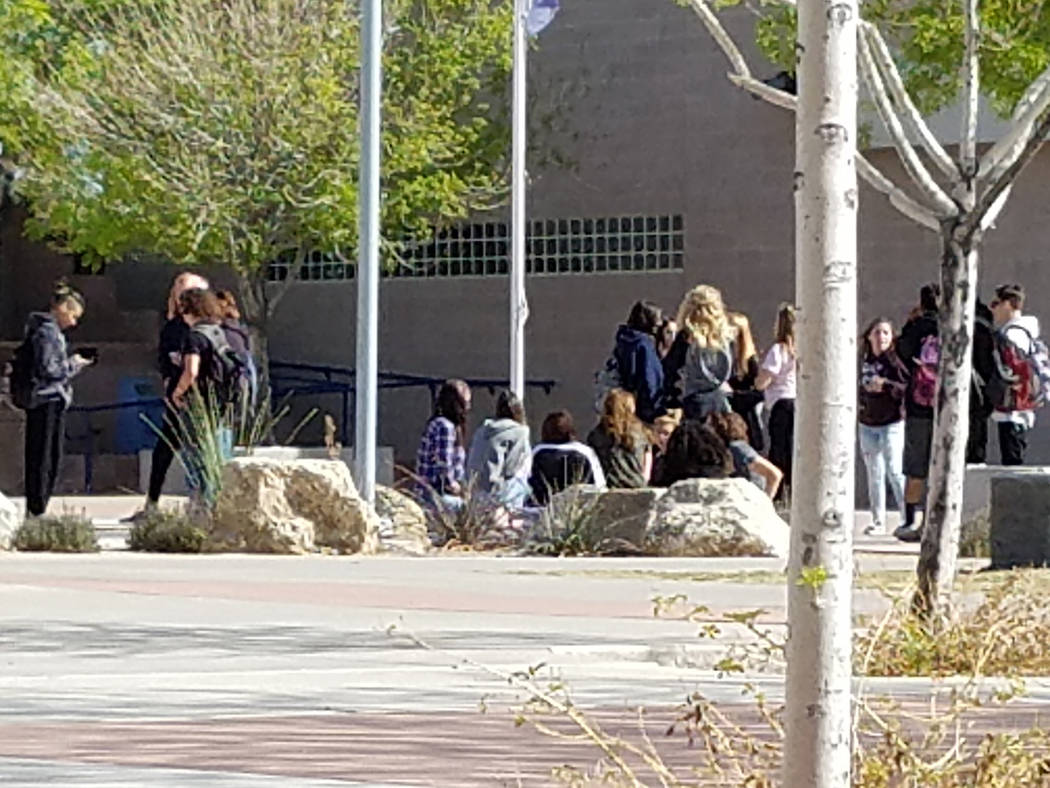 On Wednesday thousands of students throughout the country, including those in Boulder City and Las Vegas participated in the National School Walkout to protest gun violence.
The walkout took place at 10 a.m., and students were urged to leave class at their local time for 17 minutes, one minute for each victim in the Feb. 14 attack at Marjory Stoneman Douglas High School in Parkland, Florida.
Across Clark County, students at more than a dozen schools called for change through walkouts, sit-ins and other presentations. The events happened across the country one month after the Parkland shooting. Some lasted 17 minutes but others were extended with speakers and presentations.
Students in Boulder City reportedly participated and were seen assembling outside of their classrooms, but the school was not able to comment in time for deadline.
At the beginning of the week, the Clark County School District sent a message to parents stating that students could organize and participate in events on campus about school safety as long as they were approved by staff.
"As long as our administrators pre-approve those events and the students remain safe and on campus, this is an appropriate way for students to express themselves," it said in the notice.
The school district also encouraged students to express their opinions through petitions, social media and other appropriate methods. It also said that students who missed class for "non-approved activities will be marked tardy or unexcused."
Parents could excuse their kids for activities outside of school as they saw fit.
Clark County School District Police Capt. Ken Young said "nothing major" occurred at any of the protests.
Las Vegas Review-Journal reporters: Meghin Delaney, Amelia Pak-Harvey, and Natalie Bruzda contributed to this story.
Contact reporter Celia Shortt Goodyear at cgoodyear@bouldercityreview.com or at 702-586-9401. Follow her on Twitter @csgoodyear.