Stubbs awarded $10,000 from ex-police chief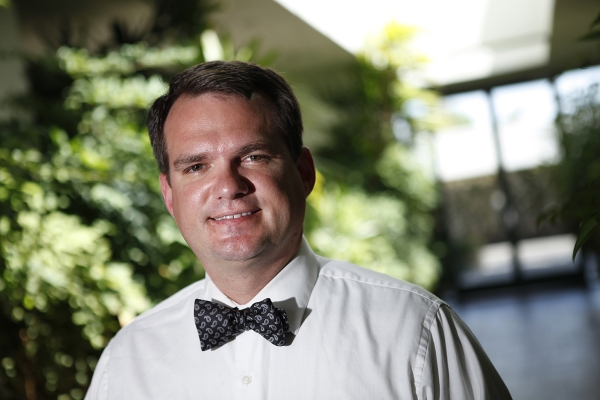 A District Court judge has ordered former Boulder City Police Chief Tom Finn to pay $10,000 to attorney Stephen Stubbs after a series of lawsuits that spanned nearly three years.
The contention between the two started after Stubbs filed a lawsuit against Finn and other members of the Boulder City Police Department for violating the Mongols Motorcycle Club's constitutional rights during the group's national convention in Boulder City in June 2012.
Stubbs represented the Mongols during the case.
The Mongols complaint stated that Finn, Boulder City Police Detective Scott Pastore, Sgt. Vince Albowicz and Las Vegas police officers "conspired and devised a plan to harass members of the Mongols Motorcycle Club and their guests to the point that they would never want to come back to Boulder City or Southern Nevada ever again."
Stubbs then had Finn investigated for ordering the deletion of police department emails related to the June 2012 meeting in Boulder City, according to District Court records.
In October 2013, the Nevada Supreme Court dismissed a lawsuit filed by Finn against Stubbs in November 2012.
The case landed in front of the Supreme Court after Finn appealed District Judge Jessie Walsh's January 2013 ruling that he violated Stubbs' free speech rights by suing him.
Walsh granted Stubbs' motion claiming the suit was a strategic lawsuit against public participation, or SLAPP, filed by Finn to intimidate Stubbs and prevent him from making criminal allegations against Finn.
Finn was ordered to pay Stubbs' attorneys' fees of $15,760.
On July 30, District Judge Barbara Johnston ordered Finn to pay Stubbs $10,000 in punitive damages after ruling that Finn had abused his power as police chief by obtaining Stubbs' personal computer, as well as providing information about him to the State Bar of Nevada, Internal Revenue Service and FBI.
"Clearly the obtaining of Mr. Stubbs' private office computer and the subversive and probably criminal use of the data on the computer is another fact tending to show that Thomas Finn was acting with outrageous conduct, with a conscious disregard of the impact on Stubbs, alleging unfounded money laundering and fraudulent conduct against Stubbs with malice aforethought," Johnston wrote.
Finn said he will appeal the decision to the state Supreme Court.
"I am very confident that we are going to prevail in the Supreme Court," he said.
Stubbs said he also plans to seek an additional $47,000 in attorney fees.
"I'm extremely happy that the judge saw through Finn's lies and recognized that he is a bully," he said. "The ruling makes it clear that Thomas Finn abused his authority as a Boulder City police chief, and maliciously filed a lawsuit against me as retaliation for my asking for an investigation."
Finn was fired as Boulder City Police chief in April 2013.Stubbs to plead guilty in court fraud case
Stubbs, who was charged in February in connection with submitting fraudulent guilty plea agreements involving clients in two separate courts, has agreed to plead guilty in the case.
Chief Deputy District attorney J. P. Raman said Stubbs agreed to plead guilty to a gross misdemeanor charge of unlawful notarization of signature by a notary public.
Felony charges of offering a false instrument for filing or record will be dismissed, according to both Raman and defense lawyer Damien Sheets.
Stubbs, who is a notary, admits to misunderstanding the law regarding the notarization of signatures, Sheets said.
"Now he realizes that he made a mistake in the way that he applied the notarization," Sheets said. "There was no intent to mislead anybody."
Las Vegas Justice of the Peace Conrad Hafen scheduled Stubbs to enter his guilty plea in District Court on Monday.
The charges stem from two drunken driving cases — one in Justice Court and one in Las Vegas Municipal Court — against one of Stubbs' clients, James L. Green. Green told the Las Vegas Review-Journal last year that the signature on the plea agreement filed in Justice Court was not his.
Stubbs was alleged to have unlawfully notarized the two "written entry of plea" agreements with Green's signature before filing them in 2013. Written guilty pleas are usually filed in court if the defendant lives out-of-state or is too ill to make a court appearance.
The investigation became public after detectives with the Metropolitan Police Department's Criminal Intelligence Section raided Stubbs' Las Vegas and Boulder City offices on Oct. 29.
Contact reporter Steven Slivka at sslivka@bouldercityreview.com or 702-586-9401. Follow him on Twitter @StevenSlivka. Contact Jeff German at jgerman@reviewjournal.com or 702-380-8135. Follow @JGermanRJ on Twitter.