StoryBooks request for narrower streets OK'd
November 15, 2017 - 4:24 pm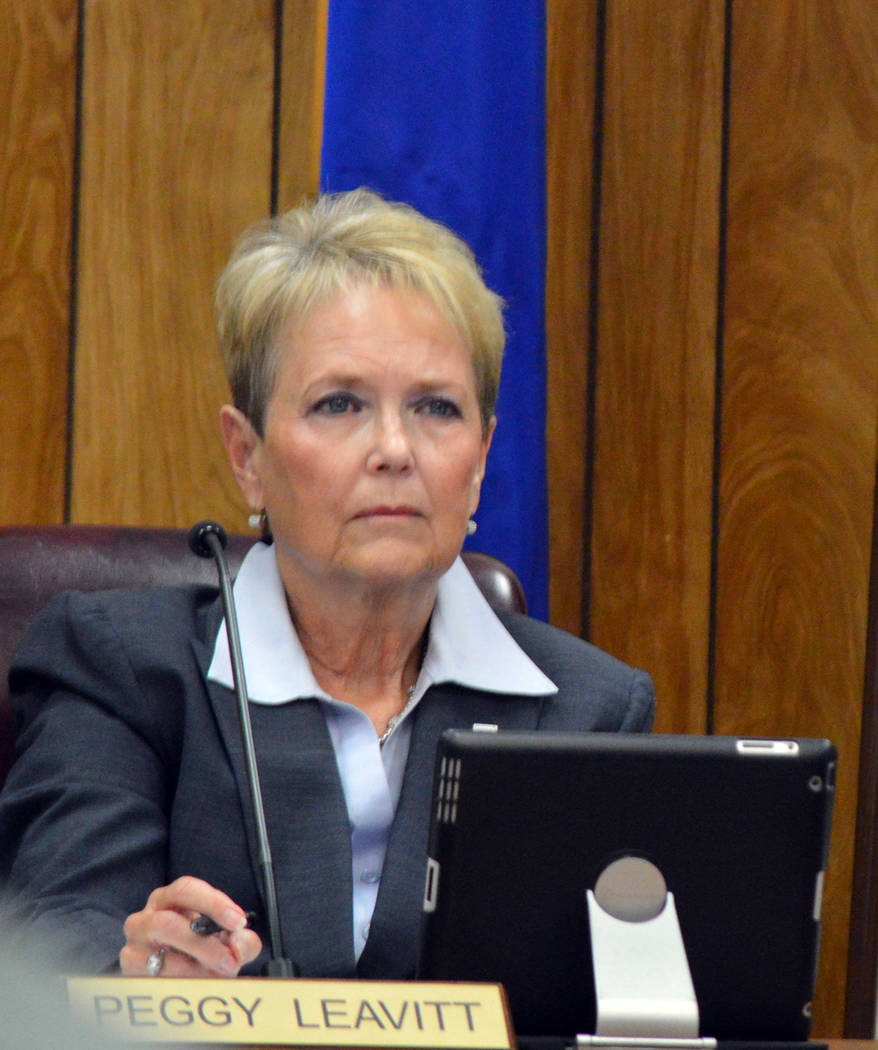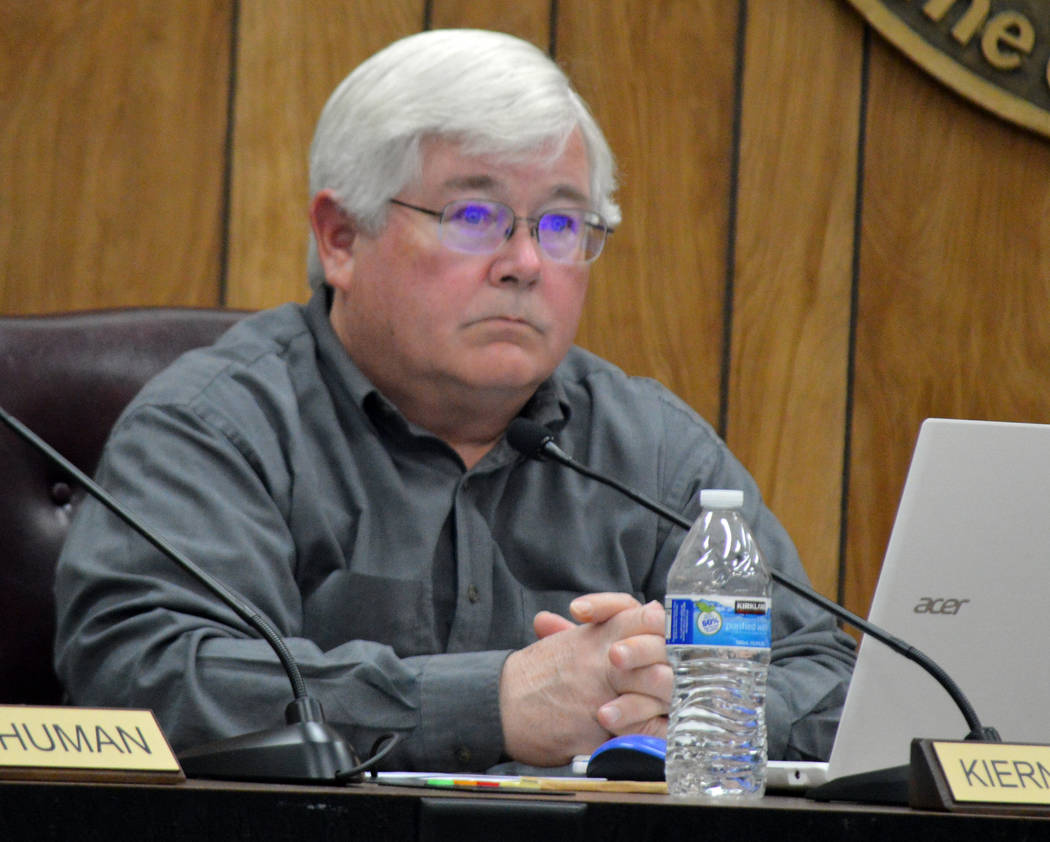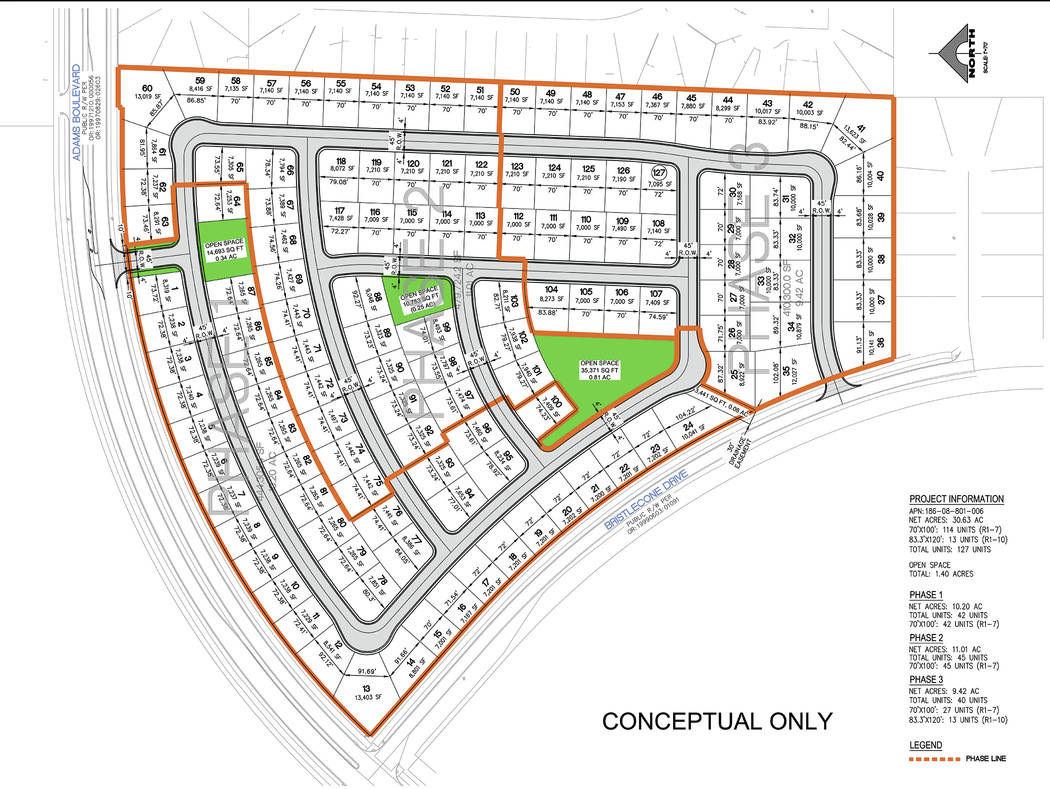 More homes are closer to being built in Boulder City despite criticism about a proposed subdivision from residents.
StoryBook Homes of Las Vegas is under contract with the city to purchase approximately 30 acres of land at the corner of Bristlecone Drive and Adams Boulevard.
At Tuesday's City Council meeting, it presented a revised 127-home subdivision plan and requested City Council approve an exception to allow 45-foot-wide private streets with sidewalks on both sides in the subdivision. The streets would be maintained by a homeowners association and be narrower than the standard 51-foot-side public streets that would be maintained by the city.
Michael Gray, vice president of land acquisition and forward planning for StoryBook, said that since the company started this process in February he has seen and respects how much the residents and city staff care about the community.
"We feel that we would be a positive addition to that," he said, noting the company builds smaller subdivisions, not ones with more than a 1,000 homes in them.
During the discussion for the request, Councilman Kiernan McManus asked Gray why a narrower street width was necessary for the project.
Gray replied that it was not imperative, but rather it made the cost "more possible" and that StoryBook tended to like narrow streets and HOAs.
'Not what we do'
"I know the argument is why can't you have 51 feet and have an HOA?" he said. "We wouldn't do it … if it did work out financially, it's a different product. It's not what we do."
Yet McManus asked him an additional why they needed reduced-width streets.
"It comes down to lots," Gray said. "We get more lots. It makes the project more viable."
Originally, StoryBook was planning for 129 homes with 37-foot-wide private streets and a 4-foot sidewalk on one side of the road. When the builder first presented the exception request for private streets at the Oct. 10 council meeting, council members chose not act on it after hearing comments from the community about having sidewalks on both sides of the street. They asked StoryBook to take the recommendations it had heard into consideration and come before them again.
StoryBook also held a neighborhood meeting Oct. 26 to hear ideas and feedback from the residents, which Gray said he felt it was positive with some good discussion and positive support for the project.
Safety concerns
During the public comment portions of Tuesday's meeting, several residents expressed concern about setting a precedent, the purpose of the project, and the safety of and need for narrower streets.
"Are people honestly saying they're not going to build houses if they don't have a reasonable-sized street?" asked resident Barbara Polk. "I'm not against growth. Nobody here is against growth. What we're against is bending the rules, bending over backwards to help somebody who doesn't need help."
Resident Kristel Hoskins said that she lives on a private street and thinks that "they suck." She also said that she was concerned about the safety of them and that it was harder for kids to play on them.
"We're not anti-growth," she said. "We want responsible growth."
Resident Chris Ward said that she was struck by the "profit motive."
"It's a select location," she said. "They were given a sweet deal. … It's a good situation, but I think they are asking for more than they should."
Several residents expressed theirdesire for the project to go through.
Need more homes
Jody Jeppsen said that she had talked to some larger developers and they said that they don't come to Boulder City because of the 30-home per year construction limit.
"I'm glad that we have a builder who will come to Boulder City and abide by the rules. … We need more homes," she said. "I'm glad they are coming here."
Jeppsen also said that she liked how StoryBook had adjusted the subdivision to have sidewalks on both sides of the street.
Kathy Emling said that she has lived in Boulder City since the 1970s and was excited about this project.
"We've got to have new people inour town, and that's the only thing that will make us healthy," she said.
Council approved the exception request with some conditions in a vote of 4-1. McManus voted against it.
The conditions require StoryBook to have 45-foot-wide streets from one sidewalk to the other, 4-foot-wide sidewalks on both sides of the street, and a prohibition of anything but temporary recreational vehicle and boat parking on the street.
In the final public comment, resident Judy Dechaine said that she was worried that with this approval it would open the door for more exceptions when several pieces of city land are sold.
Contact reporter Celia Shortt Goodyear at cgoodyear@bouldercityreview.com or at 702-586-9401. Follow her on Twitter @csgoodyear.