Stevens undaunted by challenge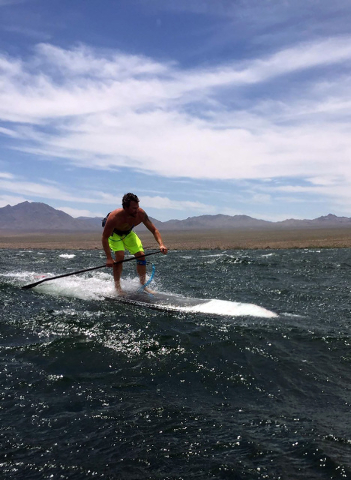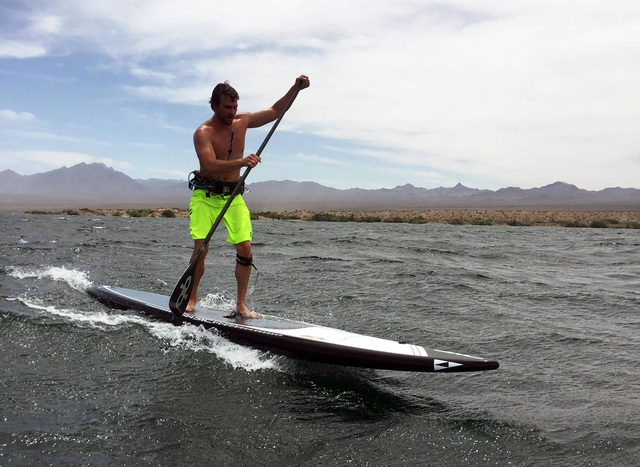 Boulder City resident Terry Stevens has been a community fixture and on July 31 he will attempt to leave his mark in Hawaii when he races in the Molokai 2 Oahu World Paddleboard Championships.
Stevens was born at Boulder City Hospital and has lived in the city his whole life. His family secured its roots when his parents, Al and Carri Stevens, opened the World Famous Coffee Cup at its original location in 1994. Since then, the Boulder City original has become a community favorite and garnered national notice when featured on The Food Network's "Diners, Drive-ins and Dives."
Growing up Stevens helped his parents around the restaurant and since 2010, when his parents stepped away from the business, he and his sister Lindsay have taken over as management and have been running the show.
"Boulder City is such a tight-knit community, it's great to be able to be a part of it, and to get to know so many people so well," Stevens said. "But it is a lot of responsibility; it's a challenge trying to balance work and family life."
Stevens certainly hasn't made things any easier on himself in preparing for the paddleboard championships.
"I try and get out on the water at least a few times a week, in the early morning or in the evening," Stevens said. "I spend at least 10-15 hours each week on the board, in addition to yoga and the gym."
Stevens has loved water sports since his dad taught him to surf. He picked up paddleboarding seven years ago with his father when the two were water skiing in Parker, Arizona. While they were out on the water the Stevens came across an old acquaintance from Boulder City, Martie Wells, who was recently inducted into the U.S. Water Ski Hall of Fame. He introduced them to the sport.
Stevens and his father fell in love with paddleboard racing and within a year the two were entering races together, their first of which was the 10.9 mile "Another Dam Race" in Parker.
"I just love the sport, it's an amazing way to, not just stay in shape, but to push yourself to the limits," Stevens said. "And you can do it without a lot of people, unlike most water sports. When water skiing you need someone to spot and someone to drive the boat as well as a bunch of equipment. With this all you need is a board and a paddle and you're good to go."
Though his father no longer competes, Stevens is preparing for the most daunting challenge of his racing career as he looks to take on the 32-mile channel crossing of the M2O world championships.
"It's a pretty intense race; the way that a lot of currents come together, they call it the channel of bones," Stevens said. "It's really all about the wind; it can give you a boost and make it relaxing or it can push against you and slow you down quite a bit."
Two years ago Stevens met Braly Joy at the Coffee Cup and the two became fast friends, bonding over their shared interest in paddleboard racing.
Joy has raced in the M2O championships the last three years and has been invited back after reaching the podium. Earlier in the spring Joy encouraged Stevens to join him and the two are set to compete as a tandem.
Joy also recently opened up Southern Nevada's first paddleboard shop, on Nevada Highway in Boulder City and, along with Stevens, has helped to foster a burgeoning community of enthusiasts around Lake Mead.
"Paddleboarding is just a great sport," Stevens said. "It's an awesome workout when you're looking for one, but when you're out there by yourself, it can be the most peaceful thing in the world, like meditation. It has something for everyone."
Contact reporter Hunter Terry at hterry@
bouldercityreview.com or call 702-586-6711. Follow him on Twitter @HunterBCReview