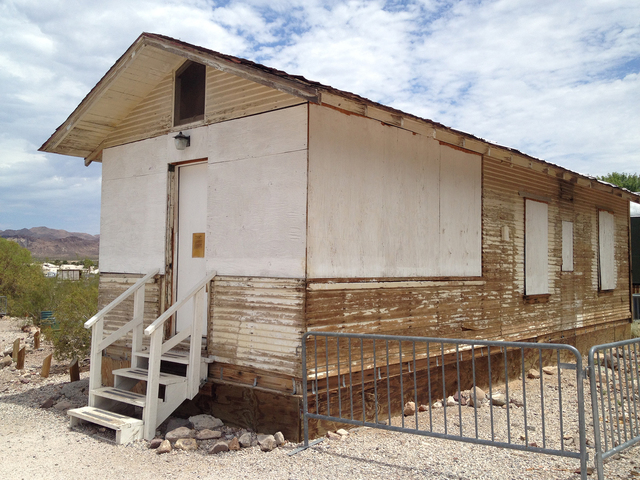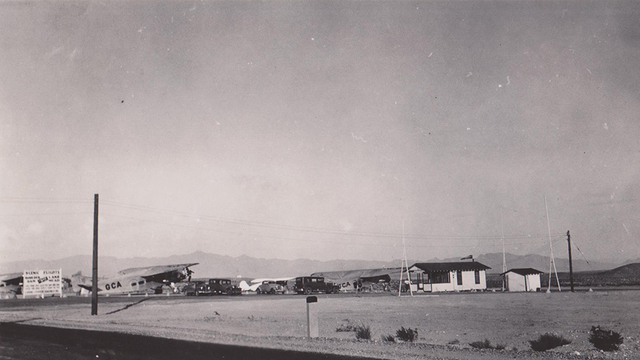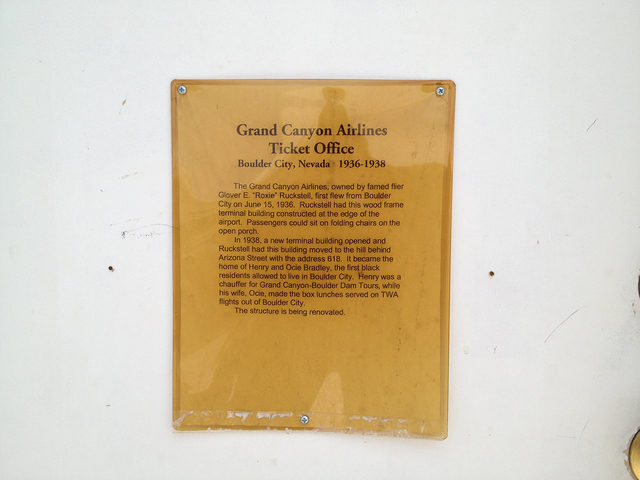 If you try to search for 618 Arizona St. in Boulder City on a map, chances are you'll have a difficult time finding it.
The address that was once home to one of Boulder City's most historic, yet unknown families lays atop a hill near Avenue I, just a stone's throw away from the desert lot it borders to the west.
The house once at 618 Arizona St. was home to Henry and Ocie Bradley, the first African-American family to live in Boulder City. It now stands in the Clark County Heritage Museum awaiting a complete restoration.
First used as a ticket office for aviator Glover "Roxy" Ruckstell's Grand Canyon Airlines at the old Boulder City Airport in the mid-1930s, the shack was moved to the top of Arizona Street in 1938.
The ticket booth soon became the Bradleys' new home, and the couple forever cemented their names in a town that, like most of the country during the post-Depression-prewar era, once classified African-Americans as second-rate citizens.
The Bradleys, who documents show were originally from the Carolinas, came to Boulder City from Los Angeles and worked for Ruckstell's Grand Canyon-Boulder Dam Tours sometime in the mid-1930s, according to Nevada State Museum Director Dennis McBride.
Henry Bradley was a chauffeur for Grand Canyon-Boulder Dam Tours and was described as being very close to Ruckstell. Ocie Bradley made lunches for the Grand Canyon Airlines tours.
"Roxy Ruckstell really forced the community to let them live there, and he got a lot of resentment for that," said Clark County Museum Director Mark Hall-Patton.
According to Hall-Patton, there were only 61 black people who worked on the construction of the Hoover Dam, and those who were fortunate enough to find work there were not allowed to live in Boulder City. Instead, they were forced to live in the segregated part of Las Vegas, otherwise known as the Westside.
"Unfortunately, we can thank the federal government for segregation with Boulder City," Hall-Patton said.
Since Boulder City was a federal reserve at the time, it was not subject to state laws. And despite first lady Eleanor Roosevelt's pushing for the hiring of more black workers on the dam, the federal government refused to hand the power of Boulder City to the state level, meaning the road to equality for African-Americans was met with even more resistance.
According to Hall-Patton, Ruckstell went head-on with Boulder City manager Sims Ely when it came to making sure the Bradleys stayed in town. Ruckstell, a man who made his fortune making axle patents for the Ford Model-T, was not bullied by Ely.
And even though there was gridlock in Washington about possible state laws within Boulder City, it didn't stop Ruckstell from getting what he wanted.
"Roxy stood up for his employees, even if the local authorities didn't want him to," Hall-Patton said. "Sims Ely was god down there, and he needed standing up to."
Since Ruckstell was a successful entrepreneur heavily involved in the Boulder City community, he had no problem standing up to the stern and judicious Ely.
"Roxy said, 'They're working for me. They need to live here, and they're going to live here. And if you think you're going to stop them, you're not,'" Hall-Patton said.
McBride said it was Ely's job to keep Boulder City "clean, green and white."
"He just made sure that nobody was allowed in that wasn't supposed to be there," McBride said. "It was his way or the highway."
According to a 1998 oral history McBride conducted with longtime Boulder City resident Bill Belknap, the Bradleys were loved among those they dealt with in Boulder City. But with racism still very much prevalent in the United States, the kind sentiment about the Bradleys was not shared by all, McBride said.
"They were not treated very well, and it only became worse in Boulder City."
But interviews collected during the years have painted the Bradleys as a genuinely nice couple liked by most of the people they encountered.
Boulder City resident John W. South described Henry Bradley, whom he called "Hank," as a big man who greeted all of the visitors with his famous smile and deep, friendly voice. Ocie Bradley was described as a "warm-hearted" woman who loved to cook.
The Bradleys' home was basic for its time, approximately 450 square feet with two walls that separated the living room from the bedroom, the equivalent of a single-wide trailer.
"This was a shack, but this was also a time when people were living in tents," Hall-Patton said. "So, it's not like they only got a shack. They had a home."
Their home was damaged in a fire in 1939. They found their house in flames after returning from a show in Las Vegas, according to a 1939 report from the Boulder City police. An article published in the Las Vegas Evening Review-Journal said the Bradleys spent approximately $1,200 to build a new home on the corner of New Mexico Street and Avenue G.
The police report from the fire said Henry Bradley suffered burns while trying to save their dog from the blaze, but the cocker spaniel eventually died from smoke inhalation. Police said the fire was caused by defective wiring and was ruled accidental.
Though not much is known about the Bradleys between 1939 and World War II, a 1944 article published in the Boulder City News indicates that the Bradleys' last known address in Boulder City was 759 Avenue K.
The Bradleys eventually left Boulder City in the 1940s and headed back to Los Angeles, McBride said. Henry Bradley died in Los Angeles in 1947 at the age of 51, according to an article published in the Boulder City News. The article said he had been suffering from stomach ailments before his death. Records show that Ocie Bradley died in Los Angeles in 1977 at the age of 81.
In 2002, the original Bradley house, which was burned in the fire, was taken to the Clark County Museum where it still awaits a complete restoration. Hall-Patton said it isn't uncommon for projects to wait that long for a restoration as several factors, the main one being money, contribute to the restoration process.
"Twelve years isn't the longest one we've had to wait on (a project)," he said. "The whole point is that it's worth saving. There's a story here that needs to be told."
According to the latest estimate the museum gave in 2009, the original Bradley house will cost about $250,000 to fully restore, though Hall-Patton said those numbers could be significantly less when the project gets underway. As of now, there is no timetable for when the restoration will begin.
And even though the 80-year-old ticket booth-turned home awaits a complete makeover, its history remains as important in 2014 as it was in the 1930s.
The once-lily white outside is now a mixture of stripped-down brown planks and patched-up windows, miles away from what is used to look like as a ticket booth for Grand Canyon Airlines. But despite its current appearance, Hall-Patton knows it won't look like that forever. The most important thing, according to him, is that the building is still standing.
"This isn't just the black story in Boulder City, this is part of everybody's story," he said.