Solar plant to be dedicated today
April 29, 2015 - 12:44 pm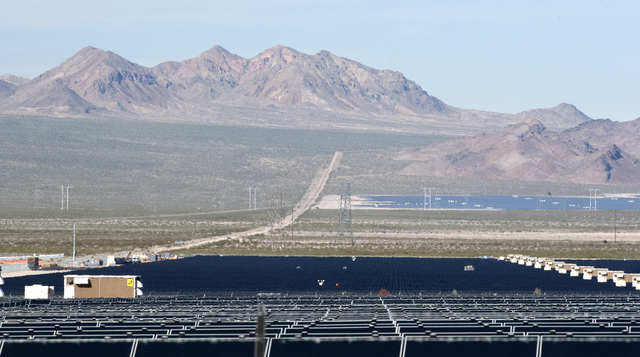 A few local dignitaries and an assortment of leaders within the energy business will be in the Eldorado Valley on Thursday to dedicate Sempra's newly finished Copper Mountain 3 solar complex.
Paul Thomsen, director of the Nevada Governor's Office of Energy, will be one of the event's keynote speakers, as will Patricia K. Wagner, president and CEO of Sempra U.S. Gas & Power.
Boulder City Mayor Roger Tobler will be speaking as well.
The dedication event will include a special donation to the Desert Research Institute's GreenPower program, which helps to enhance courses in the science, technology, engineering and math fields in Boulder City schools.
Cooper Mountain 3 is a 250-megawatt project, the third phase of Sempra U.S. Gas & Power's jointly owned Copper Mountain Solar complex.
The complex, which also includes the recently completed 150-megawatt Copper Mountain Solar 2 plant, spans more than 3,000 acres and collectively generates more than 450 megawatts of power.
Copper Mountain 3 created about 500 jobs during its construction. The solar plant produces enough clean electricity to power approximately 80,000 homes.
The dedication ceremony is not open to the public.
Contact reporter Steven Slivka at sslivka@bouldercityreview.com or at 702-586-9401. Follow @StevenSlivka on Twitter.