Smoking ban bill pulled, likely for good
August 29, 2013 - 1:03 am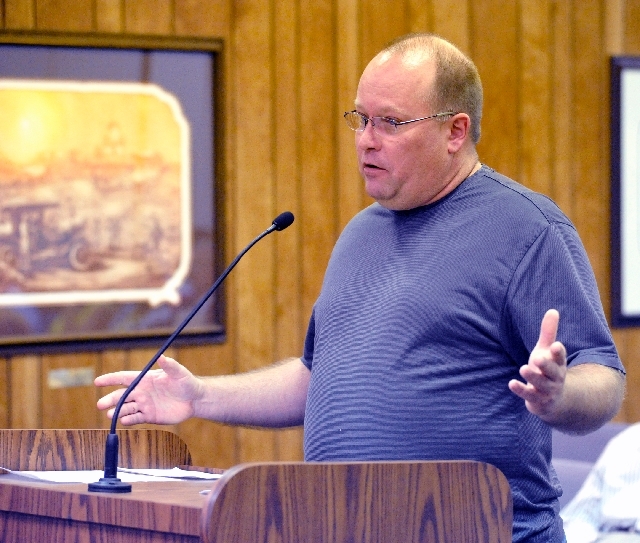 Facing mounting opposition from the community and city staff, supporters of the proposed indoor smoking ban asked the City Council on Tuesday to pull the item from consideration.
Allison Newlon Moser, executive director of the American Lung Association in Nevada, asked the council to remove the proposed Boulder City Smokefree Air Ordinance during public comment before the item was discussed.
"A lot of people in Boulder City have problems with what we're proposing, and we have to respect that," she said. "You need to listen to your voters. We can see that at this time, perhaps, this isn't the best step for Boulder City to take."
The City Council voted unanimously to remove the item from the agenda. Mayor Roger Tobler warned Newlon Moser that the decision would mean the ordinance's supporters would not be able to bring the item back quickly and that a lot of the work they did would have to be redone.
Newlon Moser said she suggested removal because the association didn't feel it had the support for the bill to pass. A rejection by the council would have hurt the organization's efforts elsewhere in Nevada.
"A 'no' vote would really hurt our efforts elsewhere and hurt the opportunities for coalitions that are in other communities in Nevada," Newlon Moser said.
To vote in favor of the ordinance, the council would have had to go against the recommendation of city staff and the city manager, all of whom recommended denial.
In his report on the bill, Community Development Director Brok Armantrout wrote that he recommended denial based on "the problems with conflicts with regulating other governmental agencies."
"(The bill) creates additional maintenance costs that are not covered in the current city budget," Armantrout wrote.
In his report, City Manager Dave Fraser recommended denial of the bill, based on enforcement and business impact issues.
"I believe that this enforcement responsibility will not only apply to the businesses newly impacted by the ordinance, but could make us (the city) responsible for enforcement in other areas covered by state law for which we (now) have no enforcement responsibility," Fraser wrote. "I believe our limited police resources could be better utilized in other areas."
Fraser added that while the ordinance might not have a "negative impact on Boulder City businesses in general. … I find it reasonable to conclude that it may damage individual businesses."
The Smokefree Air Ordinance would have made smoking illegal at six local businesses that now allow indoor smoking: the Backstop Sports Pub, the Inner Circle Bar at the Boulder Inn and Suites, a smoke shop, and three motels.
Backstop Sports Pub owner Kurt Erick, said he was "shocked" when the American Lung Association drafted the smoke-free bill. He also felt there was the lack of information presented to the public on the bill.
Erick said he didn't know the bill would be introduced at the Aug. 13 council meeting until a Boulder City Review reporter told him. He did acknowledge speaking to Fraser about the possible smoking prohibition, though.
"For big decisions like that, there should be more public input," said Erick, who added that though he doesn't smoke, his patrons should have that choice.
Erick's comments came after the item was pulled from consideration, but a series of locals urged the council to reject the proposed ordinance prior to Newlon Moser's request.
Resident Judy Craven said Boulder City didn't need any more ordinances. When she moved to Boulder City in 1997, she said, "every restaurant had smoking and no smoking areas." but that has changed. She felt as long as cigarettes are legal to buy, there should be places where people can smoke.
"To penalize the businesses (by prohibiting smoking) is wrong," Craven said.
Margaret McKay, a 35-year resident, said she didn't agree with the statistics on passive or secondhand smoke and wondered where the statistics came from. She said smokers pay lots of "sin taxes," and this should be considered when proposing a bill prohibiting smoking.
"Leave the bars alone," she said. "Smokers need to have their rights as well as nonsmokers."
Former Mayor Bob Ferraro spoke in favor of the bill's passage. He said the council should look at this ordinance from the perspective of Boulder City visitors.
"It will increase our visitor volume, and we're going to have to look at visitor volume in order to survive," Ferraro said. "It's that's crucial. So think about what I've said, and I hope you will take some responsibility here and do the right thing for everyone.
"The majority of the population in this city is opposed to smoking. If you just do your homework, you'll find that out very, very shortly."
Lisa Bonano, a Henderson resident who has lived in Clark County for 21 years, also favored the bill's passage. Bonano had been a bartender for 17 years and was diagnosed with stage 4 lung cancer that spread to her bones two years ago, when she was 40. Although the disease's cause couldn't be pinpointed, she knew she had been exposed to secondhand smoke and couldn't believe it "didn't take a toll on" her health since she was a nonsmoker.
She felt people adapted to smoking regulations for the public good. "What makes one life more valuable than another?" Bonano said.
Newlon Moser said the association is unsure about its plans for the ordinance.
"We were all focused on getting through today," she said. "So I can't say right now that we have any plans in Boulder City" regarding the future of this bill.
However, she believed there was a coalition in Boulder City that supported the bill and "a lot of that will be up to them, if they believe in it and I hope that they do."
The American Lung Association started organizing support for the proposed ordinance in Boulder City in January 2012. A proposed ban was first introduced in March 2012, but the council told the association to gather more information about how the ban would affect business and to narrow the bill's focus.
The ordinance initially proposed in 2012 included banning smoking in businesses that don't operate in Boulder City, such as casinos and nightclubs.