Sheep struggle to survive as bacterial pneumonia cuts herd numbers dramatically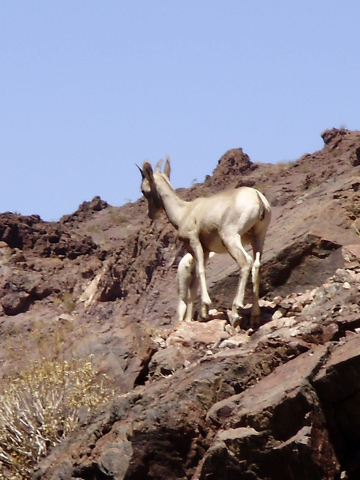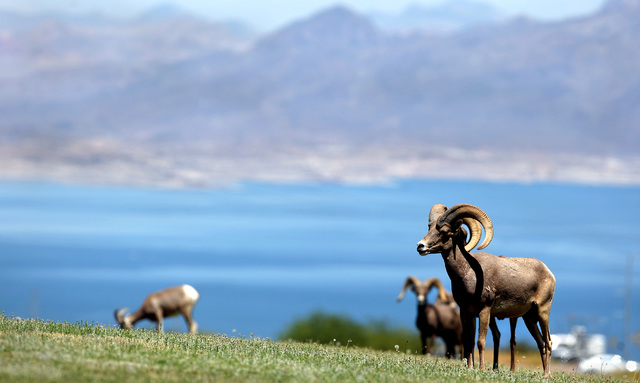 Thousands of people visit Hemenway Park each year to see the desert bighorn sheep.
Though many have been disappointed lately by their absence, it may become a situation that people will have to become accustomed to as one of Boulder City's popular attractions is literally in a life and death struggle to survive.
The local herd of desert bighorn sheep has been infected with a strain of pneumonia that has dramatically reduced the herd's population and nearly eliminated the number of new additions, according to Pat Cummings, a biologist in the game division of the Nevada Department of Wildlife.
During the most recent count of the sheep population in October, Cummings said he saw 100 fewer sheep than the year before, from 239 to 139, and only five lambs, compared to 37 the year before.
"It's pretty serious in that herd," he said. "I don't know if it will go away. I have seen in other herds where the disease was so hot it has killed them all."
Cummings said the strain of bacteria associated with causing pneumonia and death in lambs is believed to have been introduced to the local herd from rams that traveled north from the Mojave National Preserve in California.
The National Park Service discovered the most recent outbreak in the preserve in 2013 and began monitoring the sheep and their activities, performing laboratory tests when possible to detect the impacts of the disease.
Cummings said the disease outbreak is especially disheartening because the herd had been key in repatriating the species in other parts of the West.
"To see the herd in this condition is sad," he said, adding that the sheep "cannot move because they are sick. We have to leave them be and hope for the best."
Their dwindling numbers has him and other wildlife experts concerned.
"I had hoped to never have seen this in my career, but we are there," he said.
And if another strain of pneumonia is introduced to the herd, he is unsure if it will be able to survive.
"Bacterial pneumonia is difficult to treat, even in people," he said.
The basic structure of lungs provides ample places for tiny microbes to hide, so that even if the majority are treated and eliminated the others can "persist, hang on and come roaring back."
Washington State University has been conducting experiments to create vaccine to help reduce the number of fatalities among the bighorn sheep, but a January statement issued by the new chairman of the research project said he is unsure that is the best approach.
"For decades, people smarter than I pursued a vaccine for controlling organisms that seemingly cause a fatal pneumonia in wild sheep with little success," said Dr. Thomas Besser. "It now appears that for a long list of reasons, a vaccine strategy for wild sheep is not the best way to control the agent that starts the disease process, a bacteria named Mycoplasma ovipneumoniae. We call this bacterium, 'Movi' for short.
"In just the last five years, we've come to understand this complex disease process much better, and now I think we are now at the point where we can begin to try out some possible solutions. That progress is specifically why I took this position now instead of retiring this year," he said.
Cummings agreed saying that even if a vaccine could be created, "delivering it to wild animals would be problematic."
In the meantime, those who hope to catch a glimpse of the remaining herd will have to wait a few more weeks.
Cummings said that the sheep don't typically visit the park until sometime in May when the temperatures increase because there is ample food in the River Mountains surrounding the park.
Hali Bernstein Saylor is editor of the Boulder City Review. She can be reached at hsaylor@bouldercityreview.com or at 702-586-9523. Follow @HalisComment on Twitter.