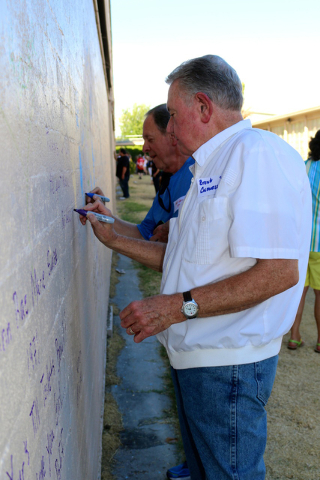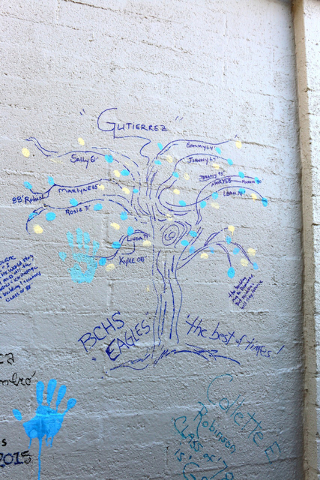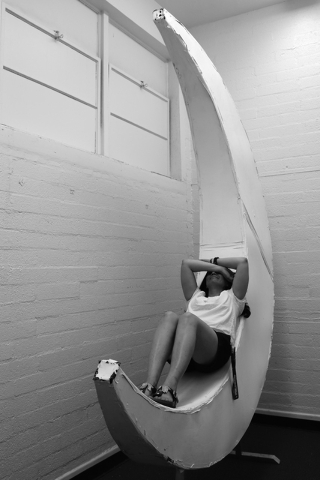 In a society that traditionally shuns change, Boulder City High School is embracing it. On Friday, Boulder City High School hosted a celebration of the legacy surrounding the campus as it prepares for demolition and the construction of new classrooms.
Decades of graduates from the school came to pay their respects and share memories of the high school. Walls on two-thirds of the 200 building, as well as the 300 building were adorned with blue and gold handprints, names and messages left by alumni.
"I wanted to have a night where we could put our memories down about the building because Boulder City High School has meant a lot to a lot of people," Principal Amy Wagner said. "There are many memories attached to Boulder City High School, and so it's really hard to let go of something like this."
The first demolition phase of the school's 65-year-old campus is scheduled to begin July 6, beginning a $16.4 million renovation project that will include new classrooms. Two additional phases are expected to begin once the classroom construction is complete, probably in June 2016.
A scrapbook room was made available, with baskets of pictures sorted by graduating years. Alumni were encouraged to "make a memory": a scrapbook page full of pictures and memories that will be put on display in the front office for all visitors to view. Pictures also were taken of the memories written on the walls, and they will be included in the scrapbook.
Wagner said she wants to decorate the new school with pictures and memories of the old school, to keep the legacy of Boulder City High School alive and thriving.
"The legacy of Boulder City High School is what is so great about this place," she said. "It doesn't matter if you graduated this year or 70 years ago, you're part of that legacy and that history, and it's so rich. And it's kind of cool to have all that here."
Those attending also could take a part of the school home with them as Eagles gear from the school and its sports team was available for purchase.
As recent graduates roamed the halls of their alma mater, they left their mark on the school they once called home. Sam Doane, president of the 2015 graduating class, transferred to Boulder City from Bonanza High School after his sophomore year. Doane said he was blessed to have experienced the school and the people in that short amount of time.
"I only went to this school for two years and this school has really left an impact on me, and the way I think, the way I feel about the people; it's really changed because of how this school has treated me," he said.
On a wall, was written: "Love BCHS. Great Memories." The phrase was written by John Barlow Sr., who graduated from Boulder City High in 1955.
He, along with his children and six grandchildren attended Boulder City High School. His son was principal for a couple of years during the '80s, and his daughter will teach English there starting in the fall. His seventh and final grandchild will be a freshman in the fall, and will be the only one not to experience the high school like her relatives before her.
Barlow didn't have much to say concerning the building of the new school, but does have mixed emotions.
"It's sad in a way, but I — it's not for me to be sad," he said. "I'm not that way. I take it like it is, so I'm OK with it."
Another section of the wall was dedicated to alumni who died at a young age. Names and years were written down under the words "In Loving Memory," to ensure they, too, could leave their mark on the high school.
"I thinks it's a great thing for people to be able to come through and write their memories down and that kind of stuff," Wagner said.
Wagner, who experienced a similar celebration when her church was rebuilt, said she believes when people have knowledge and time to plan for something, change is easier to accept.
That is what the celebration of Boulder City High School was meant to accomplish. Prepare the community for a change, and show them that the legacy of Boulder City High School will always live on.
Contact Rochelle Richards at BCRsports@gmail.com.