Sen. Segerblom updates Boulder City Democrats on Legislature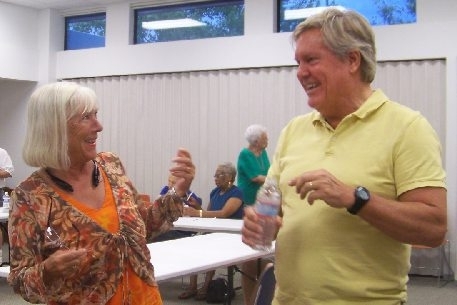 Although Las Vegas might be his home, his family's roots are in Boulder City.
That is why state Sen. Tick Segerblom, D-Las Vegas, stopped by the Boulder City Democratic Club on July 11 to update members of his hometown's party.
Segerblom, who's birth name is Richard, told the crowd the recent session was "the most progressive state Legislature in the history of Nevada."
Although a two-thirds majority was needed to pass any taxes, the Legislature passed Democratic agenda items dealing with various issues such as driver's licenses for undocumented workers, gay marriage, annual sessions and medical marijuana. These issues were "out there for years" and weren't even talked about, according to Segerblom.
"It was amazing what we were able to accomplish," hesaid. He told the group these were all Democratic ideas and they should be proud of what was accomplished.
Segerblom spoke about Senate Joint Resolution 15, the bill that has been put on the ballot for 2014 to remove the state constitutional cap on mining taxes, a measure he thinks would be accepted by the voters.
Although Southern Nevada is coming into its own on balancing its needs against Northern Nevada's, there are some interests, such as mining, that leave this region fighting for fair dollars.
The senator said the problem exists because of a "handful of basically rich Republicans up north who say no new taxes." Education and roads are suffering, he said.
"We really have our work cut out for us. … Without a quality education system, both secondary and university level, we're not going to attract the kind of businesses that we want."
Segerblom's mother, Gene Segerblom, was a member of the state Assembly from 1992-2000 and first moved to Boulder City in 1940. She died Jan. 4 at the age of 94.
Boulder City is represented by Republican Sen. Joe Hardy in Carson City.