Sempra sells interest in solar project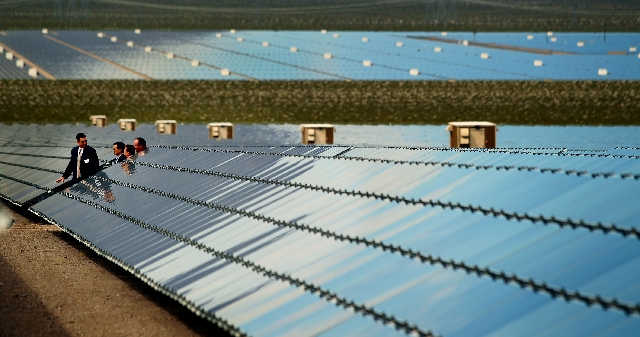 Sempra U.S. Gas & Power gathered its top executives March 15 at its Copper Mountain Solar 2 facility in the Eldorado Valley to dedicate the first phase of the project's completion.
Gov. Brian Sandoval was on hand, as were City Manager David Fraser, Mayor Roger Tobler, and City Councilman Cam Walker, among other dignitaries.
Two-and-a-half months later, the San Diego-based Sempra Energy subsidiary has sold 49 percent of its interest in the project, that will generate 150 megawatts, when completed, to Consolidated Edison Development of New York.
The move does not worry city officials who collect land leases from the solar fields.
"It shouldn't affect our contract," Fraser said. "I'm not very worried about Sempra."
Sempra, which will continue to provide operations and maintenance services for the plant, announced the move May 28.
According to Kevin C. Sagara, Sempra's vice president of renewables and corporate development, the partnership "bolsters" the company's plans to "improve its financial returns, deconsolidate debt and redeploy proceeds from the transaction into renewable growth projects."
Fraser said the sale shouldn't have an impact on the city's land lease contracts for the project, which is currently generating 92 megawatts from the 771-acre photovoltaic solar facility, because Sempra retains operational and slight majority control.
Sempra is scheduled to finish paying $1.3 million for three land leases held with the city for the fiscal year ending June 30, and pay $1.9 million in fiscal year 2014.
Phase two construction on Copper Mountain 2 is scheduled to begin this summer and be completed in 2015.
Sempra acquired the 40-year lease with Boulder City for the Copper Mountain Solar 2 site in 2011, after taking over the lease previously held by First Solar. First Solar, a manufacturer of photovoltaic panels, had held the lease since 2010 when it acquired Nextlight Renewable Power, which initially leased the land from the city in 2009.
Sempra struck a 25-year deal in 2011 to sell Copper Mountain Solar 2 electricity to Pacific Gas & Electric of San Francisco.
Walker said the move by Sempra did not raise any red flags for him.
"I see it as a positive that it's financially viable that there's money to be made," Walker said of the interest sale. "Usually you develop and build something with the long-term benefit, but you also want to diversify your portfolio."
Mark Noyes, vice president of ConEdison Development, said the acquisition allows the company to expand its presence in the United States.
"We are partnering in … strategic renewable assets … with strong project fundamentals," said Noyes of the company whose parent generated $13 billion in revenue last year.
The U.S. Department of Energy has to sign off on the deal, which Sempra said it expects to close in the second half of 2013.
The companies didn't disclose the terms of the sale, which included interest in Sempra's Mesquite Solar 1 power plant near Phoenix.
This year Sempra plans to begin constructing the 250-megawatt Copper Mountain Solar 3 facility on 1,400 acres in Eldorado Valley. Its 125-megawatt first phase is expected to be completed by December 2014, and the final phase is to be completed by December 2015.
The cities of Los Angeles and Burbank, Calif., have 20-year contracts for the power from Copper Mountain Solar 3.
The Copper Mountain projects are part of Sempra Energy's renewable energy portfolio, which currently makes up a small percentage of company's $859 million income off nearly $10 billion in revenues generated in 2012, according to a February filing by Sempra Energy with the Securities and Exchange Commission. The company's renewable income increased to $61 million last year, $14 million coming in the fourth quarter, bolstered in part with Copper Mountain 2's first phase coming online.
However, the company also carried $5.1 billion in long-term debt at the end of the first quarter March 31.
With plans to build the second phase of Copper Mountain 2 and starting Copper Mountain 3 construction at the same time, Sempra is facing $500 million in construction projects tied up on those two projects alone, Walker said.
"That's just a lot of resources tied up," Walker said. "It's just a smart move to diversify. They're still going to operate it, they're still going to maintain it."
Copper Mountain Solar 3 is expected to create 500 temporary construction jobs, and eight permanent positions.
Copper Mountain Solar 1, 2 and 3 will represent one of the largest solar power complexes in the country when completed, capable of generating 458 megawatts.