Second dash-cam recording contradicts BC police's version of 'crosswalk protest'
December 6, 2017 - 4:34 pm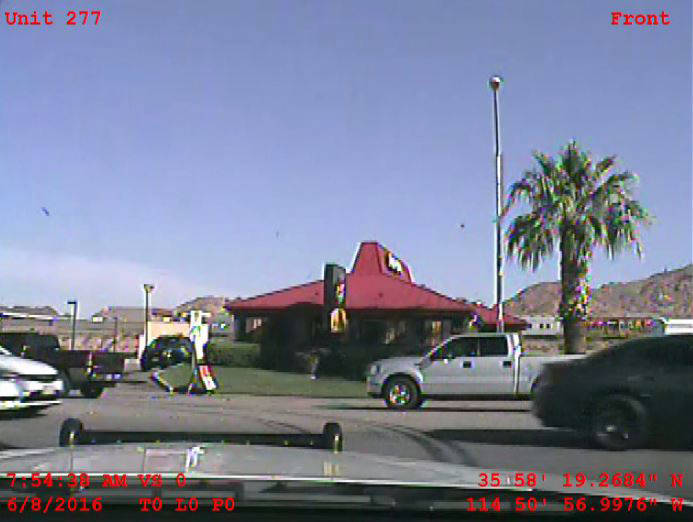 New evidence seems to contradict Boulder City Police Department dash-cam video prompting Judge Victor Miller to schedule an evidentiary hearing in the criminal case against resident John Hunt.
In a hearing Tuesday regarding a motion to dismiss for prosecutorial misconduct filed on Nov. 21 by Hunt's attorney Stephen Stubbs, Stubbs said that at approximately 12:30 p.m. that day he had received new video from Nevada Highway Patrol through a subpoena. The video appeared to contradict the dash-cam video provided by the Boulder City Police Department to the defense.
It was from the officer who was with Boulder City Sgt. John Glenn when he arrested Hunt on June 8, 2016, after he repeatedly walked back and forth in a marked crosswalk to protest a police-sanctioned pedestrian enforcement detail.
During Tuesday's hearing, Stubbs told Miller that there were two microphones together at the same place capturing the same event. One was Glenn's and the other was this officer's.
"There is a part of the video that should be the same, but it's not," he said.
In the subpoenaed NHP video that was provided to the Boulder City Review, there are two questions Hunt asks officers that are not present in the other dash-cam video when he is detained by Glenn.
In Glenn's dash-cam video, the first time Hunt speaks to officers after being detained he says "No."
According to the NHP video, after Hunt is handcuffed by officers he asks them if he is being detained. Then he said, "No," and asks again if he is being detained.
After that he is told that he is not being detained but rather being arrested. He then asks officers what he is being arrested for and is told for obstructing a pedestrian in the roadway, obstructing traffic and resisting arrest. This portion is present in both Glenn's dash-cam video and the NHP one.
The NHP one, however, includes the question, "How can I resist something that I'm not aware of?" that Hunt asks officers after being told why he is being arrested.
Glenn's dash-cam video has no dialogue from Hunt during that time.
At Tuesday's hearing, Miller said that there were two options. They could hold an evidentiary hearing on the motion to dismiss or hold Hunt's trial with the city.
After viewing all the evidence except the most recent video submission, Miller said he needed an expert to help him view all the footage to understand the claims being made about video authenticity and misconduct.
He also said that he hadn't seen any evidence that the police activity in June was revenue producing, made by Stubbs in his motion to dismiss.
Assistant City Attorney Gary Booker said that he thought the case should go straight to trial because it does not make sense to present and try the same evidence twice when all the facts will be made known at the trial.
Stubbs requested the hearing for the motion to dismiss because of other statutes involved with the case.
"We need to know this to determine how to move forward. … We're ready to move forward with the evidentiary hearing," he said to Miller.
Booker was concerned about holding a hearing during the Christmas season.
"I don't want to schedule this and then have to reschedule it because of people being out of town," he said.
Stubbs said that all they needed was Glenn and the NHP officer, who has not been officially named yet, because the reports speak for themselves.
"That's what I was trying to hint at earlier," Miller said. "The reports may not speak for themselves."
Miller set the hearing for at 10 a.m. Dec. 20.
Booker requested witnesses for both sides be there.
After Tuesday's hearing, Stubbs said that he had wanted an evidentiary hearing because it is an opportunity to question people under oath and find real answers to what happened.
According to Stubbs, a motion to dismiss for prosecutorial misconduct means that the prosecution cheated to the point where Hunt cannot receive a fair trial, and if he cannot receive a fair trial, the case should be dismissed.
Should the motion to dismiss be denied, Hunt's trial is set for March 15, 2018.
Contact reporter Celia Shortt Goodyear at cgoodyear@bouldercityreview.com or at 702-586-9401. Follow her on Twitter @csgoodyear.