Schools face likely budget cuts as district anticipates $68 million deficit
Updated May 9, 2018 - 4:49 pm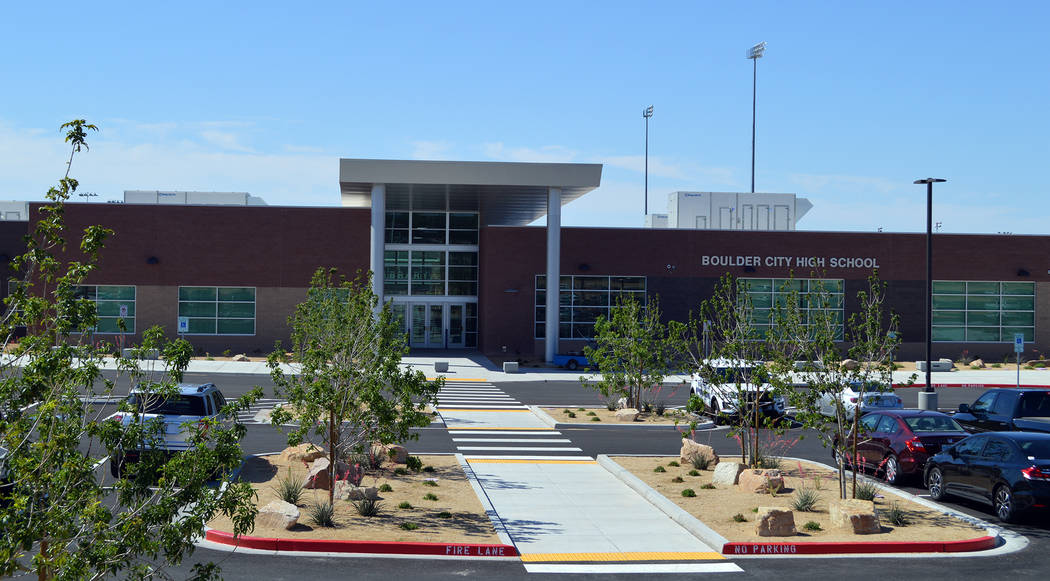 Principals of the public schools in Boulder City are unsure how the new $68 million deficit facing Clark County School District will affect their students.
On Monday, Superintendent Pat Skorkowsky made the announcement in a memo to school principals, asking them to reopen their budgets for the 2018-2019 school and cut $47 million. The district's central offices will have to decrease their budgets by the remaining $21 million.
"This is an unfortunate situation which could result in a reduction in force and a special late spring surplus for the employee groups," Skorkowsky wrote. "We know this is a challenging time, and we appreciate your efforts as we work to improve the overall financial stability of the district."
It's the second deficit of this type in as many years.
"This will create big problems for us at this point," said Anthony Gelsone, principal of King Elementary School. "We are looking at about a $43,000 cut we will need to make from our budget. … We are currently waiting on the state to determine if we will get funded for our Read By Three learning strategist position. … Once we hear on this state funding, this will determine how we make some very important decisions moving forward."
Mitchell Elementary School also has to cut approximately $43,000 from its budget, according to Principal Benjamin Day.
"Most likely, we will be taking all of that money out of our budget for instructional supplies, which will cut our instructional supplies budget by almost half," he said.
Garrett Junior High School Principal Jamey Hood said that her school will have to cut $71,000 and currently plans to make some cuts to supplies and technology but not staff members.
She also said, however, that the cuts could go deeper and she does not know when they will know the final numbers.
Amy Wagner, principal of Boulder City High School, said she was not sure how the school will be affected.
"Our SOT (school organization team) meeting is next week, and it will be discussed then," she said.
Principals are being asked to work with those teams to make the reductions and then have their adjusted budgets back to the district on Wednesday, May 16.
The amount schools will be asked to cut is based on how many students they have enrolled, said spokeswoman Kirsten Searer. Elementary schools will cut $132 per student, middle schools $153 per student and high schools $184 per student.
According to the district, the reason for these cuts is because of adverse arbitration rulings and a local labor relations board's decision against it.
In April, an arbitrator ruled that the district must pay for increased benefits for licensed personnel as part of the teacher contract for the 2017-18 and 2018-19 years. The district estimates that this is contributing the bulk of the deficit, at $51 million. School officials are asking the district court to vacate that decision.
"We anticipate it could take as long as a year to receive a decision on the motion to vacate the arbitration decision, and it's fiscally prudent to plan for all scenarios," Searer said. "In case we do win the decision, we will review the financial needs of the district at that point in time and utilize the funds to meet those needs, which could include pay increases for all employees."
Last week, another arbitrator ruled that the district must disburse retroactive pay for teachers who earned advanced degrees in the 2015-16 academic year. That ruling will cost $3 million, the district estimates.
Last school year, schools also faced a similar situation when the district announced there was a $34.5 million deficit, which grew to approximately $60 million. The school board made the last round of budget cuts for that deficit in December.
Boulder City High School did not have to cut any programs in that deficit, but King had to cut a staff position and Garrett had to cut a month from a secretary position.
Contact reporter Celia Shortt Goodyear at cgoodyear@bouldercityreview.com or at 702-586-9401. Follow her on Twitter @csgoodyear. Las Vegas Review-Journal reporter Meghin Delaney contributed to this article.