Santa's Electric Light Parade unites family, friends
December 12, 2013 - 5:15 am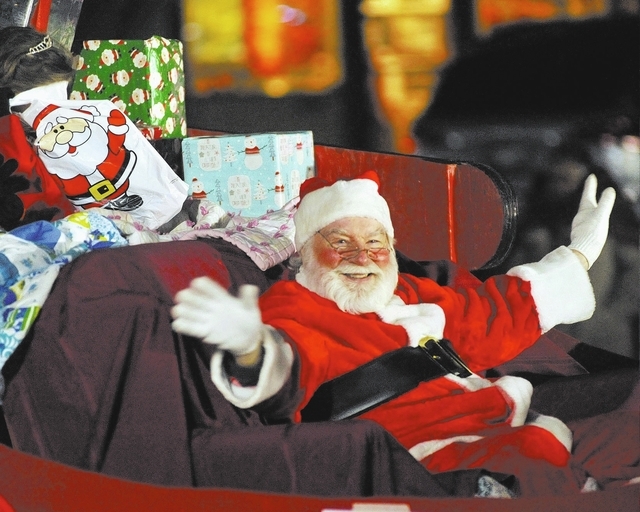 Despite the 40 percent chance of snow and 47-degree weather, Santa's Electric Light Parade made its way through Boulder City Saturday bringing good cheer and smiles to the hundreds of bundled-up spectators lining the street.
The Christmas parade committee received 93 entries. Floats came from Boulder City, Las Vegas, Henderson and Lake Havasu, Ariz., to be a part of the holiday experience.
Mascots such as Mojave Max, Smokey Bear and others were in attendance for the parade this year. The Grinch Who Stole Christmas and Buddy the Elf also made an appearance.
Each float was judged by a three-person panel chosen by parade Chairman Mike Pacini and Chamber of Commerce CEO Jill Lagan. This year, the judges were Charlene Ham of Henderson, Chuck Pickens of St. Jude's Ranch for Children and Ignacio Llamas, store manager of Vons.
Winner of the grand prize and Judges Choice category was "We Believe-Nativity Scene." The float was made by a group of neighbors, who sang Christmas carols while displaying a Nativity scene.
Winners of each of the 13 categories will receive a certificate from the Chamber of Commerce.
According to Lagan, 75 percent of the visitors who attended Saturday's holiday events traveled from the Las Vegas area.
Not only does the parade attract visitors, it also brings together local families and friends.
Locals Christy Ferrence, daughter-in-law of Bill and Cheryl Ferrence, and her goddaughter Skylar McKay watched the parade from Fifth Street.
The Christmas parade is what persuaded the Ferrence family to move to Boulder City in 1974, according to Christy Ferrence.
"Bill and Cheryl moved out West to have a warmer life with their two kids, Jim and Will," she said. "They happened to stroll into town for some pizza and thought, 'We should stick around for the parade.' After the parade, Bill said, 'We are moving here!' and then they did."
Bill Ferrence was manager of the Boulder Dam Credit Union for 36 years. The couple was said to have saved the historical Boulder Dam Hotel from closing more than 20 years ago.
Another community pillar, Pacini, has been on the parade committee for more than 25 years. Pacini has kept the Boulder City holiday tradition in his family since he was a child.
"My parents took me to my first parade when I was very young," he said. "I still remember going to see Santa when his house was located in the park across from the bowling alley."
While attending Boulder City High School, Pacini marched in the parade with the band. He said the marching bands are still his favorite part of the parade.
Pacini started as an announcer and then became co-chairman with Evelyn Harrington. Pacini has been chairman for the past 15 years. He also has co-hosted the live airing of the parade for seven years.
Pacini's two children, Arcadia and Vinnie, help put on the parade.
The parade was recorded by Cox Communications; it may be viewed on Channel 96 at 6 p.m. Dec. 21 and 24.