Residents tout convenience of early voting
October 22, 2014 - 1:35 pm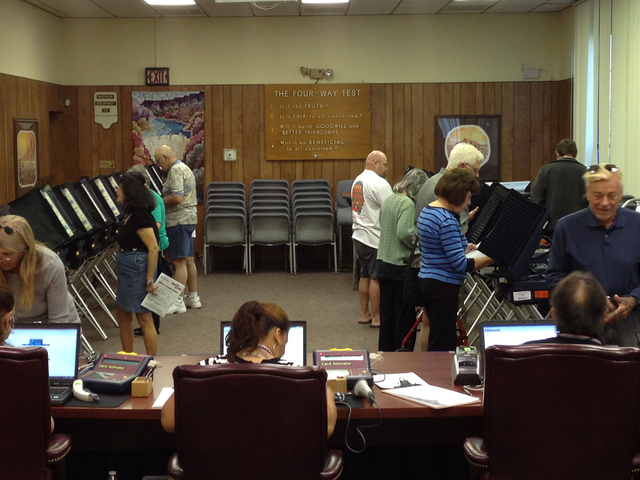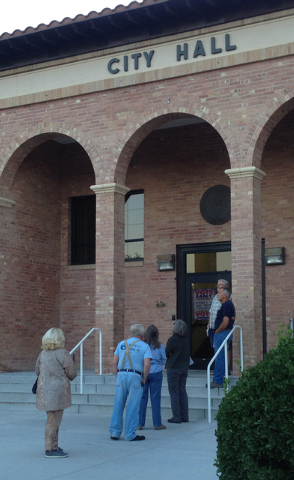 Boulder City residents made their way to City Hall Tuesday and Wednesday as they anxiously waited to cast ballots for the upcoming election.
City officials were met by a small line of voters in front of City Hall's doors when they opened at 7 a.m. Like many voters throughout Clark County, voters in Boulder City who began their day at the polls said they prefer not having to wait until Election Day to cast a ballot.
Stephen Parnes, who has lived in Boulder City for 14 years, got to the polls at 7 a.m. Tuesday to vote early. He said it's something he's always done.
"I avoid the crowds, and it fits my schedule better," he said.
According to Dave Deno, team leader for Boulder City's early voting station, convenience plays a huge role when people decide to vote early. With the exception of a few Internet problems and the occasional electrical malfunction, Clark County's early voting process generally runs smoothly, he said.
"A lot of states and counties come here to observe our process because it's so efficient," Deno said.
Joe Gloria, Clark County voter registrar, said 64 percent of all votes in Clark County during the 2012 general election were cast early. Just like the others who headed to the polls before Election Day, Gloria credited convenience as the main reason for early voting's success.
"The more voters we have during early voting, the less stress we have on Election Day," he said. "It's really smooth from our perspective, and there's really no excuse for Clark County voters to say, 'I didn't have time to vote.'  "
Gloria, who oversees every early voting poll in the county, said Boulder City is a perfect example of how the early voting process was meant to work.
"I'm sure a lot of them work in Henderson or Las Vegas, so having to work all day and coming back up to Boulder City to vote (on Election Day) would be inconvenient," he said.
According to City Clerk Lorene Krumm, 4,111 of the 7,353 Boulder City ballots cast in the 2012 election were early votes, equating to 56 percent.
Peggy Fraga, who has lived in Boulder City for 34 years, has been voting for 60 years. Now 81, she cast her first ballot as a 21-year-old when Dwight D. Eisenhower was president.
Fraga, a native of Madison, Wis., said she'd crawl to the polls if she had to.
"If you want your voice heard, you've got to vote," she said.
Fraga cares for the city she's called home for so long. Of the two local questions on the ballot, she said she was not in favor of selling city land to help repair the city's aging utility infrastructure.
"I don't think they should sell more land, because then we're going to need more water, which we do not have," she said. "We absolutely don't have the water, and if they start building more houses, we're going to be hurting."
Still, she emphasized the importance of getting to the polls and making a difference.
"It's important," she said. "If you don't vote, then keep your mouth shut and don't complain."
Parnes, 54, has been voting since he was 18. He echoed Fraga's sentiment about getting out there and voting.
"It's extremely important. Of all the decisions being made, this is our opportunity to voice our opinions and help shape the future," he said.
"People should do their research before they come to the ballot box."
Election Day is Nov. 4.
Contact reporter Steven Slivka at sslivka@bouldercityreview.com or at 702-586-9401. Follow @StevenSlivka on Twitter.