Resident recalls running marathon, bombing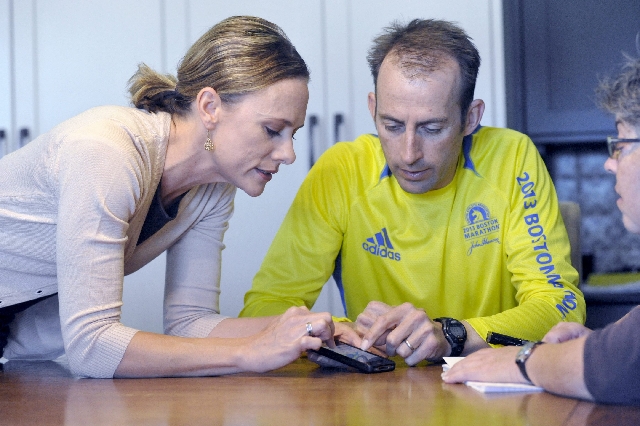 Boulder City resident Laurie Larson was watching the Boston Marathon at the mile 23 marker on April 15, waiting for her husband, Kyle Larson, to pass by. When the two saw each other, he stopped, kissed her and kept going.
Laurie then got on the "T," short for Massachusetts Bay Transportation Authority, to get to the finish line to meet her husband.
Kyle crossed the finish line just about 2 p.m. Boston time, nearly an hour before the first terrorist bomb exploded. Laurie passed the spot where the second bomb went off, on her way to meet her husband, about 20 minutes before detonation.
The Larsons found each other in the runners' area; Kyle was presented with an official solar blanket given to all runners, took a group photo, and they were off to the Prudential Center, a retail and restaurant area nearby. That's where they were when the bombs went off.
Kyle described the noise he heard as a "pop, pop."
"We didn't really know what was going on," said Kyle on April 18 at the Boulder City home he shares with Laurie and their four children. "Everybody was panicking where we were."
People began running toward them.
"I looked into some of the people's faces and they were just white as sheets and just fear in their eyes and that's what freaked me out. But Laurie is always so calm," Kyle said.
Laurie said it is one thing to watch the tragedy on TV, but having been there is much different.
"When you are there and seeing it and smelling it — we could smell it, it makes you super, super grateful for your safety and family and everything that's important," she said.
Despite the national perception that the city shutdown, the Larsons were able get to their hotel without much hassle, and left the next morning from Boston's Logan Airport as planned to return home.
Also, the national media started calling the Larsons on their cellphones the day of the bombing, asking for interviews. Kyle said he thinks the media got his information from his marathon registration forms.
Kyle said the real victims in the bombing were those who died or lost their limbs. He can't understand why anyone would want to hurt someone else like that.
"Anybody that goes to that city takes a little piece away with them. That's exactly how we felt," Laurie said as she sat across from her husband Thursday, retelling their marathon experience.
April 15 was Kyle's second running in the prestigious event, which began in 1897.
Kyle is not a seasoned athlete who trains incessantly, but rather a 42-year-old dentist practicing in Bullhead City, Ariz. As part of his daily routine, he runs, hikes, swims, practices yoga and bikes with no "real plan" in mind.
He began running a number of years ago after dental school when he felt he was "a little overweight." Today he does a little bit of everything because "it's my medication," it relieves the stress of running a dental practice.
To train for the Boston Marathon, Kyle exercised but nothing in particular. His "routine" is doing something every day.
He decided to run in the marathon because "it's the Super Bowl" of marathons, and he is no stranger to tough competitions. He also participated in the 2009 Iron Man Competition in Hawaii.
The 26-mile, 385-yard marathon winds through Boston neighborhoods where residents are set up not only to watch the race but to provide the runners with anything and everything imaginable that they might need to help them to the finish line, Kyle said. "Little kids giving me water and orange slices" helped him through his first marathon.
Both Larsons spoke about the friendliness of the people in Boston and how much they loved the city, the people and the history. Spectators were "totally supportive" to each and every runner, they said.
The bombings at this year's marathon have not deterred Kyle from entering the race in 2014.
"We can't live our lives in fear," said Kyle, who finished the run in 3 hours, 7 minutes, 56 seconds.
He will go to the Boston Marathon next year with his wife and two of their four children: Chandler, 12, and Charlie, 10.
"My boys are old enough to appreciate all the history, unlike our girls who are only 6 and 3," Laurie said. "But you never know, we may end up taking the girls, too!"