October 10, 2013 - 4:02 am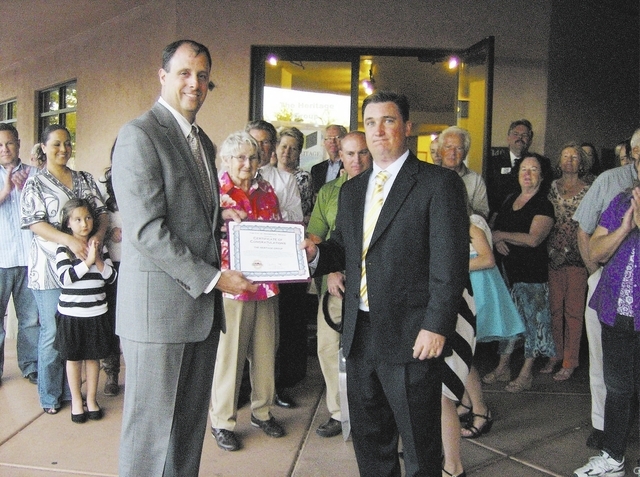 A local real estate brokerage celebrated its opening Oct. 2 with the first dual-chamber ribbon cutting event hosted by the Boulder City and Henderson chamber of commerces.
The Heritage Group, a residential and commercial brokerage owned by third-generation Nevada broker/agent Rich Shuman, relocated from 916 Nevada Wayto its new 410 Nevada Way location a month ago.
The Boulder City chamber often hosts ribbon cuttings for new business members, and with the Henderson chamber, joint mixers are held every quarter so members of each chamber can mingle. But it was Shuman's idea to have the first joint ribbon-cutting.
Shuman, who has been a Realtor in Boulder City since 1998, but recently joined the Henderson Chamber, said it makes sense for Boulder City businesses to belong to both chambers.
"With the way the freeways are in Henderson and the interchanges, we're just so close to Henderson," he said. "We're almost an extension of Henderson."
It's also practical, because about half of The Heritage Group's business is conducted in Henderson and Las Vegas, Shuman said.
According to the Henderson chamber, of its 907 members, nine are Boulder City-based businesses. They include DCI Photography, Pronto Constructors, LegalShield, Nevada State Bank-Nevada Highway, Promotional Dynamite, Lake Mead Cruises and Boulder Boats, which also has a Henderson location.
Henderson chamber Executive Director/CEO Scott Muelrath also cites proximity as the reason for Boulder City businesses to belong to both chambers.
"What goes on in Henderson goes on in Boulder City, and vice versa," Muelrath said.
The ribbon-cutting event included a few words from Boulder City chamber CEO Jill Lagan, Boulder City Mayor Roger Tobler and Muelrath, who presented Shuman with a certificate of congratulations from Henderson Mayor Andy Hafen.
With both chambers working together, Lagan said, "We are so much stronger as a business voice."
The Heritage Group's new location includes gathering space for as many as 30 people that Shuman said is available, for free, for community groups to use.
"We can host any kind of community events you can think of," he said.
For more information, contact The Heritage Group at 702-809-3511.