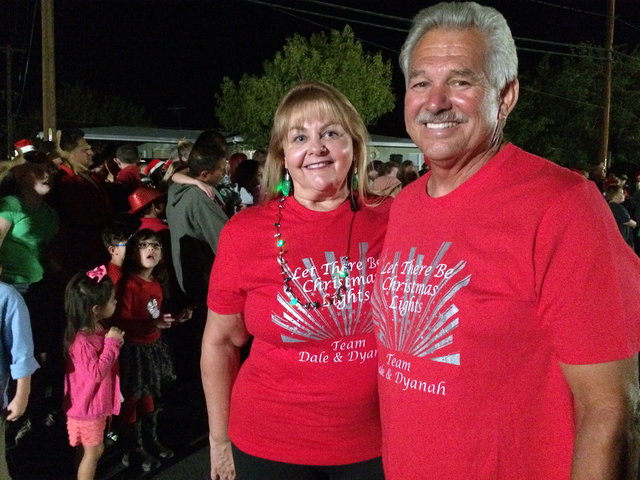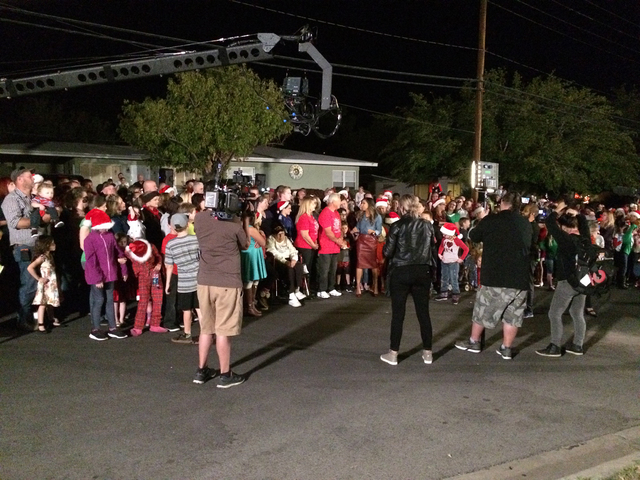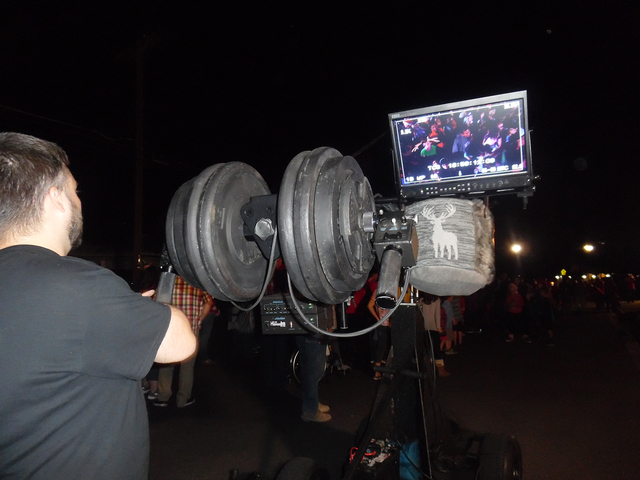 Just say "the house on Fifth Street" and everyone will know exactly which one you are talking about — especially this time of year.
For years Dale Ryan and Dyanah Musgrave have given Boulder City residents a spectacular holiday treat by decorating their home with thousands of colorful Christmas lights and festive decor.
Now, they are sharing their Christmas spirit with the nation via ABC's "The Great Christmas Light Fight." The episode featuring their Boulder City home will air Dec. 19.
Boston-based interior designer Taniya Nayak, who co-hosts the show and judged the decorations, said she could easily see why their home makes such a lasting impression.
"I really love everybody and have such a soft spot for every house I go to, but this was definitely one that stood out in my mind. When you go to 12 different houses and can remember every detail of their house you know it's special."
Nayak said judging the homes is very challenging because everyone does it for the right reason: to spread Christmas joy.
Job well done
But there were several things that Ryan did extremely well, particularly his use of color and its interactive nature.
"I loved the way you could walk through the display instead of just looking at it," she said.
Nayak also said she was impressed at how large the holiday display appeared, even though it was a smaller canvas than many of the other homes she visited.
"It was a great use of space. … I liked the way it felt huge."
Additionally, she liked all of Ryan's "handcrafted details and that he worked out how to make things exactly to scale like the Ferris wheel and ski lift."
According to Nayak, Ryan told her he would watch real ones, make notes and sketches and then head to his workshop.
"Even the timing for which it moves was pretty accurate," she said.
She also said she was so happy to meet Ryan, Musgrave and Ryan's 94-year-old father, affectionately known as Wild Bill.
Decorations destroyed
Though Ryan has creating the holiday display down to a science and makes it look like everything flowed effortlessly, getting the decor ready for the television show posed a variety of problems for him, he said.
For starters, he had to have the display ready by early September. Both he and Musgrave said their contract with ABC prevented them from telling anyone what they were doing and they had to endure rumors and comments from people who thought he was crazy or that Bill Ryan was extremely ill and wouldn't live to see Christmas this year.
Additionally, their home and storage facilities were invaded by rats that destroyed roughly half of the displays and light strands.
Ryan has been decorating their home on Fifth Street for the past 13 years, adding new items each year. He uses more than 100,000 lights, mixing both incandescent and LED bulbs.
"I won't even discuss my light bill," he said referring to the cost of keeping the display lit most of December.
Not worthy
He was first contacted by ABC early this year. Although he initially refused to apply for the reality show, Ryan said he was convinced by his wife and Jill Rowland-Lagan at the Boulder City Chamber of Commerce, who said it would be an ideal way to show the world how special the community is.
Ryan said he didn't feel "worthy" to do the show as he creates and installs all the decorations himself and that his home is small compared to some of the massive and computer-synchronized displays he has seen.
The audition process also was challenging, with multiple interviews and extensive background checks.
Fortunately for Ryan and Musgrave, their involvement in the community — Ryan is a member of the Rotary Club of Boulder City and Musgrave is president of the Boulder City Lions Club — helped in their selection.
"They cared as much about the people and their stories as they do about the lights," Ryan said of the production company when making selections for the show.
They spent roughly 100 hours filming with the crew, which will be whittled down to 7½ minutes for the show, Ryan said.
Special moments
Though the experience had its challenges, Ryan and Musgrave said they are extremely grateful for the opportunity. Not only did they get to showcase their love for Boulder City, they were able to share some special moments with Bill Ryan, who "rose to the occasion," according to his son.
"For one hour we had Dad back," Dale Ryan said.
"He was amazing, just like the old Bill of 20 years ago," Musgrave said of her father-in-law who has Alzheimer's disease.
Nayak said Wild Bill also made a huge impression on her.
"I kept teasing that he was my boyfriend. I managed to steal about 50 kisses from him," she said.
Community participation
Many residents participated in the show's taping in October, surpassing both show producer and judge's expectations.
"It was the biggest crowd" she had ever seen at any of the tapings, Nayak said.
Not only was she impressed by the number of people who came to support Ryan and Musgrave, she was touched by everyone's sense of community.
"I kept hearing the word community over and over again. Everyone feels very connected and close to their neighbors here. That was obvious by the crowd there. They all came out to share; that's what makes Boulder City so special."
"This is where we come to watch the parade every December," said Allyson Sargeant of Boulder City, who came to the taping to show her support for the couple.
Dressed as the Grinch, she said her outfit shows how kindness can influence other people. It was symbolic for the night.
Viewing party
Keeping with that feeling of community, Ryan and Musgrave, along with the Boulder City Chamber of Commerce and Boulder Creek Golf Club, are inviting area residents to join them for a family pajama Christmas viewing party Dec. 19 at the golf course.
Scheduled from 8-10 p.m., Musgrave said she wants families to come in their best Christmas pajamas to watch the show along with them and see if they won the top prize. The festivities will include the opportunity to have pictures taken, enjoy popcorn and visit with Santa and Mrs. Claus. Those attending should bring blankets and pillows.
More adult-friendly viewing sessions will be held at Boulder Dam Brewing Co., The Dillinger Food and Drinkery, Jack's Place, Little City Grille, Maxx's Food and Drink, Southwest Diner, Tony's Pizza and Vinny's Pizzeria.
Those who wish to view the house in person can visit nightly between 5 and 9 p.m. Ryan said he is usually outside, handing out candy canes and happily answering questions about his display.
Hali Bernstein Saylor is editor of the Boulder City Review. She can be reached at hsaylor@bouldercityreview.com or at 702-586-9523. Follow @HalisComment on Twitter.