Rangers to set up solar telescope to view eclipse
August 16, 2017 - 2:58 pm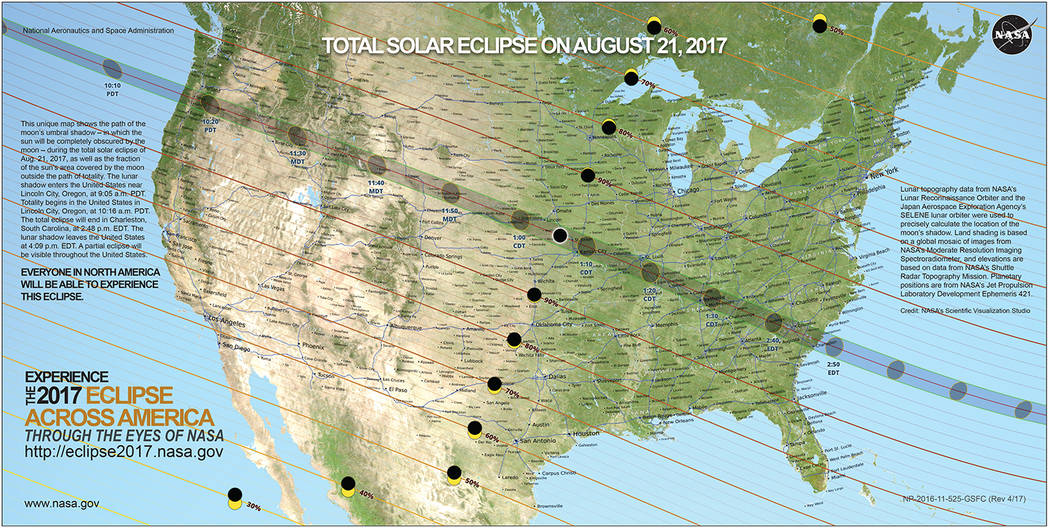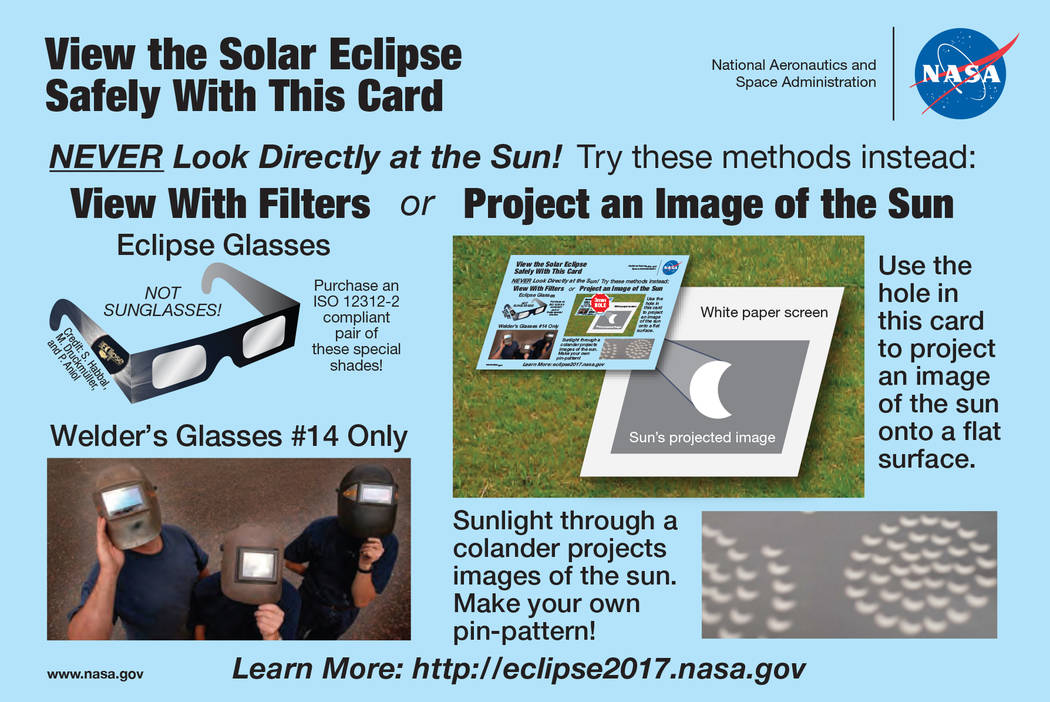 On Monday, North Americans will be treated to something they rarely see: a total eclipse of the sun.
Those wanting to watch the eclipse as it happens are invited to Lake Mead National Recreation Area, which is holding a free viewing party. Rangers will set up a solar telescope, and there will be solar eclipse glasses for people to use and share, as well as pinhole projectors.
According to NASA, a total solar eclipse is when the moon passes between the sun and Earth, blocking out sunlight. The entire process, from the first shadow on the sun until the moon passes by, will take about three hours. About 500 million people will be able to see Monday's eclipse in partial or total form.
The last time most Americans experienced a total solar eclipse was 1991, according to NASA.
Monday's eclipse can be seen from coast to coast, with totality in a band stretching from Oregon to South Carolina.
Southern Nevadans are not in that path but those attending the viewing party at Lake Mead at the Alan Bible Visitor Center will be able to see a partial solar eclipse starting at 9:09 a.m., peaking at 10:28 a.m., and ending at 11:53 a.m.
"It will be 71 percent eclipsed within Lake Mead," said Chelsea Kennedy, National Park Service public affairs specialist. "That's the most within this area of the country."
The viewing party will be held from 9 a.m. to noon. Rangers will be there to talk about the eclipse, as well as answer questions.
Kennedy said they are anticipating 100 or more people at the party.
Currently, the National Weather Service is forecasting a mostly sunny day for Monday, with a 20 percent chance of showers and thunderstorms after 5 p.m.
The National Park Service is also encouraging visitors to view the eclipse safely by using eclipse glasses or a hand-held solar viewer and to not look into the sun directly as it can cause permanent eye damage. Homemade sun filters and normal sunglasses do not provide the right amount of eye protection to look directly into the sun for the eclipse.
Once the eclipse ends, the next one visible to the continental United States will be on April 8, 2024.
Contact reporter Celia Shortt Goodyear at cgoodyear@bouldercityreview.com or at 702-586-9401. Follow her on Twitter @csgoodyear.
Solar Eclipse Viewing Party
Where: Alan Bible Visitor Center, 10 Lakeshore Road, Lake Mead NRA
When: 9 a.m. to noon Monday
Cost: Free
For more information about the eclipse, visit
https://eclipse2017.nasa.gov/