Railroad Pass' Watch and Wager Sports Lounge opens today
August 22, 2013 - 1:05 am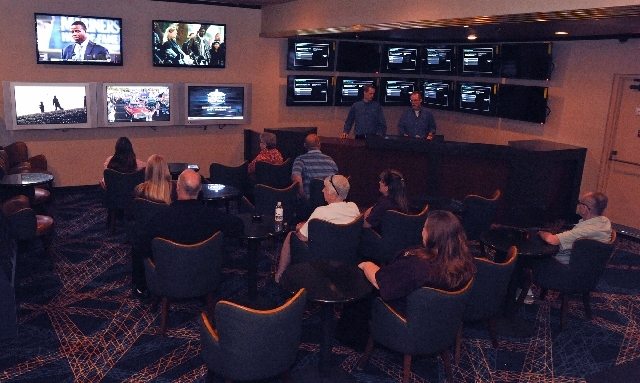 For Curt Thompson, the executive director at the historic Railroad Pass , ideas to improve this iconic property never come short. Thompson is well aware that his hotel is the gateway between Boulder City and Las Vegas.
This 82-year-old hotel-casino that was established in 1931 is the nation's longest running casino, so any room for renovation is always welcome.
Today, Railroad Pass will debut one of Thompson's renovation ideas by hosting the grand opening of the Watch and Wager Sports Lounge at 5 p.m.
"Railroad Pass being a historic property, with our location we knew that there was a market for a sports lounge that had a book in it. So we had enough requests for the people that were coming in to place their bets that they would love to have a place to stay and watch them," Thompson said. "We have had a sports book before but we've just never had a lounge to come watch the games."
The Watch and Wager Sports Lounge will feature 11 televisions with more than 1,000 sports channels available from DirecTV, as well as seating that will accommodate up to 40 people and 12 brand-new technological odd boards.
Thompson explains not only is he trying to get customers simply driving by the Railroad Pass to come in and use the lounge, but he is trying to create an atmosphere for younger customers to enjoy themselves as well.
"Well we're looking to target the younger customers, specifically the younger customers that like sports, that like betting sports. People who want to come in bet on the game, play the tables and maybe play some slots while they're here," Thompson said.
The Watch and Wager Sports Lounge was built in the oldest section of the casino, which was previously a dance floor that has been around for 82 years.
The three-week renovation to the lounge will be presented to the public today and will include a ribbon-cutting ceremony, T-shirt giveaways, free appetizers and Bud Light giveaways.
"This was definitely a good idea," Boulder City resident and frequent Railroad Pass visitor Pete McCloskuy said. "It'd be nice if they had a grill in the back for when there's football games, but this was a great idea."
A soft opening of the lounge took place Aug. 15 to hotel guests, during which Thompson and the rest of the staff could work out any kinks before today's grand opening. Repairs to one of the screens for the odd boards and air conditioning malfunctions were the only setbacks, but besides that everything else was a green light.
"I am proud of it," Thompson said. "I love to watch my games and I would sit here and watch them all day myself. With the comfortable environment we have, this is perfect. We were amazed by how much business came in and we haven't even announced it yet."
As McCloskuy said, this sports lounge is something special that has been much needed for a while .
"It's great for tourists and residents. Honestly, if you're in the neighborhood you should come check it out; it's absolutely worth it," he said