Railroad Pass starts construction on $10 million travel center
January 25, 2017 - 3:34 pm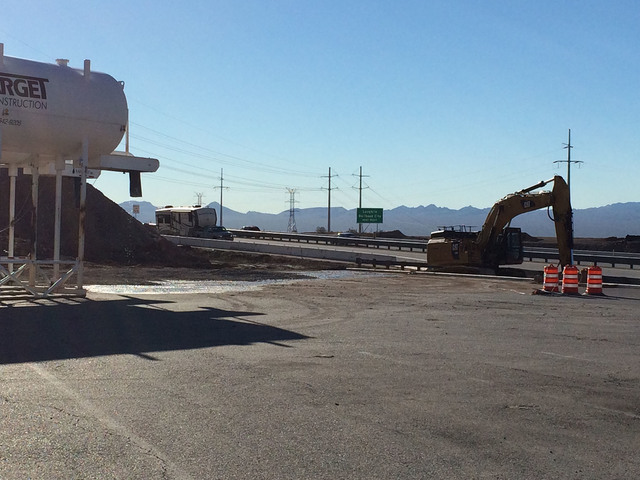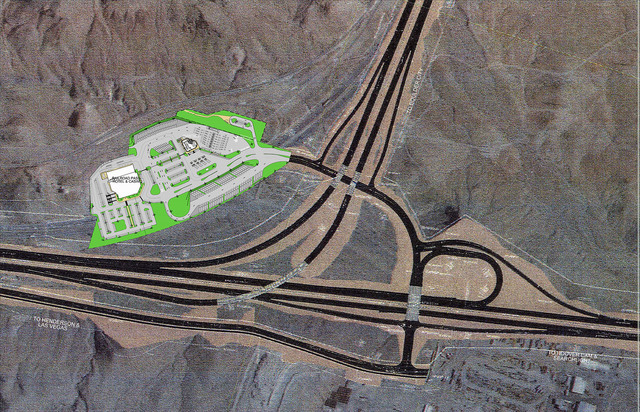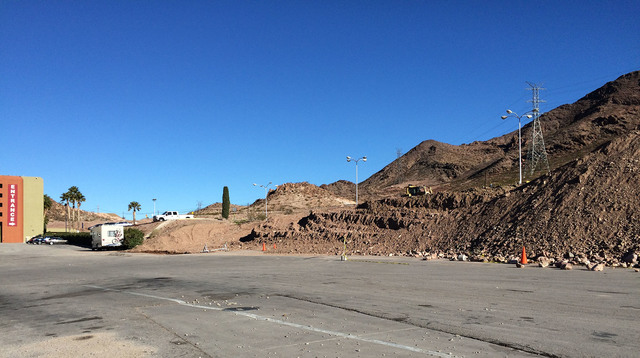 Railroad Pass began work last week on a new $10 million travel center that is expected to be completed around September.
The center, to be located on 16 acres to the south of the 85-year-old casino, will include eight or nine unbranded diesel fueling stations for trucks, a 20-pump Chevron gas station for cars, propane sales and a truck scale. The accompanying 8,000-square-foot convenience store will feature a Capriotti's Sandwich Shop, a fast food restaurant that has yet to be determined and six to eight showers for traveling truckers.
"It's always been in the back of my mind. It was a logical place for a truck stop," said Henderson developer Joe DeSimone, who purchased the Railroad Pass in April 2015.
According to DeSimone, there are no services, especially for truckers, between northern Las Vegas and Kingman, Arizona. With the construction of Interstate 11, which should make travel between the two states easier, the travel center was a natural expansion of the hotel-casino, especially in light of the number of truckers who already stop at the property.
Currently, 50 to 55 trucks park in the casino's lot each night, and the new plan will provide parking for 110 trucks.
"We will carry the products and offer the services that our clients want, from competitively priced fuel to good food that travels well, to truckers' merchandise, to the things that recreationists such as cyclists and boaters need," he said.
The exterior of the travel center will match the existing casino, and the entire property will be relandscaped, DeSimone said.
Travelers' oasis
"This will be an important resource for truckers, especially with the new I-11 corridor. We are thrilled to have it be a part of our community," said Henderson Councilwoman Debra March.
She added that DeSimone "has been a developer in Henderson for a number of years, and we have confidence in the quality of his construction." She said their confidence was so high that his plans were approved unanimously.
"It's pretty obvious that dozens of truckers already stop and stay there every day. But when I-11 becomes operational, Railroad Pass will no longer be visible to truckers or as convenient for them to access," said Boulder City Mayor Rod Woodbury. "So I think they're hoping that some fuel pumps and a bigger parking lot will offset those impacts somewhat."
Though the property is in Henderson, DeSimone said he worked with Boulder City officials to ensure they were apprised of the plans and have the ability to offer input on features adjacent to the city limits.
"Nobody can predict with absolute certainty all the impacts that I-11 will bring, but I know that Joe, like the city, is doing his level best to be prepared. And I hope he's successful," Woodbury said. " … Railroad Pass has always been an integral part of Boulder City. And the city should continue to do everything it reasonably can to ensure that we remain great partners for many years to come."
DeSimone said he has seen hospitality and gaming, such as that offered at Railroad Pass, often complement travel centers and trucks stops around the country.
Obvious stop
Roughly six months ago DeSimone conducted a survey among the truckers who stop at the casino, and they felt it was the "perfect location" for a travel center. They felt it was an obvious place to stop, especially when traveling between Nevada and Arizona, and appreciated the entertainment and dining options.
"That's why we moved ahead," he said.
Currently, U.S. Highway 93 goes through the 26-acre property and the Nevada Department of Transportation was granted an easement to use the land. Once construction has progressed enough on the bypass, the land will be returned to the casino and expansion of its parking lot can begin, DeSimone said. He expects that to happen sometime between April and June.
The reconfiguration of the parking lot will improve access to the casino, allowing people to enter through the "actual front door," he said. "It's where it was when the casino opened in 1931."
Access to the property will be from the new Railroad Pass Casino Road exit on Interstate 11.
"The traffic light goes away and there will be easy access from all three directions, he said."
Major excavation
To complete the project, DeSimone said they have to remove a 25-foot tall mountain and upper parking lot.
"There will be a lot of excavation," he said.
The experience Boulder City residents have visiting the casino and its restaurants will not change throughout the construction and once the project is complete, DeSimone promised, with the exception of more parking and easier access to the casino.
Additionally, the project will include new access to the River Mountain Loop Trail and a dedicated parking lot.
"Railroad Pass has always been a nice midway point between Henderson and Boulder City for cyclists and pedestrians to access the loop trail or rest along the way, and this new access lot will help ensure that it remains that way into the foreseeable future," Woodbury said.
Future plans include creating a charging station for electric cars, but DeSimone said they are still trying to determine what type would be the best for consumers and the property.
DeSimone also said he expects there will be some cross promotions between the casino and travel center regarding dining, gaming and fuel.
Hali Bernstein Saylor is editor of the Boulder City Review. She can be reached at hsaylor@bouldercityreview.com or at 702-586-9523. Follow @HalisComment on Twitter.