Putting a spotlight on trespassing issues in BC
November 10, 2023 - 9:09 am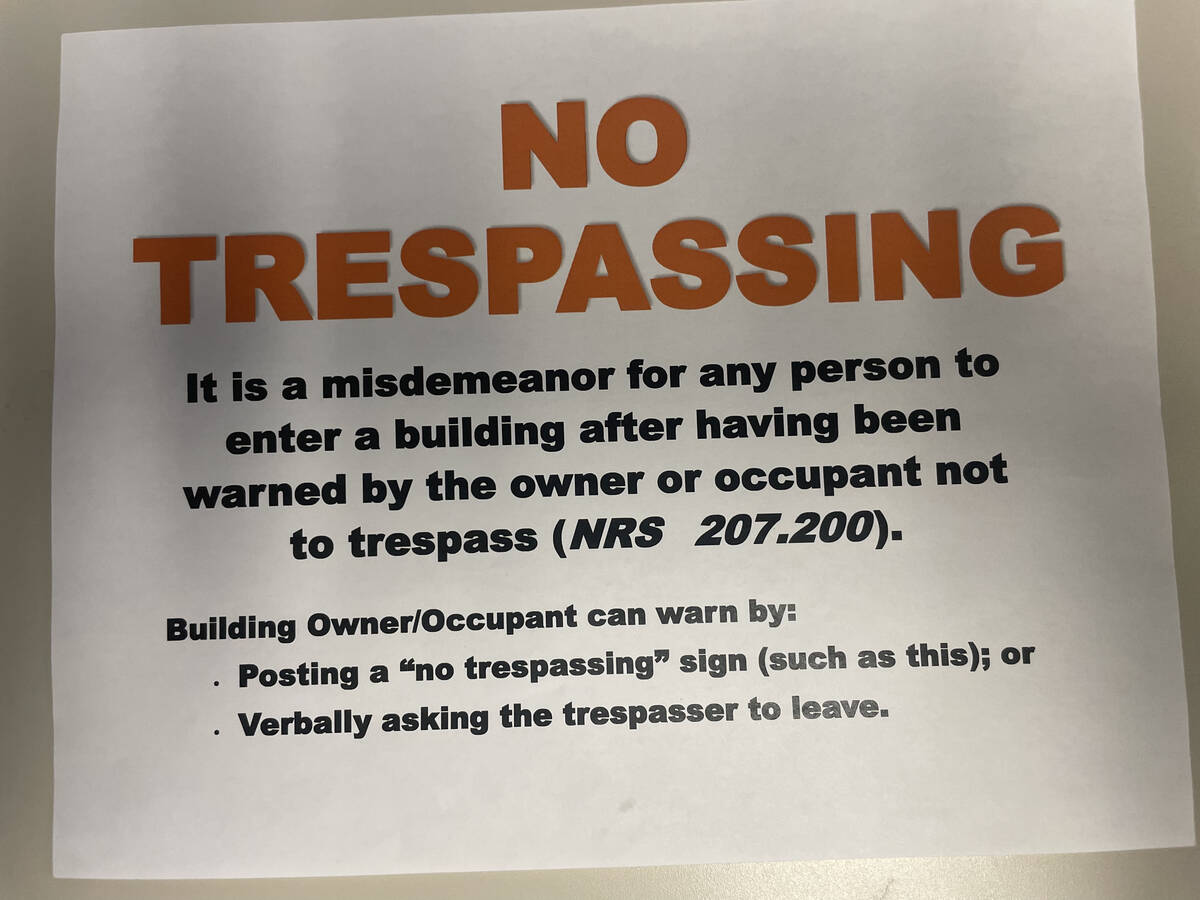 The issue of homelessness is difficult on just about every level.
And while trying to address individuals with empathy and compassion, Boulder City businesses also have to deal with the fact that some of those people can be disruptive and even drive customers away.
In an attempt to provide businesses with additional tools for addressing this, Councilmember Cokie Booth has been working with city staff and the Chamber of Commerce on a novel tool intended to make things a little easier.
Booth has used her own funds to pay for the printing of window "cling" stickers that can be affixed to a window without the use of adhesives outlining NRS trespassing statute. The existing law makes it a misdemeanor to enter a building after having been warned not to trespass. That warning can be verbal or in the form of a posted sign. Booth, who is a member of the Boulder City Chamber of Commerce, will be working with the Chamber to distribute the window signs to any BC businesses that wish to use them.
"We've been focusing a lot on issues surrounding homelessness and connecting people with proper resources," said City Manager Taylour Tedder. "Several months ago we heard from a lot of businesses having issues with things like people rattling their doors during non-business hours, being on their private property."
Booth expanded on that thought.
"Yesterday, I went to Mariano's for lunch," she said. "There was a homeless guy sitting like two doors down but I had to walk past him to get to Mariano's. He was wearing all black and he was holding an arrow. I'm not comfortable with that. I had to walk behind and around him. It was uncomfortable."
Booth had talked with city staff about the possibility of a "standing" trespass letter for businesses.
"It is something we had done in the past, but there was no policy and procedure in place," Tedder explained. "We have launched this program, we now have this policy and procedure in place and it is on the city's website."
Referring to a sample letter, he said, "Businesses can fill this out. They can create their own letter on their own letterhead. Essentially, what would happen is a business can say, for example, between the hours of 11 p.m. and 6 a.m. only these two employees are cleared to be on premises. No other people are actually authorized to be on the property. If this letter is on file, then even if the business owner is asleep, the police can take action."
The letters have a validity period of one year and a new letter would have to be filed with the city every 12 months.
"At 8 p.m., someone shouldn't be sleeping on my property or sitting there or stealing something," Booth added. "It's a real estate office and people know there is no one there at 8 at night. This way, if it is someone who has been warned previously, the police can just take care of it."
Municipalities in the western U.S. who are under the jurisdiction of the Ninth Circuit Court of Appeals are severely limited in what they can do to address chronically homeless individuals due to a pair of rulings that make it impossible for a city to demand someone on the street move unless there is a shelter with an open bed for them to be housed in. For a small town like Boulder City, which does not have a homeless shelter, those rulings tie the hands of police and public officials in many ways.
"This is kind of in response to a lot of the businesses feeling like they were having some issues with folks who were constantly on their property," Tedder explained. "Staff has been working very hard to try to identify ways that we can partner with organizations to have some place we can use as a shelter. Not in Boulder City, but an existing shelter. Our city attorney and our management team and I have met with the city of Henderson and the city of Las Vegas to identify resources."
While there has been talk for several years about Boulder City adopting an anti-camping ordinance, such as the one used in Henderson, Tedder pointed out that there are significant pragmatic barriers to doing that.
"Henderson has an anti-camping ordinance," he said. "But Henderson has about 40 city attorneys. We have one. If there is a challenge it could be overwhelming for us. So we really want to do this right."
Tedder noted that the city has taken a number of affirmative actions in 2023 to try to address the issue. Chief among these was using $400,000 in one-time pandemic funding (ARPA) to create a community liaison role in conjunction with the Boulder City Hospital. Jennifer Hedland, who filled that position, works with city paramedics and fire personnel to proactively reach out to members of the homeless population to offer them assistance.
In addition, the Nevada Department of Welfare and Social Services has made a staff member available two days a week at the Boulder City Court to help people with employment, housing and more.
The city has also established what they call the Homeless Outreach Team. In about a 15-week period covering most of the summer and early fall, that team had encounters with 30 homeless individuals (61 total encounters with 31 of those being repeats). Seven people were referred to the SNAP welfare program for food, two were given employment assistance, one housing help and five were referred to Medicaid for medical help.
As Boulder City Police Chief Tim Shea said in a recent report to the City Council, the police to do not encounter a huge number of homeless individuals, but they tend to see the same people over and over again.
"But for us, for a small community like Boulder City, even a dozen homeless people is a lot," Booth said.
As part of their efforts to direct people to appropriate services, the city has printed up two different cards that can be given out that list resources and give phone numbers for organizations such as Emergency Aid. And while that local group may be able to offer some help, homelessness is not their main focus, Tedder explained. "Their primary mission is to help people in Boulder City, residents, with rental assistance and a food pantry. They are not a homeless shelter, nor will they be."
Booth interjected, "With these cards, if a homeless person comes into, say, a restaurant looking for food, they can be given information on how they can contact Emergency Aid to get some food." She also was adamant that people should avoid giving homeless people money. "Give the money to Emergency Aid so they can use it to have food to give to these people in need."