Proposed development: Neighbors air concerns about street widths, parks
November 1, 2017 - 2:58 pm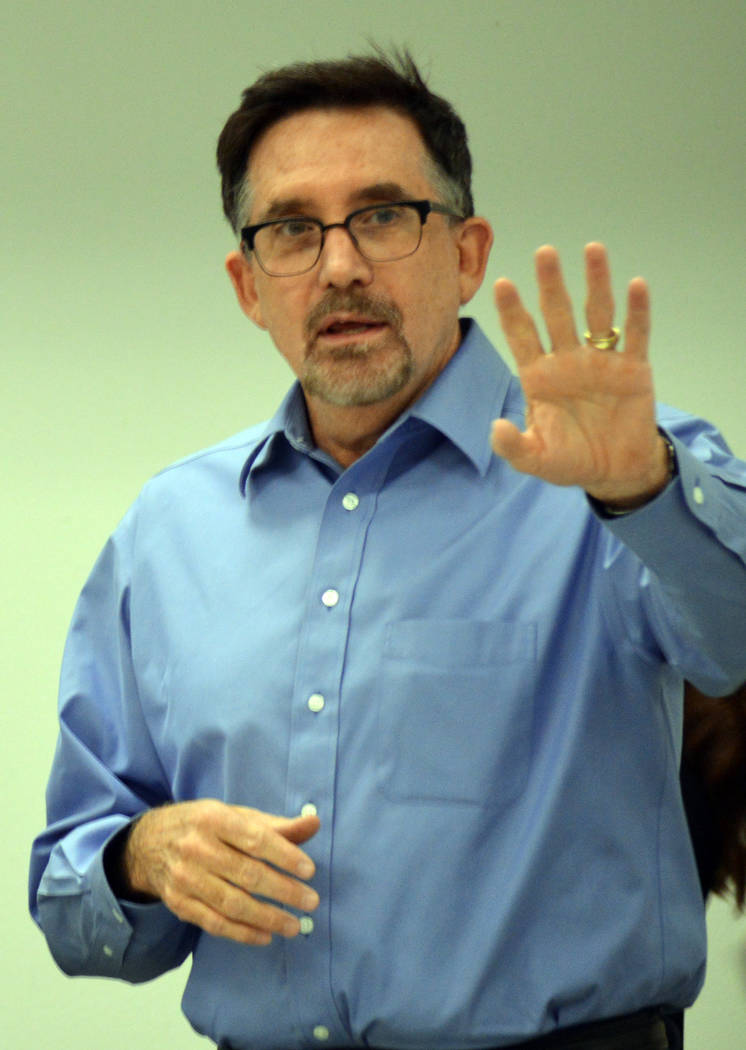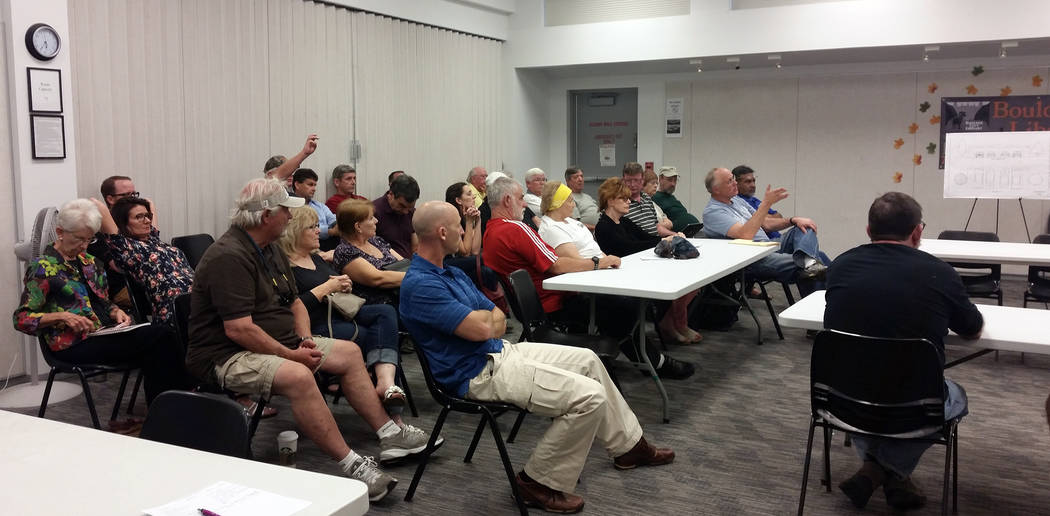 Street width, community parks and homeowner associations were among the topics discussed when StoryBook Homes hosted a meeting with area residents to discuss its proposed 129-home subdivision.
"I think we should have had this meeting first," said Wayne Laska, principal of StoryBook Homes, about the proposed project at the corner of Bristlecone Drive and Adams Boulevard. "We didn't think it was a big deal and didn't realize how much it meant to you all."
The informal meeting at the Boulder City Library allowed attendees to ask questions about the project, as well as give suggestions about how to make it work.
One of the major topics discussed was private versus public streets.
StoryBook is planning to create private streets that are 41 feet wide, including sidewalks and parking on both sides of the roadway. Typically, city-owned and maintained streets are 51 feet wide.
According to Laska, the requirement is 31 feet of pavement — his is 33 feet — to allow for emergency vehicles to drive through. The private streets would be maintained by a homeowners association.
StoryBook Homes President Janet Love said that, because private streets are narrower, the homes will pick up a little more land, and the HOA will be allowed to set and enforce rules for RV and boat parking.
Rules enforced
Some residents were concerned whether an HOA would be needed, since the city's code has language to enforce rules about them. Resident Kevin O'Keefe said that an HOA would enforce the rules better.
An HOA has more teeth in its enforcement, because it can fine, enforce, tow and bill the homeowner, according to Laska.
To help with on-street parking for RVs and boats, resident Tom Clements suggested that each house include plans for an RV garage or an outdoor parking space.
Resident Jody Jeppsen said HOAs were a good idea, because they could control the exterior color of the home.
Laska said his company's HOA would also take care of the front yards of the home and give them a more consistent look.
Another issue brought up by residents was the size and number of the parks in the proposed subdivision.
Park size
According to the minimum requirements included with the city's original proposal request for the land, a park of up to 1.5 acres "shall be" constructed within the development. Currently, StoryBook's plan features three parks totalling 1.4 acres — a difference of roughly 4,300 square feet.
Resident John Shields was concerned that the proposed size of the parks was smaller than the city's specifications. He asked Laska and Michael Gray, vice president of land acquisition and forward planning, why they were doing it that way.
"Because we believe that having three separate parks is more beneficial to the people down at the south (end of the development) and down at the north than having one central (park)," Gray said. "There's a park closer to go walk your dog in the morning."
Gray also said that they had made the suggestion of three smaller parks to the city, and "they were OK with it."
Laska asked Shields how the three smaller parks that totaled 1.4 acres instead of 1.5 affected him.
"It affects it from the standpoint that the city put out a request for proposals and they had minimum development standards in it that were identified with pictures, with drawings, with charts, all that sort of thing," he said. "And the proposal that you submitted did not meet the requirements with respect to the street width and with respect to the four items for which you've sought variances … but they still only add up to 1.4, and the city's RFP (request for proposal) said you needed to have 1.5. That's how it affects it."
Jeppsen said that she liked the idea of separate parks, even if they totaled 1.4 acres rather than 1.5 acres, because then she had a choice.
"As a mother, I would like to have little parks," she said. "I would like to have my children a little closer … I would actually like them divided up."
Just a plan
She also weighed in on the requirements within the city's request for proposals.
"I don't think we're holding them to exact lot positioning and exact streets," she said. "I think it's just mostly a sample until we can get to decide … what is exactly going to work out. You know, anytime I make a plan, I have a first draft, and then I have a second draft and a third draft and a fourth draft … We're not beholden to every single exactly thing."
"I think the city has even addressed that in one of our public meetings, that the plan was not by an engineer or a planner," Gray said. "It was just a sketch of just an idea of what they thought they could get."
"But I said very early on the project has to work for the city and for the developer, OK?" said Laska. "I think sometimes we miss the it's gotta work for the developer, too."
Shields added that the projected home sales from the development would be more than $50 million, based on his calculations of the number of houses to be built and prices that have been mentioned so far.
StoryBook Homes expects to address the City Council again at its Nov. 14 meeting regarding its proposal.
Contact reporter Celia Shortt Goodyear at cgoodyear@bouldercityreview.com or at 702-586-9401. Follow her on Twitter @csgoodyear.