Press association lauds BCR's general excellence
September 24, 2014 - 1:16 pm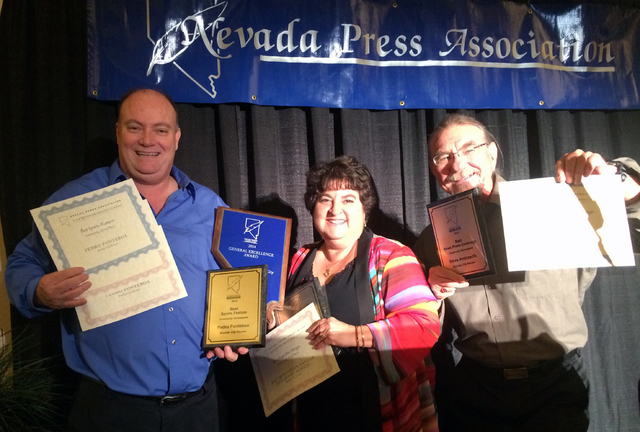 The Boulder City Review received nine awards, including first place for general excellence, Saturday night during the Nevada Press Association's 2014 Better Newspaper Contest.
Judges commended the paper for it focus on local news and called it a "full-service community newspaper."
"Our staff is small but we have been working hard to put the community back into our community newspaper," Editor Hali Bernstein Saylor said. "This honor reflects our efforts and congratulations are due to all who contributed to our success."
In all, the paper won four first-place awards, two second-place awards and three third-place awards.
"The Boulder City Review staff has once again been recognized as the top weekly newspaper in the state. Hali Bernstein Saylor, Steven Slivka and a host of talented correspondents serve Boulder readers with distinction. Congratulations to all," said Michael Hengel, editor of the Las Vegas Review-Journal.
Sports writer Pedro F. Fonteboa swept the best sports feature category, winning all three awards. Judges called his first-place story about the multiple sets of siblings and twins competing on Boulder City High School's athletic teams "well done. An excellent story on a unique and interesting subject."
It is the third consecutive year he has earned the award and the first time he has swept the category.
His second-place award was for a story about BCHS student Evan Klouse, who was transitioning from competing in swimming matches during the summer to running cross-country; and his third-place honor was for his story about new softball coach Angelica Moorhead.
Photographer Steve Andrascik won first-place in best news coverage for his picture depicting the demolition of a home on Esther Street where a police officer killed his family before taking his own life and setting the house on fire. "It captures the essence of the story," judges said.
He also received a second-place award for his photograph of Santa Claus in the annual Santa's Electric Light Parade.
Former reporter Jack Johnson earned a first-place award for best spot news story for his article about naturally occurring asbestos being found in the hillsides around Boulder City. He also won the top award for that category in 2013.
Other honors include a third-place award for Fonteboa for the best sports story and a third-place award for best page one design for Bernstein Saylor and Jenny Scheid.