Prayer group sends healing energy to herd
October 24, 2013 - 11:01 am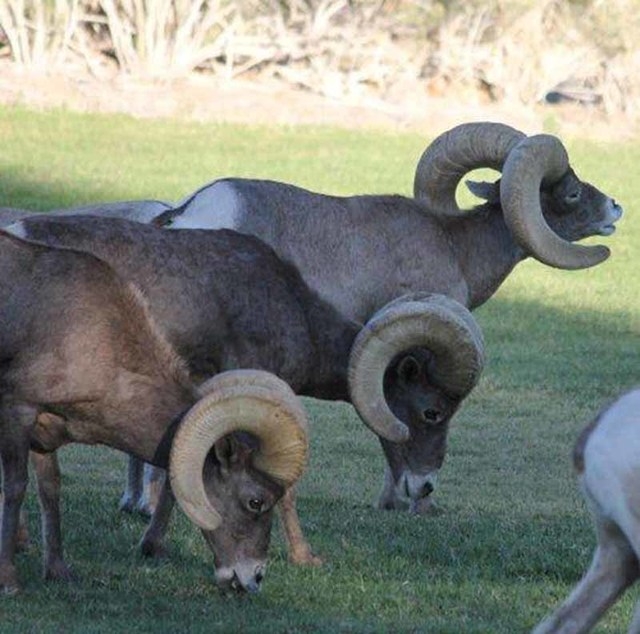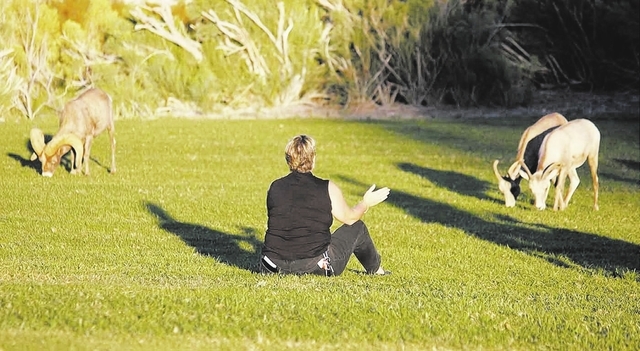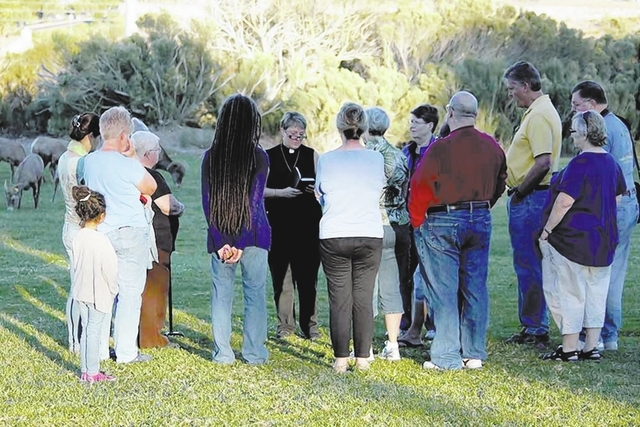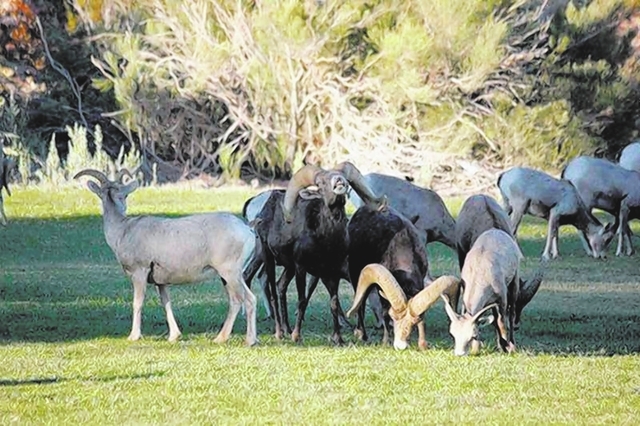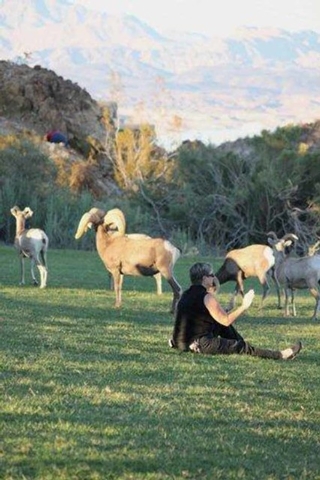 Sandy Johnson said her heart broke when she heard that a nearby herd of big-horned sheep was endangered by viral pneumonia. The recently ordained pastor at Boulder City United Methodist Church wanted to help.
"All I knew to do was pray," she said.
But in short order, she did more than that. Calling upon a close group of friends and supporters, she held a prayer and Reiki healing session Saturday in Hemenway Park. Participants overlooked a herd of two dozen big-horned sheep that munched grass without much interest in the proceedings. A few of the younger sheep would occasionally posture, baring their teeth as if to threaten, but they mostly ignored a similar number of humans, who held hands and prayed in a circle on their behalf.
The event began as a small, traditional prayer group, with Johnson reading the 23rd Psalm. She preceded that by explaining, "Sheep are part of our own traditional experience."
Johnson also thought to incorporate her own experience as Reiki practitioner.
Where did she get the idea for this?
"I blame God," she said. "He gives me these ideas all the time."
Johnson said her mother, who became a Reiki master 30 years ago, also inspired her.
"(The Reiki mastership) was right after my parents were divorced. We were all like, has Mother become unhinged?"
In time, the practice resonated with Johnson. She acknowledged that Reiki and similar practices are controversial among many Christian denominations.
"At one point I asked my bishop if it was all right (to practice Reiki)," she said. "He said, 'Yeah, great.' So I do."
Assisting Johnson were three local Reiki masters, including a former Boulder City Mayor Eric Lundgaard, who was accompanied by Brianna Coleman and Nancy Long. After leading a prayer circle, Johnson and the Reiki masters approached the sheep, knelt and aimed their palms at the sheep — "beaming healing energy," as Lundgaard put it.
Coleman said Reiki is based on the idea that "energy is channeled through the body from a higher source … just as Jesus Christ did 2,000 years ago."
The Japanese founder of Reiki, Mikao Usui, claimed to have received his teachings from God while meditating on Mount Kurama. According to a 2008 review of clinical trials by the American Cancer Society, "the evidence is insufficient to suggest that Reiki is an effective treatment for any condition. Therefore the value of Reiki remains unproven."
Pastor Richard Smith, chaplain at St. Rose Dominican Hospital, Siena campus, also attended Johnson's session. From his hospital work he's learned that many nurses have gotten involved in the healing touch, a form of hands-on healing with parallels to Reiki.
"I think there's a lot of suggestion in energy work," he said.
As for the health of the sheep, it's wait-and-see. The Las Vegas Review-Journal has reported that viral pneumonia was long suspected in the River Mountains herd but proved only in September, in the autopsy of a young ewe found sick and dying. The herd is a key player in repopulation of herds in mountains across the Western United States. The pneumonia is not a concern for people, but surviving sheep become carriers that can spread the disease throughout the herd, threatening its survival. Until the sheep can be certified as noncarriers, they will remain in effective quarantines away from other herds.