Potential for city gateway studied: Council to review plan for I-11/U.S. 95 interchange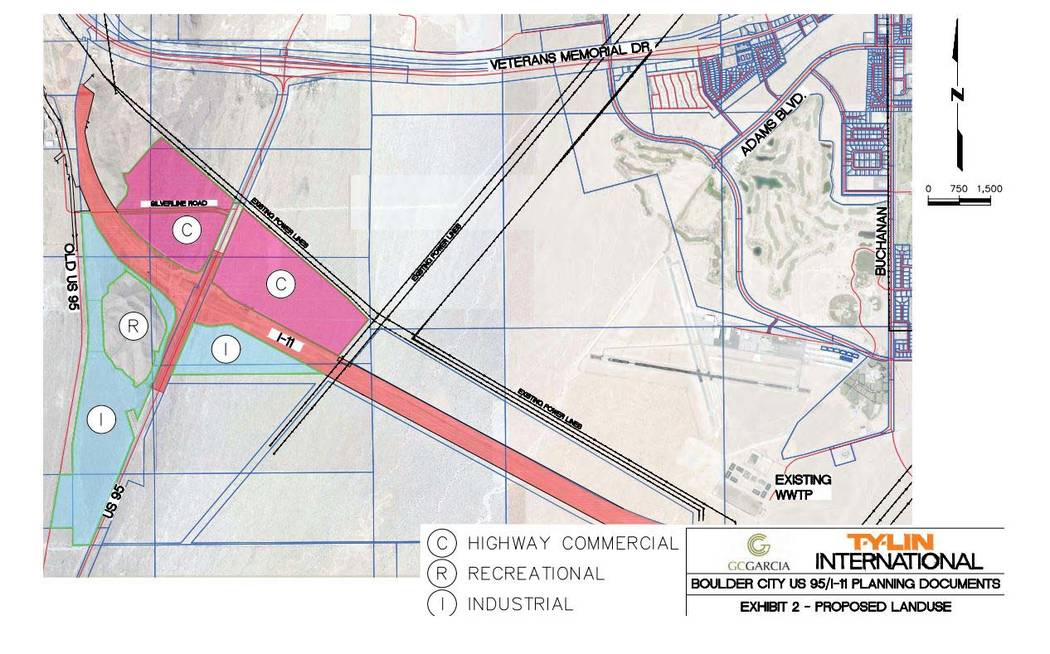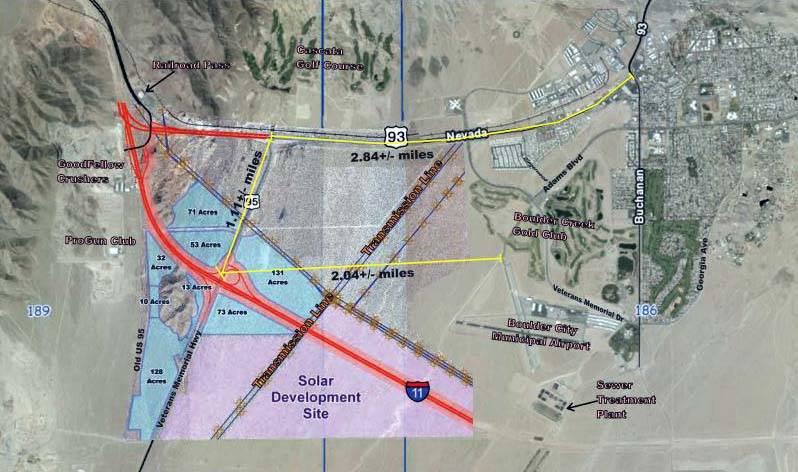 As the opening of Interstate 11 edges closer so does the presentation to City Council on the proposed Hoover Dam Gateway project for the interchange with U.S. Highway 95.
The Hoover Dam Gateway is a plan created by GC Garcia, a Nevada-based land planning and development services firm. The city hired GC Garcia in August 2016 for master plan services that would serve as a starting point for developing the interchange area. At some point when the City Council deems appropriate, it will initiate a master plan for this subarea of the city, similar to the Bootleg Canyon subarea plan, according to a staff report presented to the Planning Commission when the study was first unveiled in April.
The gateway plan includes the Hoover Dam Gateway Center at Boulder City and gives different development ideas for the area, located 4.5 miles outside of downtown and almost 3 miles away from Adams Boulevard, the closest access point to existing city roads.
"GC Garcia was hired to help create a plan analyzing the many economic opportunities and corresponding challenges that are likely to occur in connection with the opening of Interstate 11 next year," said city spokesperson Sue Manteris.
Possible uses
GC Garcia's plan focused on potential land uses, connectivity, design guidelines, future zoning, financing and implementation strategies.
It included preferred and nonpreferred uses for the 700-acre parcel, which were determined after individual meetings with key community members, as well as a town hall meeting to help define the best uses for the area with input from citizens.
Ideas proposed for the area were warehouse distribution, technology parks, corporate parks, data centers, industrial parks and a visitor center; there was opposition, to workforce housing, casinos, heavy industrial and big box retail shopping.
"The report does not change land use or zoning," Manteris said. "Instead, it provides guidelines and options for the city to consider so that it can determine how best to create opportunities to develop the I-11/U.S. 95 interchange with diverse uses that have the potential to provide significant revenue to the city, primarily through leasing the land. The city cannot forever rely solely on solar leases. Solar leases are helping to provide our economic base today, but the city also needs to plan for tomorrow. Smart cities need to diversify their revenue portfolio."
"Currently, 35,000 vehicles go through Boulder City a day," she added. "When I-11 opens, that will be significantly reduced. Thus, a secondary but equally important element of the study is to find ways to use the highly visible interchange to get drivers off the I-11 bypass and rerouted back into Boulder City so that our existing businesses remain strong."
Council presentation
Acting City Manager Scott Hansen said although the agenda has yet to be completed, the gateway study will most likely be presented to the City Council at its Aug. 22 meeting. Hansen said that there is no formal action being requested, and council members may or may not provide direction to staff.
"The City Council has many more decisions to make and actions to take," said Brok Armantrout, special projects manager and former community development director. "Upon review of the recently completed master plan study, the City Council may direct staff to initiate a master plan amendment to include the interchange in our current master plan, or a complete update to the city's master plan to include the interchange and other potential sites for development."
"The site is far from ready for immediate development and will require additional infrastructure, including utilities and streets, to be planned for and eventually extended to serve the area," Manteris said. "The Garcia study will help the city assess the scope of the infrastructure requirements for various uses and explore options for constructing it, including how to have the ultimate end users help pay for it."
Concerns voiced
Community residents have voiced their concerns about the project, believing that development in that area would create a second city center that would harm existing businesses.
"I think that if it looked anything similar to what to what we already have on Industrial or Foothill roads, I don't think it needs to be down there," said resident Nate Lasoff at the Planning Commission meeting in April.
"There's land that the city owns that we could expand that area, and it still stay in Boulder City, so I'd be against anything that looks similar to what was already down on Foothill or Industrial."
"I just think it's our value in Boulder City that we have this nice small town, and that's what we like, and that's why we're here, and doing this development will open the door to ruining that and turning us into Henderson," Mary Venable said at the meeting.
Two residents, Tom Clements and Neal Siniakin, created a program for Boulder City Television expressing their concerns and opinions about the gateway.
Clements said that he didn't think the city should rush into a massive commercial and industrial development at the Hoover Dam Gateway Center. He also thinks that the gateway is a "leap frog" development that should be discouraged and agrees that it could create a second downtown for Boulder City that will cannibalize existing businesses.
"An undeveloped 'Four Corners' would be a gift of great value to our children and grandchildren," he said in his presentation. "Let future generations have a say in what should be in Boulder City. There is no need to rush into this project. Let us see what the real impact of Interstate 11 will have on Boulder City. I believe Interstate 11 will actually improve the quality of life in Boulder City because it will eliminate all the truck traffic passing through town. Boulder City has an abundance of land in its existing industrial areas that have not been developed, and it also has an abundance of land that could be developed for residential that is not in the Eldorado Valley."
Both portions of the program can be found at on YouTube at http://bit.ly/2uWwHoU.
Costs questioned
The cost of the contract with GC Garcia has also been questioned.
The company was one of five that submitted a bid for this project, and its base bid of $147,000 was the second to lowest. The highest bid received was $489,400, and the lowest was $123,100. The city's budget for the project was $180,000, which came from the Redevelopment Agency. The extra money allowed for additional services from GC Garcia, if needed.
To date, the city has spent $170,664.19 with GC Garcia for master plan services, according to Finance Director Hyun Kim.
While the opening of the interstate and interchange may seem far off, the next few weeks will see portions put into use. Nevada Department of Transportation Public Information Officer Tony Illia said the Phase 1 southbound lanes near Railroad Pass are scheduled to open Aug. 15, while the segment of I-11 with the interchange is scheduled to be completed in January 2018.
Contact reporter Celia Shortt Goodyear at cgoodyear@bouldercityreview.com or at 702-586-9401. Follow her on Twitter @csgoodyear.
Money paid to GC Garcia for its gateway study
Sept. 28, 2016: $58,800
Oct. 26, 2016: $4,509.71
Nov. 29, 2016: $58,800
Feb. 3, 2017: $146.68
April 10, 2017: $7,500
May 2, 2017: $29,407.80
May 5, 2017: $8,500
May 17, 2017: $3,000
Total: 170,664.19
Source: Boulder City