Police report: Hammer attacker was high on meth
October 29, 2014 - 12:43 pm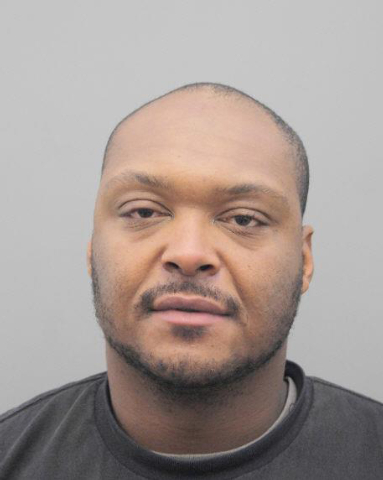 The Las Vegas man who Henderson police said attacked 10 people with a sledgehammer, including three in Boulder City, was high on methamphetamine hours before the attacks Friday evening, according to a police report.
Damien D. Robins, 31, began the attacks in Boulder City at about 7:15 p.m. after police said he struck the windshield of Susan Davis' car with a sledgehammer in the 7-Eleven parking lot after asking her if she was lost. Davis was able to put her car in reverse and drive away.
Approximately 20 minutes later, Robins attacked John and Pamela Wright as they walked back to their motorhome, police said.
According to the report, Robins stopped in the middle of the road and asked the Wrights if they were lost. Shortly after, Robins began hitting them with a sledgehammer, rendering Pamela Wright unconscious, police said. Robins then returned to his vehicle and drove north on U.S. Highway 93 where he ran two drivers off the road and attacked them several times with a sledgehammer, police said.
Robins then drove into Henderson and cut off a driver at Greenway Road and Horizon Drive where he attacked the driver with the sledgehammer before getting back in his car and driving to Heather Drive, according to Henderson police.
After attacking another woman, Robins then drove to Foothill High School and hit another man with the sledgehammer. He fled as officers were arriving, police said.
Robins then drove to Taco Bell on Horizon Drive and blocked a vehicle in the drive-thru lane where he attacked the female driver of the vehicle, police said.
Robins then sped off and pulled into a nearby neighborhood where he cut off another vehicle and got out, smashing the car with the sledgehammer. The driver of that vehicle was not injured, police said.
Officers were in pursuit and, when confronted by a K-9 officer on Arrowhead Canyon Drive, Robins surrendered about an hour after the attacks began, according to police.
Robins' wife told police her husband had been addicted to methamphetamine, and that she hadn't seen him for three days before the attacks. She said he had recently been fired from his job, and that it wasn't uncommon for him to "disappear for a few days" while he was high on methamphetamine, according to the report.
Robins' wife told police that in the early hours of Friday morning, Robins told her he wanted to kill her and burn her body, and that he felt like bludgeoning someone to get his aggression out.
She told police that the two of them had a history of domestic violence and she had previously filed two restraining orders against him.
It is still unknown why Robins was in Boulder City.
Robins is being held at the Clark County Detention Center and faces six counts of attempted murder, three counts of assault with a deadly weapon, and one count of kidnapping.
He is scheduled to appear at 1 p.m. Nov. 11 in Boulder City Justice Court for arraignment.
Contact reporter Steven Slivka at sslivka@bouldercityreview.com or at 702-586-9401. Follow @StevenSlivka on Twitter.