Police launch programs to guard citizens' welfare
February 7, 2018 - 2:38 pm
Updated February 9, 2018 - 10:03 am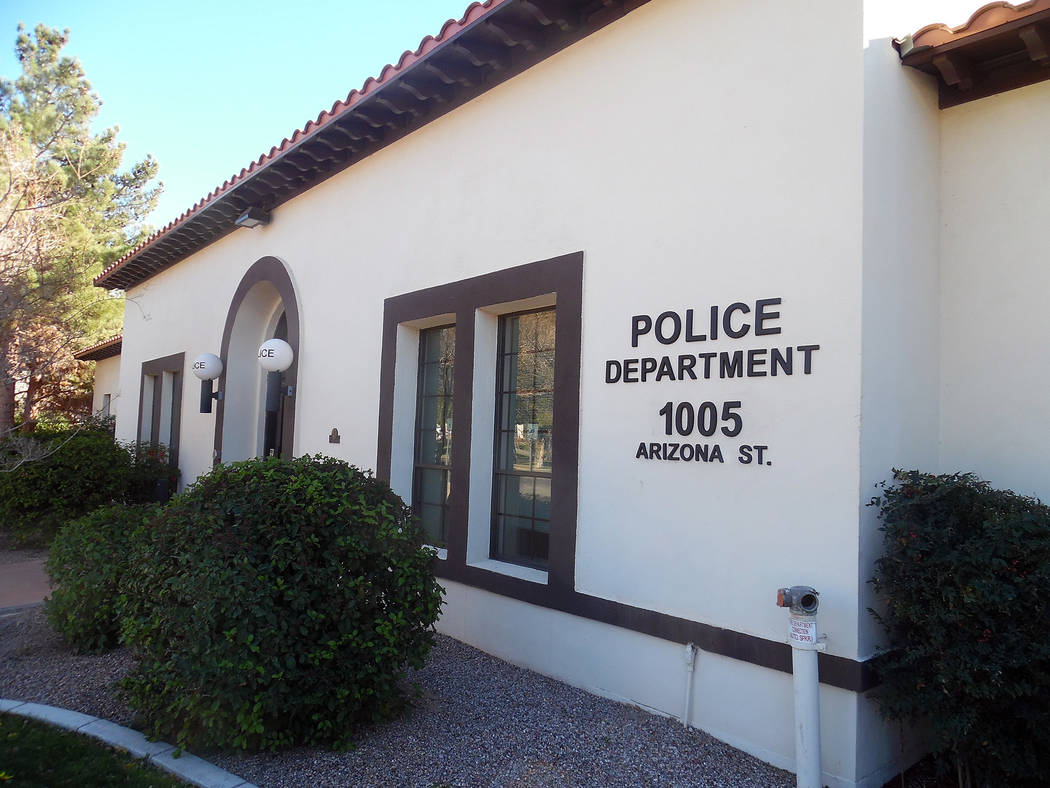 The Boulder City Police Department is implementing two new programs — text-to-911 and You Are Not Alone — to better serve residents.
According to the Federal Communications Commission, text-to-911 allows people to reach 911 by sending a text message.
All someone needs to do to use it is create a text message with the details of the emergency, put 911 as the recipient and send the message, said Ruby Perkins, Boulder City Police Department communications and records supervisor.
"It comes into a web-based program monitored at the communications center; information is exchanged and assistance sent," she said. "We ask that whenever possible (people) still make a phone call; information can be obtained in a more timely manner — especially medical calls where prearrival instructions are given."
Text-to-911 is only available in Nevada in Boulder City and Henderson, said Boulder City spokeswoman Sue Manteris. GEM911 provides it at no cost to the department.
"If we can help even one person with this service, then it will all be worth it," Perkins said. "We want to provide our citizens with more options to contact the dispatch center when they have emergency situations."
The Police Department starting using text-to-911 in January, and Perkins said the implementation has gone smoothly.
Henderson started the program two years ago, which helped pave the way for Boulder City, she added.
"Our hope is that this will be an additional avenue for citizens that are in some form of distress and not in a safe place to talk, or not physically able to talk to be able to get help," she said.
Spearheaded by Boulder City Police Chief Tim Shea, the Police Department is also starting the You Are Not Alone program. Through it, department volunteers will regularly contact elderly people in Boulder City via phone calls and home visits.
"This program has been around for at least 20 years in various departments across the country," he said. "It provides an opportunity for us to help ensure some of our most vulnerable folks are not 'forgotten' and left alone and become victims. This is a prevention program, which is so much better than a response format after something has happened."
The program is still in its "embryonic stages" as the department is getting it up and running, Shea said.
Those who use YANA will be contacted at arranged times. If the participant does not answer the phone or door, the volunteer will contact family members, friends and neighbors. If there is still no response after a few attempts, a police officer will be called to check on his or her well-being.
"When working properly, this program provides a friendly, consistent, predictable method to assure seniors that they have someone making sure they are OK," Shea said. "And if there is some issue, we can start the processes to get the help and assistance they need. … This especially helps with absentee relatives who are concerned for an elderly relative. We can provide the feedback and assurance that someone is checking on their loved one and will let them know if there are any issues and or concerns."
To participate in YANA, fill out an application at bcnv.org/591/You-Are-Not-Alone-YANA-Program. People can also refer others to the program.
For more information, contact Police Support Aide Patrick Richard at 702-589-9603 or prichardson@bcnv.org.
Contact reporter Celia Shortt Goodyear at cgoodyear@bouldercityreview.com or 702-586-9401. Follow her on Twitter @csgoodyear.