Police, community to mingle at National Night Out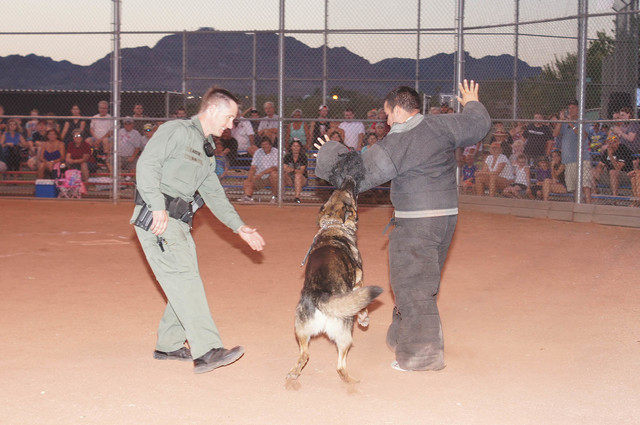 Residents of Boulder City and the city's first responders can come together Tuesday night at Veterans' Memorial Park for National Night Out, an annual community-building campaign between public safety officers and the citizens they are sworn to protect.
Boulder City's big event, which was set up by the police department, fire department and local emergency medical technicians, will feature a variety of activities between 6-9 p.m.
The event includes police boats from the Lake Mead National Recreation Area park rangers, a demonstration from the Boulder City Police Department K-9 Unit, and a showing of a Mercy Air emergency helicopter.
The event also will feature an obstacle course and bouncy castle for the kids as well as a number of informational displays.
Event organizers are working to get the Metropolitan Police Department's mounted unit to attend, but it was not confirmed as of Tuesday afternoon.
As with past years, those attending will be treated to free hot dogs and hamburgers, which were donated by Albertsons and cooked by the staff from Jack's Place.
There will be a raffle with all proceeds going to the Boulder City High School cheer team and the Police Explorers.
The night will be capped off with local police officers and firefighters playing a softball game against Boulder City High School alumni.
Boulder City Police officer and event organizer Scott Pastore said an event to open up communication between first responders and the public is sorely needed after police shootings in Dallas, Texas, and Baton Rouge, Louisiana.
"This is a chance for local people to interact with officers in a carnival-like atmosphere and realize that officers are human," Pastore said. "It also gives the public a chance to interact with an officer in a casual setting where they are not a victim or a perpetrator."
Pastore said that they are expecting over 3,000 people to attend the event and that when it comes to National Night Out, local first responders take the event very seriously.
"We are the biggest National Night Out in the valley," Pastore said. "Boulder City and other police departments in Henderson and Vegas go to our event because it is the biggest one."
Contact reporter Max Lancaster at mlancaster @bouldercityreview.com or at 702-586-9401. Follow him on Twitter @MLancasterBCR.