Police chief fired, vows to continue fight
April 18, 2013 - 12:03 pm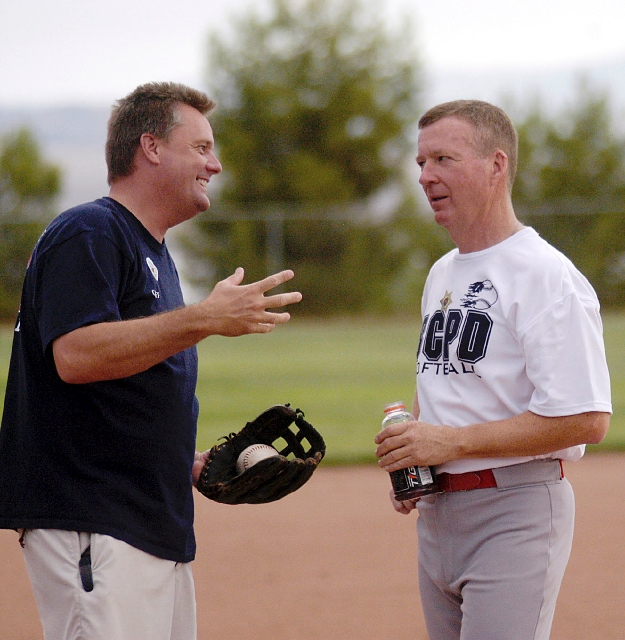 After months of publicly accusing city officials of conspiring to fire him, Police Chief Thomas Finn was let go Monday morning.
Finn, who was fired after returning to work from medical leave, said he was given the option of resigning but refused, leading the city to terminate him.
Finn's 12-week leave began Jan. 16 and was scheduled to end Monday.
City Manager David Fraser declined to give a reason for the termination.
"Consistent with the city's practice of not discussing details of personnel actions, further comment from the city will not be made at this time," Fraser's office said in a statement.
The option to resign came during a meeting with Fraser, Personnel Administrator Bryce Boldt and City Attorney Dave Olsen. The group also oversaw the now former chief cleaning out his office.
"Fraser offered me the opportunity to resign my position, which I immediately declined," Finn said in a statement. "I was then advised that my employment with the city of Boulder City as chief of police was terminated."
Mayor Roger Tobler declined to comment, stating it was Fraser's decision.
On Tuesday night, Councilman Duncan McCoy reminded the community that the chief of police is an at-will position "serving at the pleasure of the city manager."
"The city manager does not need a reason to terminate the chief of police," McCoy said during a community question and answer session sponsored by the Chamber of Commerce. "If he doesn't like the smell of the chief's cologne or the chief's doesn't share his vision, he can be terminated."
Fraser said the status of retired Las Vegas police veteran Bill Conger, who was named acting police chief March 13 by Fraser, has not changed. A decision on how the city plans to fill the position will be quick, he added.
Finn was hired as the police chief on March 22, 2006. He was president of the Nevada Sheriffs' and Chiefs' Association in 2010 and 2011.
"I have, for the most part, enjoyed a rewarding 32-year career, 14 of those years as a chief of police," Finn said. "My work here is not quite finished, and I will continue to do everything in my power to make Boulder City a better place to live and work."
Finn said Tuesday he plans to continue "to expose the unethical and outrageous behavior" perpetrated by city officials on behalf of those in the city who cannot.
Finn said that he already receives a pension from New Jersey and will get a smaller one here, putting him in a financial position to fight on.
"They picked the wrong guy to harass," Finn said.
The firing is no surprise, however. Finn has been entangled in a nasty feud with city officials since filing a November lawsuit in District Court in Clark County alleging city officials conspired to have him fired.
That suit, naming Olsen, City Councilman Cam Walker, police Sgt. John Chase, retired police Sgt. Dan Jennings and local attorney Stephen Stubbs, was dismissed by a District Court judge this year.
However, Finn has continued with allegations against city officials, filing a charge of discrimination with the Nevada Equal Rights Commission last month, alleging Boulder City violated his constitutional rights because of his age and religion.
"These city officials have falsely accused me of mismanagement, misconduct and other delusive concocted and untruthful behavior in an attempt to both ruin my reputation and adversely impact my distinguished law enforcement career," Finn stated in the complaint.
Also last month, Finn filed four complaints with the Nevada attorney general, alleging illegal behavior by Tobler, Walker and Fraser. Finn subsequently refiled the complaints with the district attorney.
Finn filed a complaint with the Nevada Ethics Commission on April 10, alleging Walker violated the Boulder City Charter by voting on a June agenda item in which he had a pecuniary interest.
Finn said Tuesday he thinks the city wanted him to resign to remove some of the strength of his claims.
But in addition to his formal accusations, Finn has launched a media campaign against city officials, claiming to KLAS-TV Channel 8 news reporter George Knapp that the city's predominately Mormon power structure wanted him gone, in part because he is not of their faith. Finn is Roman Catholic.
Four of the five council members are Mormon, as is the city attorney and city manager.
McCoy, the council member who is not Mormon, implied Tuesday night Finn found a willing audience in Knapp to espouse Mormon conspiracy theories.
"This is not the first time, however, that (Knapp) has written articles or done broadcasts about the Mormon conspiracy," McCoy said. "It's been going on for years, and he has the freedom to say what he wants to say."
Despite Finn's insistence city officials wanted him fired before Monday, no official has ever publicly stated that he wanted Finn to be fired.
"I'm still baffled about all of this because no one here in City Hall ever had any kind of animosity toward the chief of police," Olsen recently told KLAS-TV Channel 8. "I never heard anyone say they wanted the chief to be fired."
Fraser began work as city manager Jan. 14, following the retirement of former City Manager Vicki Mayes, and says he met Finn only once before Finn took medical leave.
Before Monday, Fraser, who is the only person who can fire Finn, never commented on how he planned to handle the controversy surrounding Finn.
The only person who has ever openly claimed he wanted Finn to be fired was Stubbs, who is an attorney for the Mongols Motorcycle Club. He is also Mormon, which Finn claims ties him to city officials.
"I think a little bit of justice has been served," Stubbs said. "Finn doesn't belong in law enforcement, and he doesn't belong in the position of police chief."
Following the Mongols national meeting, which took place at the Boulder Inn & Suites in June, Stubbs named Finn in a federal lawsuit alleging he violated the civil rights of club members.
In October, Stubbs was anonymously tipped off that, before the event in June, Finn had sent a department-wide email requesting that officers delete public-record emails, so that a public-information request by the Mongols would not reveal law enforcement strategy.
Stubbs began making public allegations that Finn had committed multiple felonies with the order, showing up at city council meetings backed by leather-clad bikers to demand that the city launch an investigation.
It was learning of Stubbs' private conversations with Walker and Olsen that prompted Finn to file his lawsuit Nov. 21.
The following week, upon recommendation from Olsen, the City Council voted to have Stubbs' allegations against Finn investigated by an outside agency.
"We need to be fair to the chief, but at the same time we represent Boulder City, and when allegations are made I think there's an obligation on us … to determine the next step," Tobler said at a Nov. 29 meeting.
The allegations were investigated by the Nevada attorney general, but the findings have not yet been released by the Clark County district attorney.
The City Council voted Dec. 11 to have an audit of the police department performed by an outside organization.
Olsen said in December that the audit was the council's idea to improve the police department, and not an attempt to punish Finn.
Finn, however, claims the audit was Olsen's idea, retaliation for an investigation Finn had spearheaded relating to the city attorney's poor prosecution rate of DUI cases.
"Olsen's response to my uncovering his failures was to go on the offensive with me, and the audit was one of the strategies in his game plan," Finn said earlier this month. "Olsen's despicable effort to turn over every rock in his quest to destroy me is pure retaliation."
The audit, completed last month by the International City/County Management Association's Center for Public Safety Management, presents a list of staffing, organizational, communication and policy troubles.
Finn called the audit a "hack job." The audit, in part, criticized department leadership and confirmed a missing department issued Bushmaster AR-15-style rifle.
Editor Arnold M. Knightly contributed to this report.