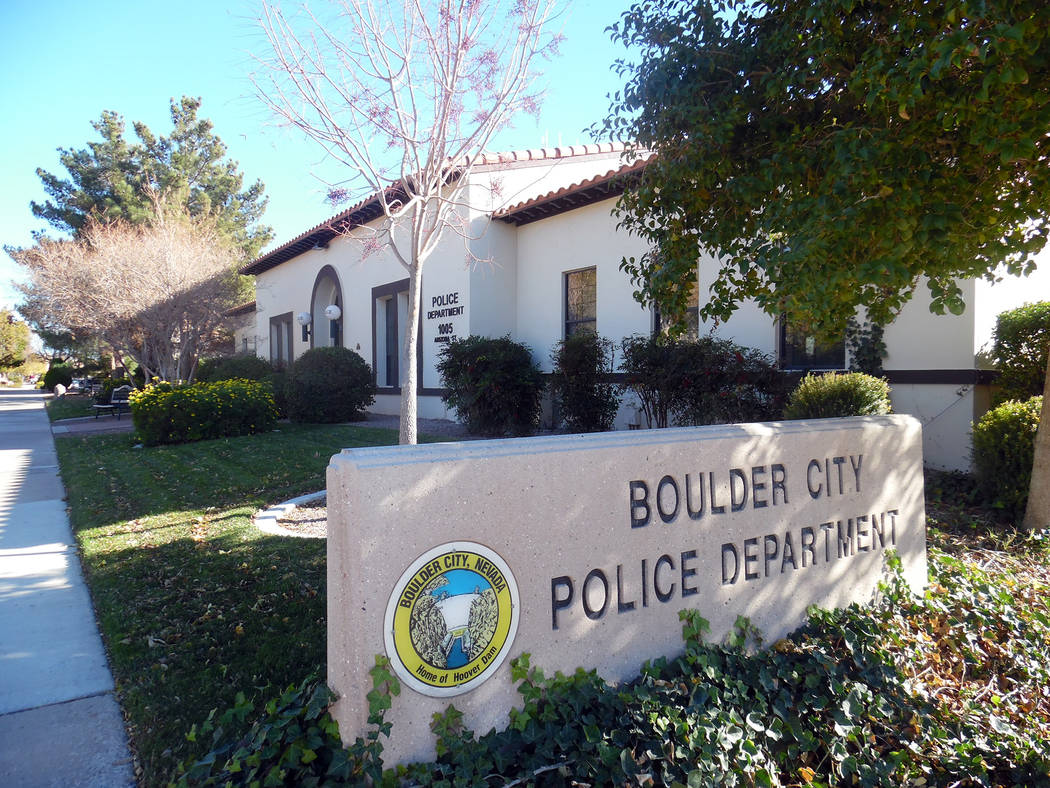 June 26, 11:36 p.m.
Dispatch received a 911 call during which a woman was heard screaming and a man was heard calling the woman's name. The line was open. Officers called the motel where the call was coming from, but there was no answer. They also checked the motel and did not see any lights on nor hear anyone screaming.
June 27, 9:19 a.m.
Officers stopped a woman driver for not stopping at a stop sign. The driver admitted to the officers that she had been driving too fast for the conditions, which led her to not stop. The officers cited her for failing to stop at the stop sign as well as having no proof of current insurance. They also gave her a written warning for not having her vehicle registration with her. Officers said she then tried to blame her 3-year-old son in the back seat for her actions. She said that she was a Boulder City resident, on her way to a meeting with "very important person" and the officers stopping her placed her "under unnecessary stress." She said she should have just been "let go."
June 27, 3:44 p.m.
Officers received a report that a woman had been hit by a car while she was riding a bike. When they arrived, they found that her face was injured.
June 27, 4:36 p.m.
A man came to the police department to turn in a snub nose .38 gun he found at the dump. Officers ran the serial number and found no reports about the gun.
June 27, 10:49 a.m.
Officers received a report that a large group of juveniles had a fire "going on" at a restroom.
June 28, 11:52 a.m.
Officers received a report of an elderly woman who had been asleep in front of a store for a few hours. The caller was concerned for her welfare.
June 29, 7:03 a.m.
A woman called to report that her someone cut the tires on her car. The tires were valued at $125 each.
June 29, 10:54 a.m.
Officers responded to call involving drugs. When they arrived, they smelled narcotics and detained three people. There was also a juvenile there who waited for a ride from a family. Child Protective Services was notified.
June 29, 2:05 p.m.
Someone came into the lobby of the police department and said there was a disabled school bus on Utah Street. Twelve minutes later, the students on the bus had all been transferred to another one.
June 29, 3:15 p.m.
A woman called about incident that had happened with people staying in rooms 101 and 102 of a facility. The guest in room 101 pointed a hand gun at the head of the man who staying in room 202. The man had barricaded himself in the room, and there were two shots fired. About 2½ hours later a search warrant was executed for the room.
June 30, 10:28 a.m.
Officers received a report that someone's Great Dane puppy was lost. Almost six hours a later, the man called back and said that an Amazon driver had stolen the puppy. The suspect was in a silver vehicle with dark tinted windows. A man was driving it and a heavyset woman was a passenger. They were private contractors with Amazon for weekend delivery. Approximately 40 minutes later, the puppy's owner wanted to meet at the animal shelter to file charges. Animal control had retrieved the puppy from Las Vegas and was en route to the shelter.
June 30, 8:57 a.m.
Officers received a report that someone had put a bag of rat poison by the front gate and children could have found it.
July 1, 5:15 a.m.
A caller reported a rattlesnake on the back porch. About 20 minutes later, an officer captured a snake in a chlorine bucket and transferred it to the desert.
July 1, 3:36 p.m.
Officers responded to a report of an umbrella that was caught on a wire and had sparked a few times. It was causing power outages in town.
July 1, 6:05 p.m.
A man called the police and said that his house had been vandalized and some items were missing from his garage.
July 2, 6:17 a.m.
A man called the police and told them he thought people were being held hostage on his block because some blinds were closed, and he thought he saw someone shove a woman's face away from the window.