January 10, 2018 - 3:39 pm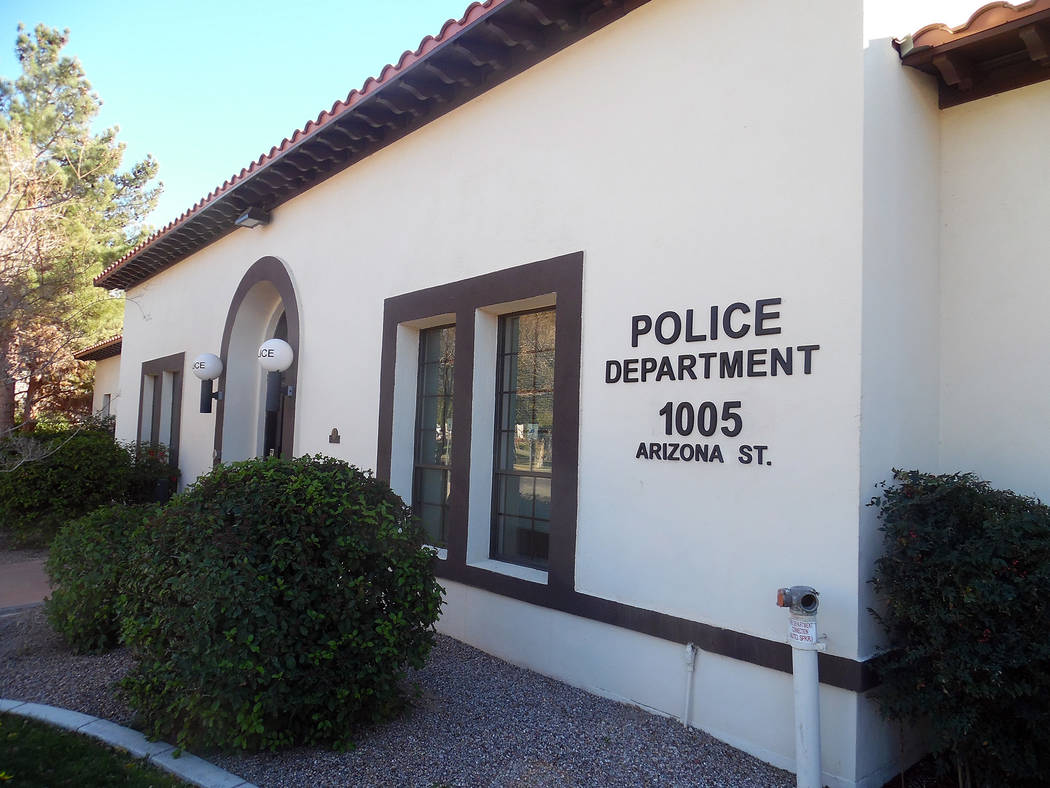 Jan. 2, 11:36 a.m.
A woman called police and said that needles were thrown into her yard.
Jan. 2, 11:43 a.m.
Officers received a report of a 5-year-old boy walking by himself and heading toward Nevada Way on Wyoming Street. He was wearing a long-sleeve shirt and gray pants. Upon arrival, officers found the boy and took him to the police station. They made contact with his father, who then came to the station to pick him up.
Jan. 2, 1:07 p.m.
Officers received a report of damage to playground equipment.
Jan. 3, 4:20 a.m.
Officers received a report of a vehicle that was 30 yards off the road in the desert on southbound U.S. Highway 95. It was unknown whether there were injuries or anyone in the vehicle. Upon investigation, officers found that the airbag had been deployed and there was blood on it. The windows were intact, and there was a child seat in the back of the vehicle. There was no one in the vehicle. Officers also found no one in the area and determined the car to belong to a man from Lake Havasu, Arizona. His wife said that he took the vehicle the night before and she hadn't heard from him since. Approximately an hour later, the Nevada Highway Patrol took over the call and no longer needed the assistance from the Boulder City Police Department.
Jan. 3, 10:03 a.m.
A man called and said that a stranger knocked on his door. He said that it was suspicious because he wasn't expecting any packages, and he wanted an officer to come over. He said the man was wearing a blue jacket, glasses and weighed 350 pounds. Fifteen minutes later, an officer arrived and no one was home.
Jan. 4, 10:07 a.m.
Someone called to speak with the shift sergeant regarding a records request that had not been fulfilled for five weeks.
Jan. 4, 11:35 a.m.
A woman called and reported that she was having issues with her neighbor. She said that she wanted to file a report because earlier in the day the neighbor had slammed on his brakes to attempt to get her son to hit his car.
Jan. 4, 1:32 p.m.
Officers received a report of someone' co-worker making statements about a rifle and a water tower. Upon investigation, officers heard the exact statement that was that if things got any worse, this man would climb onto the water tower with a high-powered rifle. They were unable to pull video of the event and were going to try again the next day.
Jan. 5, 6:11 a.m.
Officers received a report of a woman wearing a hospital gown and jeans, heading down Buchanan Boulevard. She was on an involuntary hold and had flagged down a passerby and was attempting to get into his vehicle. Three minutes later she was running away from the officers and through the intersection. The officers detained her and contacted the hospital. She was transported back.
Jan 5, 3:16 p.m.
A man called to say that he had picked up a man and a young girl in Arizona and given them a ride into Boulder City. He said that the man acted sketchy and the girl acted strange and scared to death. He dropped them off at Auto Zone to get a part for their car. He said that he didn't feel right about it and asked the police to check it out. Upon arrival, the store employee said that the man had headed toward Albertsons.
Jan 6, 4:05 a.m.
A caller reported that a semi was blocking traffic on U.S. Highway 93 because the driver had attempted to make a U-turn. Upon arrival, the officers found both northbound lanes completely blocked. A towing company arrived on scene almost 90 minutes later. All the roads were back open by 5:54 a.m.
Jan. 7, 3:28 p.m.
Officers were dispatched to meet with a Nevada Highway Patrol trooper and a subject who wanted to complain about the gas station. The man said that the clerk was given the wrong pump number and someone "fueled up" on his pump. He said that he did not like the response the gas station gave him, so he flagged down an NHP trooper. He was given a warning and waited for a licensed driver to come pick him up.
Jan. 8, 3:23 a.m.
A woman called and asked for an officer to go inside her office with her as she saw a flashing light. Upon arrival, officers found that it was a flickering light bulb inside.