December 20, 2017 - 3:40 pm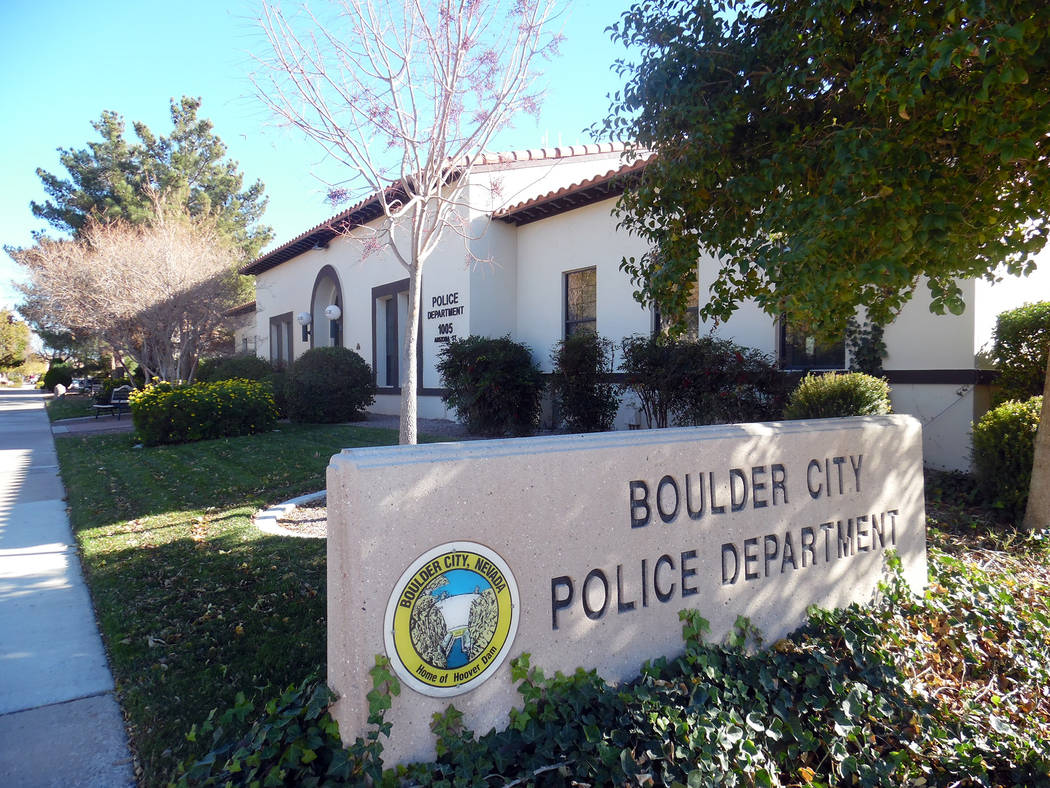 Dec. 13, 8:40 a.m.
Officers spoke with the driver of a semitruck stopped in the middle of Boulder City Parkway. He said he was going to take his 30-minute break. When advised that was not allowed, the driver told officers he would just go to a nearby restaurant to grab some breakfast. Officers let him know that also was not allowed and he needed to move or get a ticket.
Dec. 13, 6:57 p.m.
An employee at 7-Eleven called to say a suspicious man wearing dark clothing and a dark bandana, carrying a green backpack jumped out of the dumpster when she went to take out the trash. The man walked away from the area when she arrived.
Dec. 14, 6:14 a.m.
A person called to report a van pulling into the driveway of a known vacant home. The caller said the home is being flipped and was worried someone was there to steal the appliances.
Dec. 14, 10:04 a.m.
Officers approached a man after receiving a call about him sitting in a vehicle for an extended period of time. The man said he comes to that location to read every morning. He appears to be living in his car and said he sleeps by Hoover Dam.
Dec. 14, 9:02 p.m.
Officers received reports of a white sedan driving on the wrong side of the roadway.
Dec. 14, 10:30 p.m.
Officers were out with two people who had warrants for their arrest in Arizona. They were taken into custody. The registered owner of the vehicle they were in could not be located and the car was impounded.
Dec. 15, 12:41 p.m.
Officers received a report of a "sheep jam" on the highway.
Dec. 15, 7:38 p.m.
The driver of a red Mustang was reported to be weaving, driving on Adams Boulevard with the emergency flashers on and missing a tire. The car had no front left tire, which was believed to have fallen off near Boulder Creek Golf Club. Officers said a man told them he was trying to get home to get a spare tire. Before he was issued a citation, the driver agreed to have the vehicle towed home.
Dec. 15, 11:11 p.m.
A man called to report that his girlfriend was missing. He gave officers the woman's first name but did not know her last name because they had only met three hours earlier. Officers were able to locate the woman's address through her telephone number but she did not answer the door. No missing person report was filed because of a lack of information.
Dec. 16, 12:07 p.m.
A person called to report that he found some "interesting things" while riding his quad that could be a bomb or an area for making explosive devices near the solar plants. Also found on scene was a dummy dressed in regular clothing.
Dec. 16, 2:55 p.m.
A man called to report that the driver of a tan, older model, four-door Buick sedan shot at him while they were driving on the Arizona side of Hoover Dam. The vehicle was traveling north.
Dec. 16, 3:05 p.m.
As officers stopped a vehicle, the driver quickly got out and went into the back seat. It was later determined that she was 13 years old. There was a 10-year-old male and an adult male in the back seat, along with another adult male in the front passenger seat. Both adult men appeared to be intoxicated, with the smell of alcohol emanating from the car, loose beer cans, full and empty, on the floor and an unopened 12-pack of Bud Light in the vehicle. The men were initially uncooperative and argumentative, and had to be separated. One man was cited for allowing an unlicensed driver to drive and for open containers in the car. The other man was cited for allowing an unlicensed driver to drive a car and for an expired registration. The children's mother arrived on the scene, took possession of the vehicle and drove it and the men home. The children went home in a friend's car.
Dec. 17, 1:56 p.m.
A man called to report that he could not get in touch with his brother and that he had been trying to contact him by phone for several days. He was concerned that his brother may have hurt himself. Officers contacted the brother, who said he was fine, had no intention of hurting himself but didn't walk to speak to the reporting party.
Dec. 17, 4:04 p.m.
A homeowner called to report that two plaster turtles, which were painted bright yellow and black, had been taken from the front yard. They had been cemented to the ground. There were no cameras or witnesses.