Planning workshop erupts as residents voice displeasure with proposed development
January 31, 2017 - 9:51 am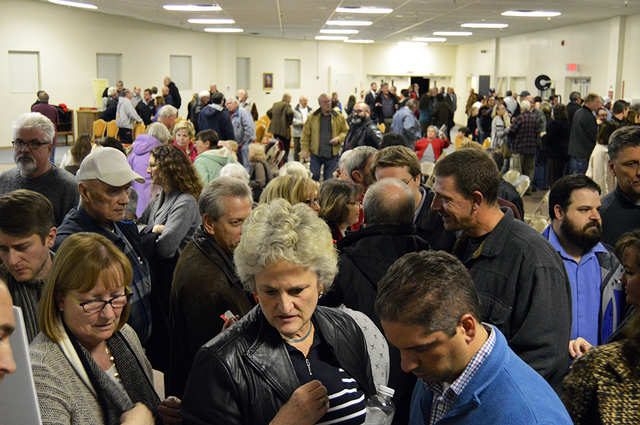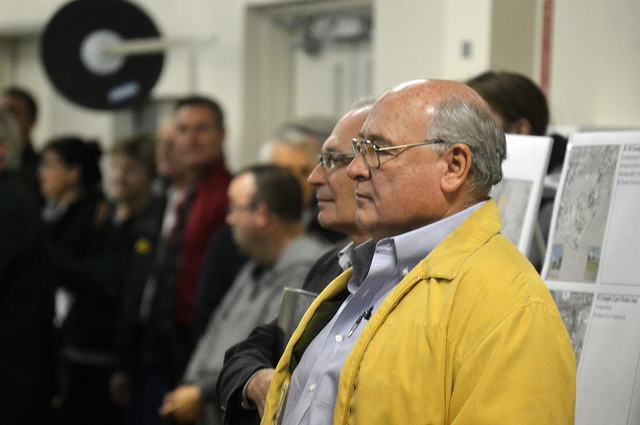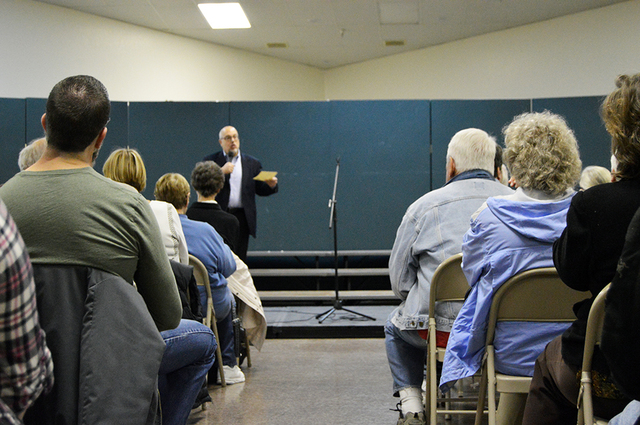 Boulder City residents packed the Elaine K. Smith Center to participate in what became a highly contentious public workshop Jan. 25.
Residents came to discuss the viability of residential plots that could be placed on the city's land management plan. More specifically, some residents were there to discuss the more than 1,000-acres of land in which developer Randy Schams has expressed interest.
The land management plan was created in 2001 as a means to start discussing possible uses for city-owned land. The plan does not give the city permission to use land for a specific purpose but does give it permission to propose a future land use.
The workshop got off to a rocky start as Craig Galati, a consultant hired by the city to conduct the workshop, mentioned the city's growth ordinance, which prompted an outburst from members of the crowd.
"I want everyone to understand that what we do here today has nothing to do with the growth ordinance," Galati said referring to the city law that limits the number of homes built per year to 120. "Tonight we are here to talk about the land management plan."
Galati's response caused resident Ernie Koontz to accuse the city of wanting to trade city land with Schams to circumvent the growth ordinance.
"The land swap is a way to get around the growth ordinance," Koontz said.
Galati responded, "No land swap is going on yet," prompting the crowd to critique his emphasis of the word "yet."
Longtime resident Sandy Christiansen said she was "embarrassed" by the outbursts and behavior of a few people, calling the meeting a "fiasco." She said she was among those who came to get information about potential development, and the disruptions prevented her from getting the answers she needed.
No formal proposals
City officials have not received any formal proposal about trading Boulder City land with Schams; the developer, however, did say at an Oct. 25 council meeting that he had proposed plots to be put on the land management plan hoping to get a trade done.
Schams has proposed building a 1,600-home community in or near Boulder City. Currently, he owns 640 acres in the Eldorado Valley but has said he would consider trading that land for city-owned parcels.
When the initial presentation was over residents were asked to visit three stations allowing them to approve or disapprove of parcels to determine if they should be included in the land management plan, comment what type of density use they prefer, and ask questions to city officials about the process and what comes next.
Residents were given green and red stickers to express their opinions on the designated parcels and help city officials determine a priority for putting them on the land management plan, or if they should be included at all. Green stickers indicated approval and red stickers meant disapproval.
Parcels proposed by Schams for inclusion in the plan were overwhelmingly covered in red stickers.
The accuracy, however, of the sticker system might be questionable as Christiansen said she saw someone with a red marker adding red dots to the maps of the parcels.
"I want to keep the city the way it is," resident Jerry Hughes said. "Stay within your parameters; the amount of land he was proposing was just too much."
Resident Tom Clemens said he felt like the city has already made up its mind to support the proposals and felt that the workshop was a "dog and pony show."
"They don't care about our opinion. They made up their mind before we even walked in the door," he said. "We need to trim the fat and not build 1,000 more homes over the next 100 years."
Discussion not stickers
Other residents felt that stickers were not the right way to conduct a workshop and that the system didn't give them the opportunity to be taken seriously.
"We want a discussion not stickers," resident Tracy Folda said.
Councilman Cam Walker, who spent most of the workshop talking with residents about the different proposals, said Schams proposed too much and he should have come to the public with a serious and fleshed-out proposal.
"There is just so much he is proposing so it is hard to have a reasonable discussion," Walker said. "If he came with a serious proposal, maybe we could talk, but I haven't seen that yet."
Throughout the night Schams remained in good spirits, with some community members going up to him to show their support.
Perry Caravello said that he respects people who are against development but not at the expense of rational thinking.
"I am a supporter of reasonable discourse, but I think a lot of people are having a knee-jerk reaction about these developments," he said. "Randy Schams will not destroy this town, and we can find a middle ground."
Tough bridge to gap
City Council candidate Warren Harhay said that the workshop would have been much more cordial if the city had anticipated the big crowd and organized accordingly.
Several police officers were brought in to ensure the meeting remained peaceful.
At the end of the meeting Schams said he is finding it difficult to bridge the gap between the community and his housing projects.
"We are getting to the point that I don't think we can bridge the gap," Schams said. "If they don't want me to build here, then I won't build here, but who is going to pay for this town's needs and draw people in when the (Interstate 11) bypass comes by? The city needs more people even if they disagree."
According to City Manager David Fraser, the city will assess if another workshop is necessary. If no others are scheduled, the City Council will vote on Schams' land management plan proposals at a later date. The council is under no obligation to vote for all of Schams' proposals.
Contact reporter Max Lancaster at mlancaster @bouldercityreview.com or at 702-586-9401. Follow him on Twitter @MLancasterBCR.
Editor Hali Bernstein Saylor contributed to this article.