Planning commissioner Clements dies unexpectedly
August 22, 2018 - 4:39 pm
Updated August 23, 2018 - 8:49 am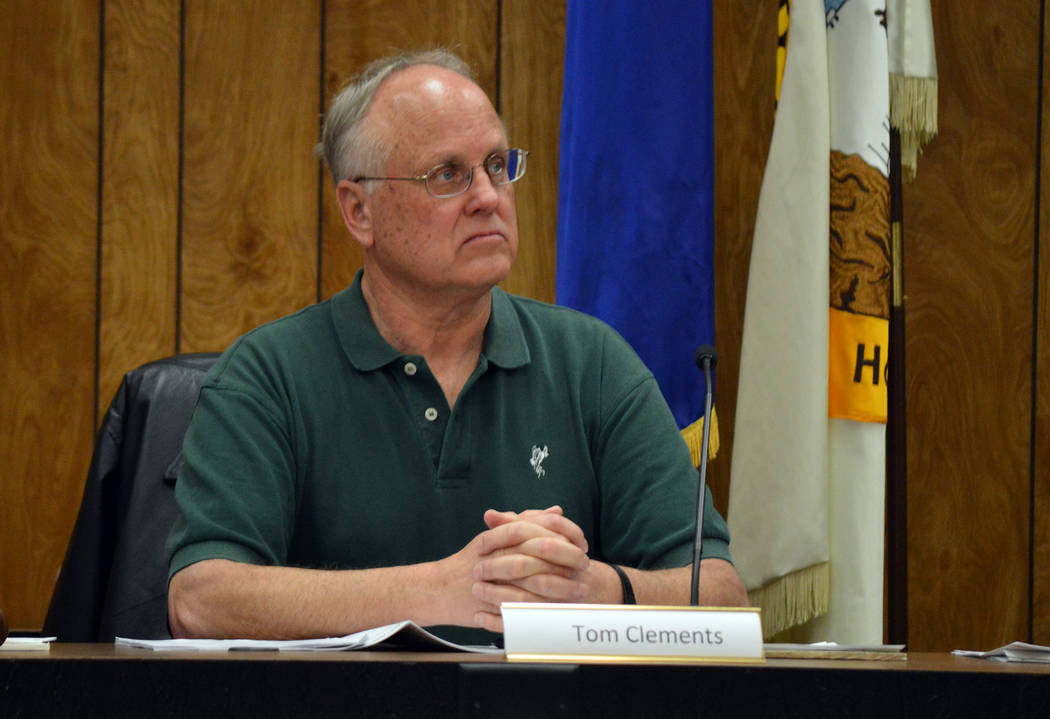 Boulder City Planning Commissioner Tom Clements, grandson of original 31ers Tom and Erma Godbey, died unexpectedly the night of Aug. 16. He was 65.
He was a retired engineer and lifelong bachelor who had served on the Planning Commission since February.
"It's a huge loss," said Fritz McDonald, chairman of the Planning Commission. "They are going to be shoes we can't fill. It's not a detriment to anyone else. Tom was unique … his ability to listen rationally and have discussions rather than yell and be closed-minded. Having someone like that volunteer is rare."
McDonald said he appreciated Clements being a team player and one who based his opinions on facts.
"He's going to be greatly missed on the commission and in the town as well," he said.
Fellow commissioner Cokie Booth said she appreciated how fair and open-minded Clements was, as well as his compassion for the city.
"I think he voted all the time for what was best for the community as a whole," she said. "He always came well-informed. … He was a good partner. Whether he voted with me or against me, it was in the best interest of the community."
In a joint statement from city leadership, Clements was remembered for his commitment to the town and its residents.
"Mayor Rod Woodbury, City Council and City Manager Al Noyola are expressing their sincerest condolences … as they learned of the passing of Tom Clements, a valued and dedicated member of the Boulder City Planning Commission. He was a steadfast supporter of the community and showed an incredible commitment to his role on the Planning Commission. … Our thoughts and prayers go out to the Clements family. His presence and his leadership will be greatly missed."
Clements, 65, was the third of Frank Lee Clements and Ila Clements-Davey's seven children.
Clements' father worked for the U.S. Forest Service. Despite moving all over the country when growing up, his family stayed connected to Boulder City because of its history with the town.
"We consider Boulder City our roots," said Frank Clements, one of his younger brothers.
Frank Clements said his family's yearly "big adventure" was coming to town and visiting extended family.
He remembers his older brother as being intelligent, smart, fun to hang out with and having a great sense of humor.
"He was always kind of a role model to me," he said.
Frank Clements said Tom Clements was focused and detailed as well as outgoing and happy-go-lucky.
"He loved to solve problems and fix things," he said. "He was hard working and energetic."
Tom Clements lived with his mother in Boulder City for the past few years; she said he was delightful to live with as a child and an adult.
"If you asked him to do something, he always did it," she said. "He may not have been willing, but he never said that. He just did it."
Clements-Davey said after he graduated from high school in 1969, Tom Clements attended Pennsylvania State University and became an engineer.
"Tom was a superior human being," said his cousin Ernie Koontz, who worked with Clements for many years.
Koontz first hired him to work at InVision Technologies in Silicon Valley, California. When he was there, he was instrumental in developing the first CAT scanner that detected bombs in luggage.
"Tom was a superior human being," Koontz said. "He was honest as the day is long. He was generous to a fault."
Koontz said Tom Clements traveled across the country commissioning the machines and showing people how to use them. After the company was bought by GE, Koontz joined another company, Alva Pharmaceutical. Tom Clements came to work with him there and was part of the development of medication for adults and children.
"I just kept hiring him," he said. "He was the kind of guy that everybody liked and never got into trouble. He got along with everyone. He was a pleasure to work with."
Another big part of Tom Clements' life was his faith. Clements-Davey said she and her first husband raised their children in the Catholic Church.
"Jesus Christ was the center of his life," she said. "He wanted to go to heaven. That was his whole life. He just was one of the best Christians I knew."
Tom Clements is survived by his mother and five siblings.
A funeral service will be held at 10 a.m. today, Aug. 23, at St. Andrew's Catholic Church, 1399 San Felipe Dr. After the service, there will be a gathering in the church's community hall.
Contact reporter Celia Shortt Goodyear at cgoodyear@bouldercityreview.com or at 702-586-9401. Follow her on Twitter @csgoodyear.