Planning Commission: StoryBook Homes' requests for narrower streets, reduce space between homes denied
September 27, 2017 - 2:40 pm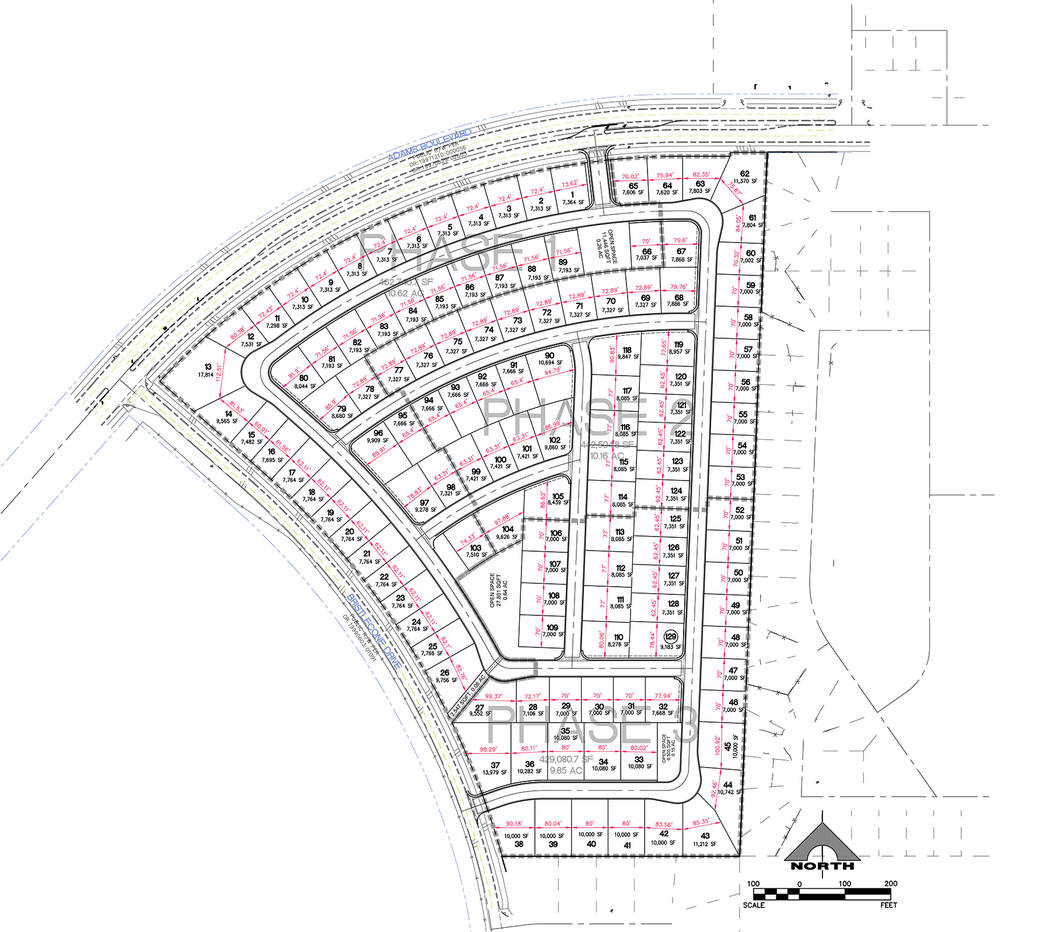 Planning Commissioners denied two of four variances requested by StoryBook Homes for land it is in the process of buying from the city, as well as not recommending a request to narrow streets and have sidewalks only on one side in its proposed 129-home subdivision.
The decision came during a four-hour meeting Sept. 20 during which several residents spoke against the proposed variances and planners debated the merits of them while trying to create alternative solutions that would appease residents and the builder.
In the end, planners approved two variances that will allow some corner lot widths as low as 72 feet where 75 feet is required, as well as allowing as many as 75 percent of the homes within the subdivision to have front setbacks of 15 feet where 20 feet is required with the condition that all garages be built at least 20 feet from the property line.
The biggest areas of contention were the two variance requests that were denied. StoryBook asked for interior lot widths as low as 60 feet where 70 feet is required by code and side setbacks of 15 feet for all lots while the code requires a 20-foot combined separation between homes.
The majority of the planners were opposed to the idea of narrowing the streets and eliminating sidewalks on one side.
Appeal coming
Wayne Laska, principal of Las Vegas-based StoryBook Homes, said his company will appeal to City Council in hopes that council members will see things differently.
"While we are disappointed, we are not discouraged and are moving forward with an appeal to City Council," he said. "I hope that the council can … be a little more reasonable for some of the things we are asking for."
Scott Hansen, acting city manager, said the matter will be presented to City Council on Oct. 10 if an appeal is received.
The variance requests are for 30.63 acres of land at the southeast corner of Bristlecone Drive and Adams Boulevard. Sale of the land to StoryBook, for about $300,000 per acre in three phases, was approved by the City Council in April. It was the first sale of city-owned land in roughly 20 years.
At that time, Laska said completion of the sale was dependent on approval of several conditions, including the reduced setbacks, narrowing streets within the subdivision and eliminating sidewalks on one side of the street.
"We don't think we can rethink our plans very much," Laska said Monday morning. "We made it very clear to those in the city when negotiating our contract that we have to have some variances to make this land work."
According to Laska, variances are very common throughout the industry and for them to be denied is unrealistic.
Denying a variance is stating the code is perfect, he said, adding "There is no land in a land plan that is perfect."
Minimum size maintained
During his presentation to the Planning Commission, Laska said the shape of the land, especially along Adams, which is curvilinear, requires the variances. He said all of the lots will still be at least 7,000 square feet in size, the required acreage for R 1-7 zoning, and 10,000 square feet for those zoned R 1-10.
He said he expects the homes to sell for at least $400,000.
A letter submitted to the city requesting the variances states they intend to create some lots with parking for recreational vehicles, a highly desirable feature for homebuyers. Additionally, the letter states the streets will be privately owned and maintained by a homeowners association, along with front-yard landscaping and parks within the community.
The varied setbacks from the front of the property line will allow for a more attractive street scene instead of everything being situated along a straight line, Laska said during his presentation.
City Planner Susan Danielewicz told commissioners that the shape of the land did allow the property to be divided into lots meeting the minimum size for the required zoning, but not for the setbacks stated by code.
Not enough space
"I don't think the front (setback) is as much of an issue as the side (setback)," commission Chairman Glen Leavitt said of the variance requests.
"Boulder City is unique. We do not like boats and RVs on the street or houses that are too close together," he said. "We need that 15 feet (between homes) so that it doesn't look as if you can jump from roof to roof."
Planner Ernest Biasci expressed concern that homebuyers would begin adding carports and covered parking areas for their RVs. The reduced space between homes would prevent them or overcrowd the area, he noted.
Paul Waalks, who lives on Caria Court that abuts the south end of the parcel, said he can appreciate the builder's position, having spent 40 years in the construction industry, but, he is concerned with the requested setbacks and how they would affect homeowners' ability to park their boats, recreational vehicles and motorcycles.
"If we reduce the setbacks, where do those things go? On-street parking has been a problem and we're setting ourselves up for this type of problem unless there is a place for recreational vehicles," he said.
"I'm concerned that if this is approved, it will change the character of the community and I cannot support this at this time," he added.
Richard Stewart, who said he once lived in Henderson where houses were much closer together, said the reduced space between homes could be problematic.
"We were so close I could hear my neighbor's TV," he said.
Proposed models
Another of the planners' objections was that the proposed model homes submitted with the variance request were not necessarily for this property, meaning the builder could modify the designs to fit city code.
Planners also were concerned that two-story homes could overlook single-story homes, to which Laska replied that market research is showing that buyers prefer one-story houses and he expects those to be the majority of the homes built in the subdivision, with two-story models designated primarily to a specific area. Planner Paul Matuska said he worried that if they approved the variances without limiting the number of lots they could be applied to, then the builder could realistically apply the variances to all lots.
However, Danielewicz said they could impose a condition that would prevent that from happening.
Planner Steve Walton said the builder was aware of the city codes when he proposed to buy the land and should be able to build within its parameters. Variances were not approved by voters when they voted in favor of selling the land, and approving the requests would violate their trust, he added.
Another resident, Jody Jeppsen, who lives on Sunrise Circle, said it was the planners' duty to make sure the neighborhood looks appropriate and conforms to city codes. She also was extremely concerned about the request for narrower streets.
In other actions, planners:
■ Unanimously approved a request by Faye Simak of Bella Marketplace to eliminate several on-site parking spaces and allow a conditional use permit for outdoor sales displays at 1212 Wyoming St.
■ Unanimously approved an application from Steve Fuller to build a single-family home at 1405 Highland Drive.
■ Unanimously denied a request for a variance from Gene Breeden to allow unattached carports in front of his home at 1501 Marita Drive.
Hali Bernstein Saylor is editor of the Boulder City Review. She can be reached at hsaylor@bouldercityreview.com or at 702-586-9523. Follow @HalisComment on Twitter.