Plane crash claims two guardsmen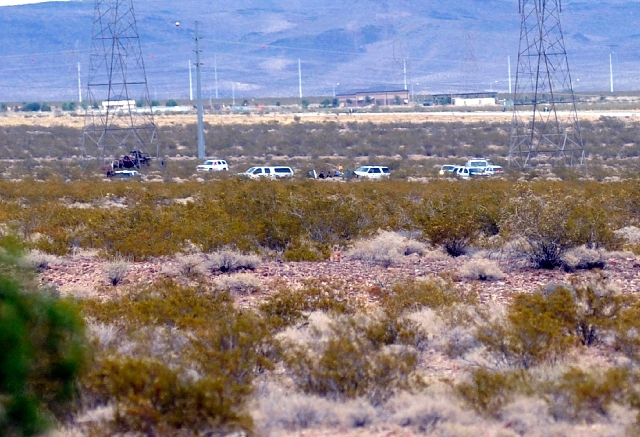 A plane crash Sunday afternoon west of the city's Municipal Airport took the lives of two off-duty Nevada Army National Guardsmen.
Sgt. 1st Class Joseph Edwards IV, 41, of Las Vegas, and Pfc. Cody Hall, 23, of North Las Vegas died when a Beechchraft T-34 Mentor crashed 1½ miles short of the runway.
The privately owned single-engine plane crashed about 3 p.m. on its way to the North Las Vegas Airport from the Phoenix area, according to Federal Aviation Administration spokesman Ian Gregor.
According to the FAA website, Edwards had a civilian pilot licenses but Hall, who turned 23 the day before the accident, did not.
The FAA and National Transportation Safety Board are investigating the crash. Wind gusts of approximately 35 mph were reported at the time of the crash.
The preliminary accident report could take as long as 10 business day, with the final report taking a year or more.
According to the Las Vegas Review-Journal, Edwards and Hall were assigned to the 1st Detachment, Bravo Company, 3rd/140th Security and Support, a small Nevada National Guard helicopter unit based at the North Las Vegas Airport. The detachment flies OH-58, observational helicopter. Their mission entails reconnaissance, surveillance and intelligence gathering and is often used in support of civilian law enforcement agencies.
Hall, who had completed one year of military service, was an aircraft electrician specialist. Edwards, an 11-year military man, was a helicopter repairman.
Nevada Army National Guard spokesman Sgt. 1st Class Erick Studenicka told the Review-Journal, "Neither soldier was in a military status on Sunday. The aircraft involved was not a military aircraft, nor was it on a military mission."
The plane, Beechcraft Model A45, was registered to Jet Test and Transport, a limited-liability company based in Henderson. According to the company's website, it delivers and ferries aircraft for third-party clients. Company executives did not return an email inquiry into why Edwards and Hall were in the company's aircraft.
The FAA website shows Edwards also held certificates for a commercial pilot, flight instructor, ground instructor and mechanic. He was rated to fly single-engine planes over land with instruments, helicopters and lighter-than-air balloons.
Sunday was the third fatal plane crash in Boulder City since 2010. On March 12, 2010, 45-year-old Brett Beuckens of Phoenix died when his Beechcraft BE35 Bonanza crashed while trying to reach the airport. According to the NTSB factual report, the plane ran out of gas on the way from the Phoenix area to the Henderson airport.
On May 18, 2012, pilot Douglas E. Gillis, 65, of Solano Beach, Calif., and passenger Richard W. Winslow, 65, of Palm Desert, Calif., died after their military-style Aero Vodochody L-39 Albatros went down in the desert half-mile northwest of the airport. According to a preliminary accident report issued June 6, 2012, by the NTSB says the pilot called "Mayday" three times and said "canopy" before the plane went down, killing both the pilot and passenger.
The final factual report on that accident has yet to be filed.
According to the NTSB website database, which dates to 1982, there have been 15 fatalities in 10 aircraft crashes in Boulder City since July 1990. There have been 34 nonfatal accidents in the area since 1983, 18 since 2000.
Gov. Brian Sandoval issued a statement Tuesday afternoon offering his condolences to the guardsmen's families.
"Though Sgt. Edwards and Pfc. Hall were flying in a civilian capacity, they are both members of our greater Nevada family," Sandoval said. "Kathleen and I, along with the entire Nevada National Guard, extend our deepest condolences to the family and friends of Sgt. Edwards and Pfc. Hall. Each man stepped forward to serve his state and our country and their loss will be felt throughout Nevada."