Piranha carcass found at park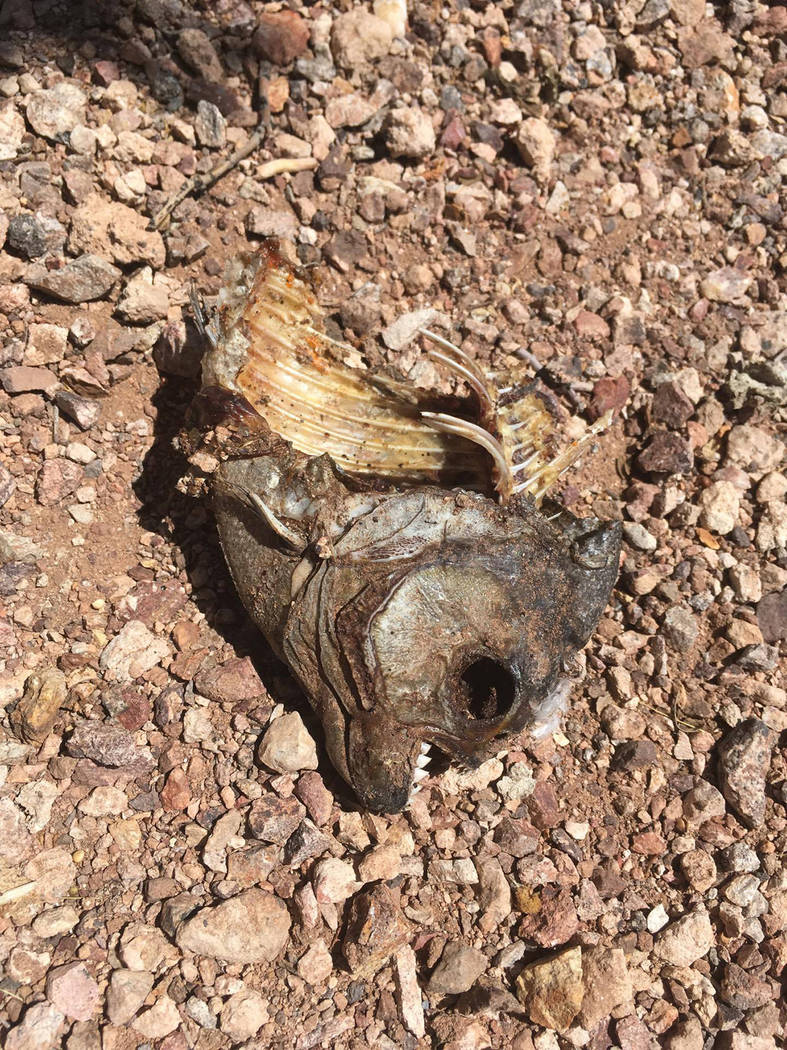 State officials are unsure of how the partial carcass of a what appears to be a piranha made it to the lower pond at Veterans Memorial Park in Boulder City or what its presence could mean for the area.
On Saturday, Stephen Symes and his wife and 4½-year-old daughter were visiting the pond, and his daughter noticed a fish in the water near the shore and ran over to take a look.
Symes said that the fish was just sitting there and did not look well.
"I thought it looked like a piranha, but it must be something else that looks like one … It's alive. It can't be a piranha," he said.
They stared at it for about 10 seconds before it swam away, and then continued walking along the shoreline until they found the head of a dead fish and realized they had seen a piranha.
Nevada Department of Wildlife Conservation Education Supervisor Doug Nielsen said the carcass Symes' found appears to be a piranha but there aren't any plans to test it.
If someone were to catch a piranha, and knew it came from that body of water, then it could be tested and an investigation conducted, he added.
He said that the main concern when an exotic species of fish, like a piranha, is introduced into a natural body of water it can have a negative effect on the fish species there.
"We don't want it to leave and get into Lake Mead," Nielsen added.
After seeing the fish, Symes said he and his family were more shocked than scared when they saw it and realized what it was. He was also concerned and thought that someone had dumped the fish there.
"I felt bad for the piranha," he said. "It didn't look healthy. It's a slow dismal death for it in that water."
Possessing and releasing piranhas is illegal in Nevada, but people do still get them for pets.
Nielsen added that people releasing pets into public areas is a problem.
"You have people who get these exotic pets … People get it and then realize they don't want it," he said. "They'll then release it in the water in a public park."
The best way to prevent this type of situation from happening is to think twice before buying a pet and make sure they really want it, he added.
Contact reporter Celia Shortt Goodyear at cgoodyear@bouldercityreview.com or at 702-586-9401. Follow her on Twitter @csgoodyear.
Piranha Facts
■ They are freshwater fish found mainly in South America.
■ They are omnivores and eat plants and meat, mostly smaller fish, snails, insects, and aquatic plants, as well as small mammals and birds that fall into water.
■ They rarely attack humans. They'll attack when they feel threatened or their eggs are in danger.
■ Their feeding frenzies occur when they are short on food. A fish in the shoal will locate some prey, and each fish will attempt to tear off a piece of it.
■ They can strip the flesh off their prey in a minutes and can bite each other during feeding frenzies.
■ They are eaten by other predatory fish and animals.
■ Adult piranhas will sometimes eat their young.