Pickup truck fire closes U.S. Highway 93 near Bighorn Park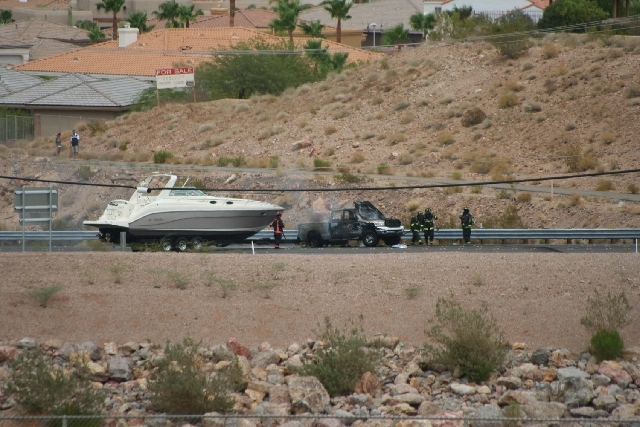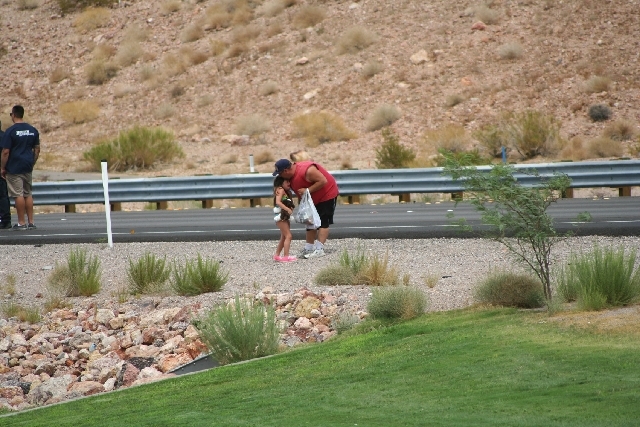 A pickup truck fire around 2:15 p.m. Tuesday shut down both lanes of U.S. Highway 93 south of Bighorn Park for nearly an hour.
The truck, owned by Boulder Boats, was hauling a boat northbound on U.S. 93 when it caught fire, according to Chuck Gebhart, division chief for the Boulder City Fire Department.
The driver and two passengers evacuated the truck, at which time it rolled down the hill about 75 yards, jackknifing across both lanes of the highway.
Traffic was stopped in both directions as the Boulder City Fire Department put out the fire and cleared the scene.
A man at the scene, who said he was a passenger in the truck, said he was returning from the lake after test-driving the boat when the truck overheated and caught fire.
Several residents nearby said they heard an explosion before seeing the truck burning.
There was no report of serious injuries, but the driver of the truck was treated by paramedics for burns on his forearms.
Boulder Boats at 1495 Nevada Highway did not return a call for comment. It is not known if the driver was an employee of Boulder Boats.
The National Park Service allowed traffic to divert through Lake Mead National Recreation Area without charge while the highway was closed.