Photographer helps put business on the Google map
January 9, 2014 - 4:50 am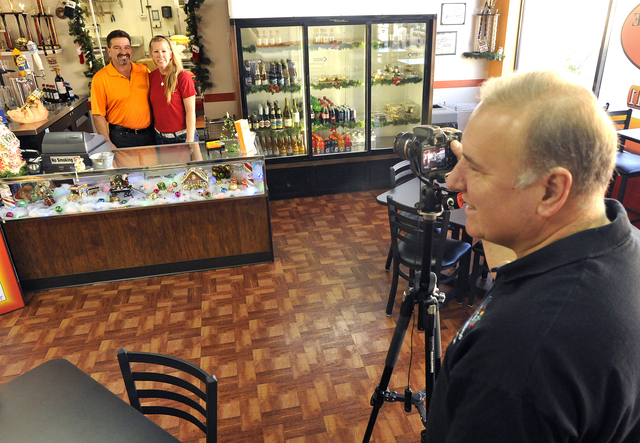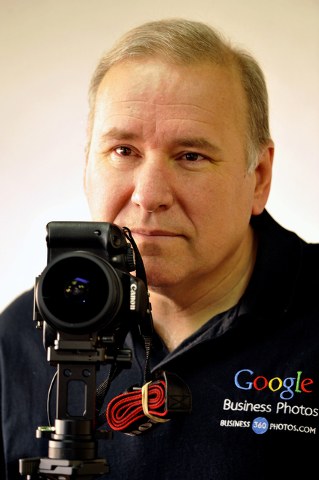 If you are on the Internet and want some information, odds are you will Google it. But if you want to know how to get that information onto Google, you need to ask Brad Appleby.
The Boulder City resident is a Google trusted photographer and creates virtual tours of businesses that appear on the search engine's pages and maps.
Using Google street view technology, Appleby's Business 360 Photos creates a virtual tour that provide a 360-degree look at a business.
"It's the same as being physically in the business," Appleby said.
On a recent Friday, Appleby was busy taking photos at Oro &Jewelers in Boulder City. The store's owner, Francisco Santoyo, said the Internet is a good tool to improve sales and keep the business growing.
Because the recession significantly reduced the amount of walk-in customers at the store on Nevada Way, Santoyo turned to technology to boost his business. Allowing potential customers to see his store and how he works instills confidence and establishes trust, which is crucial when buying jewelry, Santoyo said.
Creating photos for the virtual tour takes roughly 30 minutes to 2½ hours, depending on the size of the site. Using a fish-eye lens and high dynamic range photos, Appleby shoots 12 photos per spin. He said he takes one using a normal exposure and then combines it with one that is overexposed and one that is underexposed. This helps give the image depth, intense colors and eliminates shadows.
To help put the views in proper perspective, they are oriented to a north-facing compass.
Once he completes his photo shoot, the pictures are uploaded to Google, which uses proprietary software to complete the process.
Appleby has been a trusted photographer for Google since November 2012. To earn the designation, he had to apply to Google and then take an online course and pass a test. He said he learned about Google's trusted photographer program while doing research for a new lens for his camera.
He started as one of four photographers assigned to the Las Vegas territory. Within a week, he had completed 10 business profiles and was reassigned to the Henderson area, where he is now the sole trusted photographer. According to Appleby, Boulder City is an unclaimed territory because it is so small.
"Since this is our hometown, I make this offer to my clients. It does make a difference," he said.
Since starting his company, he has completed roughly 70 business profiles, most of which are in Boulder City. As an independent contractor for Google, Appleby sets his own price for his services, which begin at $350.
Once completed, the virtual tours remain on the Internet until the business owner requests it be taken down or updates it.
In addition to creating the virtual tours, Appleby provides photographs for the business owners to use in their promotional materials. He also offers business photo cards, which are like trading cards for businesses that feature a QR code that can be scanned by a smartphone to take potential customers to a business' website and a link to the virtual tour on Google.
If possible, he also likes to include Easter eggs, hidden features, in the tours. One he created for a limousine company, for example, takes the viewer from the inside of a Rolls-Royce to the Welcome to Las Vegas sign on the Strip.
Appleby, who also owns a marketing company, said all of his efforts are designed to help businesses promote themselves and attract customers to their brick and mortar establishments.