October 24, 2013 - 11:06 am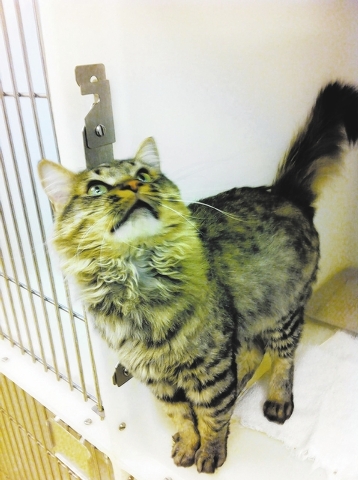 Retired Public Employees to hold meeting
The Boulder City Chapter of the Retired Public Employees of Nevada will hold its October membership meeting at 11 a.m. today at The Homestead of Boulder City, 1401 Medical Park Drive. Guest speaker will be Robert Hoo, director of the Nevadans for the Common Good. Each month, after the meeting the group holds a lunch at a local restaurant. Meeting dates are Nov. 21 and Dec. 19. Questions or suggestions for lunch contact Joan at rpen_jgreenberg@yahoo.com or call Bernard at 702-294-0636.
Community Club lunch today
The community club will hold its monthly luncheon at 12:30 p.m. today in multiuse building on Avenue B and School Drive. The speaker will be Mike Pachinko of the Boulder City Recycling Program. For reservations for the potluck, call Beverly Parry at 702-293-7623.
Bethany Baptist to hold fall festival
Bethany Baptist Church, 210 Wyoming St., will hold a fall festival 5:30-7:30 p.m. Oct. 31. The event will include games, candy and food. Costumes are optional. Kids through fifth grade get in for free. For more information, call 702-293-1912.
Heatwave Swim Team to hold Halloween carnival
The Boulder City Heatwave Swim Team will hold its Halloween Carnival from 6:30-8:30 p.m. Oct. 30 at the city's recreation center gym. For information, call Pam Hickey at the Parks and Recreation Department, 702-293-9256.
Halloween train ride at the museum
The State Railroad Museum at Boulder City will decorate the train for Halloween. Visitors are encouraged to come in costume and children in costumes will ride free. Staff will be in costume as well. New this year will be story time and crafts in the dining car. On the platform there will be free face painting and balloon creations. Also go for a ride on the Live Steamers (mini-steam engines) since they be running through out the weekend and there will also be a model train show as well. For more details, call 702-486-5006.
High school students to hold food drive
If Boulder City students knock on your door Nov. 1, they are not late for Halloween by a day. The high school's Student Council and other students will be going around town from 5:30 to 7:30 p.m. collecting food for the annual Canned Food Drive to benefit Boulder City families.
"The drive is to benefit needy families on our community so we hope that people will respond when we knock," Student Council member Amy Murphy said.
Boulder City Beerfest on tap this weekend
The first Boulder City Beerfest will be at Wilbur Square Park 1-6 p.m. Nov. 2. There will be 20 beer tents, six food trucks and 10 specialty vendors on site. The Boulder Dam Brewing Company is the official host brewery and has recently added a 15-tap expansion with a rotating selection of USA craft beers. Meet the out-of-state brewers after the festival.
Cover charge gets you a wristband and custom 5-ounce souvenir glass for unlimited samples during the day. The event will raise funds for the Wounded Warriors Project that helps returning service personnel and their families.
Tickets are $40 for VIP entry at 1 p.m. or $30 general admission for 2 p.m. entry. For tickets and more information, visit www.BoulderCityBeerfest.com.
Day of the Dead party set for Nov. 1
The Boulder City Art Guild and Gallery will hold a Day of the Dead party at 6 p.m. Nov. 1 at the guild's offices on the second floor of the Historic Boulder Dam Hotel, 1305 Arizona St. There will be an auction of porcelain skulls and a potluck dinner.
Christian youth group to take trip
The Boulder City Christian Youth Team will attend the "Life in Death: Day of the Dead" at the Winchester Cultural Center in Las Vegas Nov. 2. The event will explore cultural traditions relating to the Mexican holiday of El Dia de los Muertos, or Day of the Dead. The festival will feature art exhibits, performances, craft sales and food vendors. All interested middle school and high school students are invited. Meet at the Senior Center of Boulder City at 4 p.m. Youth will be returned at 9 p.m. The event is free but reservations are needed to plan transportation. Contact the Rev. Sandy Johnson at Boulder City UMC at 702-293-7240 to RSVP. Money for snacks is recommended.
Health care meetings to be at library
Boulder City Library and CARE NV will be hosting meetings at the library to assist residents with understanding and signing up for health care under the Affordable Care Act, or Obamacare. The meetings will be Nov. 1, Dec. 6, Jan. 3, Feb. 14 and March 14. The visits are scheduled by appointment, by calling 702-836-9033.
Church Harvest Bazaar set Nov. 9
St. Christopher's Episcopal Church will hold its annual Harvest Bazaar from 8 a.m. to 1 p.m. Nov. 9. It will feature baked goods, homemade soups, holiday decorations and crafts and raffle prizes donated by local merchants. St. Christopher's is at 812 Arizona St.
American Legion to hold golf tournament
American Legion Post 31 will host a golf tournament Nov. 9 at Boulder Creek Golf Club. Registration is at 6:30 a.m. with a shotgun start 7 a.m. Cost is $125 per golfer, and limited to the first 144 golfers.
Payment must be received by Nov. 5. Make checks payable to American Legion Post 31, 508 California St., Boulder City, NV 89005. For additional information, contact the Post 31 answering machine at 702-293-6374, or call Howard Scott at 702-293-3711. Funds raised will help Post 31 help veterans and their families in Boulder City.
Local churches join for weekday worship
Boulder City United Methodist Church and St. Christopher's Episcopal Church has begun weekly Wednesday night worship called WOW or "Worship on Wednesday." The 6:45 p.m. worship service is at St. Christopher's Episcopal Church, 812 Arizona St., and is a combination of contemporary praise music, prayer and a short reflection. The Rev. Sandy Johnson and Father Jim Lyons will lead the service. The service is casual and all are welcome. For more information, call Johnson at 702-293-7240 or visit www.bouldercityumc.org; or Lyons at 792-293-4275 or www.stchristopherschurch.org.
Christ Lutheran to hold craft bazaar
Christ Lutheran Church, 1401 Fifth St., will hold its annual craft bazaar from 8 a.m. to 2 p.m. Nov. 1 and 2 at the church. There will be craft items and baked goods. All proceeds are donated to charities such as Emergency Aid and Lend a Hand. For more information, call Susan LaSelle at 702-443-4101.
Sons of Norway to hold dinner
The Boulder City/Henderson Sons of Norway Desert Troll Lodge will hold its annual Lutefish Dinner on Nov. 2 at the Boulder City Elks Club. Doors open at 4 p.m. and dinner will be served at 5 p.m. In addition to the lutefish and Scandinavian meatballs, pork roast, potatoes, vegetables and lefse, the traditional Scandinavina potato flatbread, will be served. Dessert will include homemade Norwegian cookies. Cost is $20 for adults and $5 for children younger than 12. There will be prize drawings and door prizes. This event sold out last year. For more information, call Dave at 702-294-911 or Vikki at 702-617-8898.
City offers children's art class
The Boulder City Parks and Recreation Department offers a Children's Performing Arts class — Rising Stars — at the multiuse building. This class is offered on Tuesdays with the session running Oct. 29-Dec. 17. Ages 4 through kindergarten will meet from 2-2:30 p.m. with a fee of $35, and grades first and higher will meet from 3-4 p.m. with a fee of $70.
Children learn singing, dancing and performing skills. Participants get to showcase their talents at the Holiday Magic Show on Dec. 19. A uniform fee of $15 will apply to this eight-week session. Instructors are Lisa Morris and Kara Larsen. For more information, contact the department at 702-293-9256.
Boulder City Library schedules events
Nov. 6 — Preschool Story Time, ages 3-15, 10-10:30 a.m., Board Room.
Nov. 6 — Toddler Story Time, ages younger than 36 months, 10:30-11 a.m., Board Room
Nov. 6 — Teen movie in the basement, 5-7:30 p.m., call for details 702-293-1281
Nov. 8 — Magic Tree House Book Club: "Tigers at Twilight," ages 6-11, 3:30-4:30 p.m., Board Room
Nov. 13 — Preschool Story Time, ages 3-15, 10-10:30 a.m., Board Room.
Nov. 13 — Toddler Story Time, ages younger than 36 months, 10:30-11 a.m., Board Room
Nov. 20 — Preschool Story Time, ages 3-15, 10-10:30 a.m., Board Room.
Nov. 20 — Toddler Story Time, ages younger than 36 months, 10:30-11 a.m., Board Room
Nov. 21 — Lego Challenge: Legos provided, 4-5 p.m., ages 6 and older, Community Room
Nov. 24 — Family Story Time: There will be science, crafts, games, Legos and stories, 6-7 p.m., all ages, Communty Room
Nov. 24 — Teen Book Club wil meet in the Youth Department at 2 p.m., for ages 13 and older, call 702-293-1281 for details.
Nov. 27 — Preschool Story Time, ages 3-15, 10-10:30 a.m., Board Room.
Nov. 27 — Toddler Story Time, ages younger than 36 months, 10:30-11 a.m., Board Room
Annual Santa Train slated
The Nevada State Railroad Museum is selling tickets for its 12th annual Santa Train, which is set for 10 a.m. to 3 p.m. Dec. 7 and 8, Dec. 14 and 15 and Dec. 21 and 22. Tickets are $5 per person. For more details call 702-486-5006. The Museum is at 600 Yucca St.