Parks director honored for 45 years of service
January 25, 2023 - 3:42 pm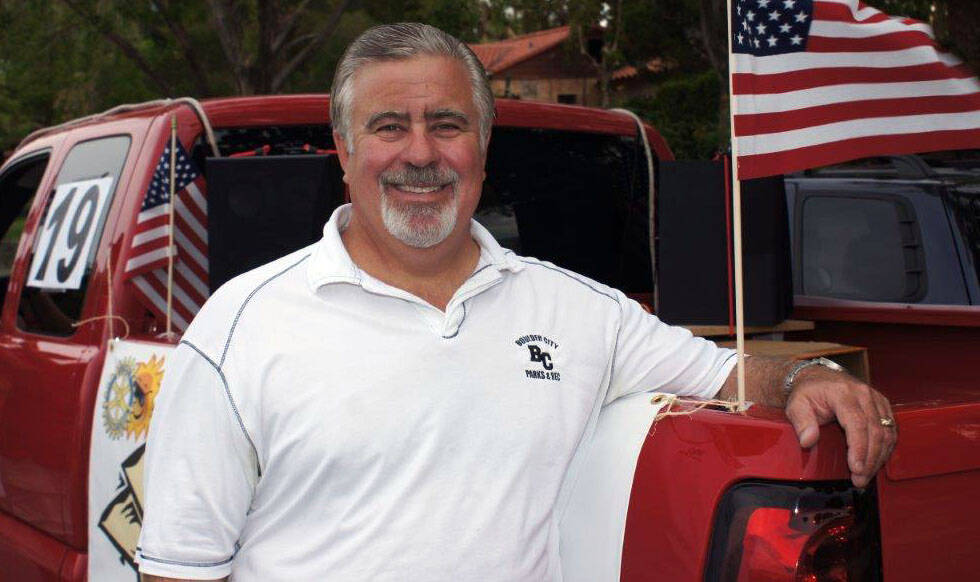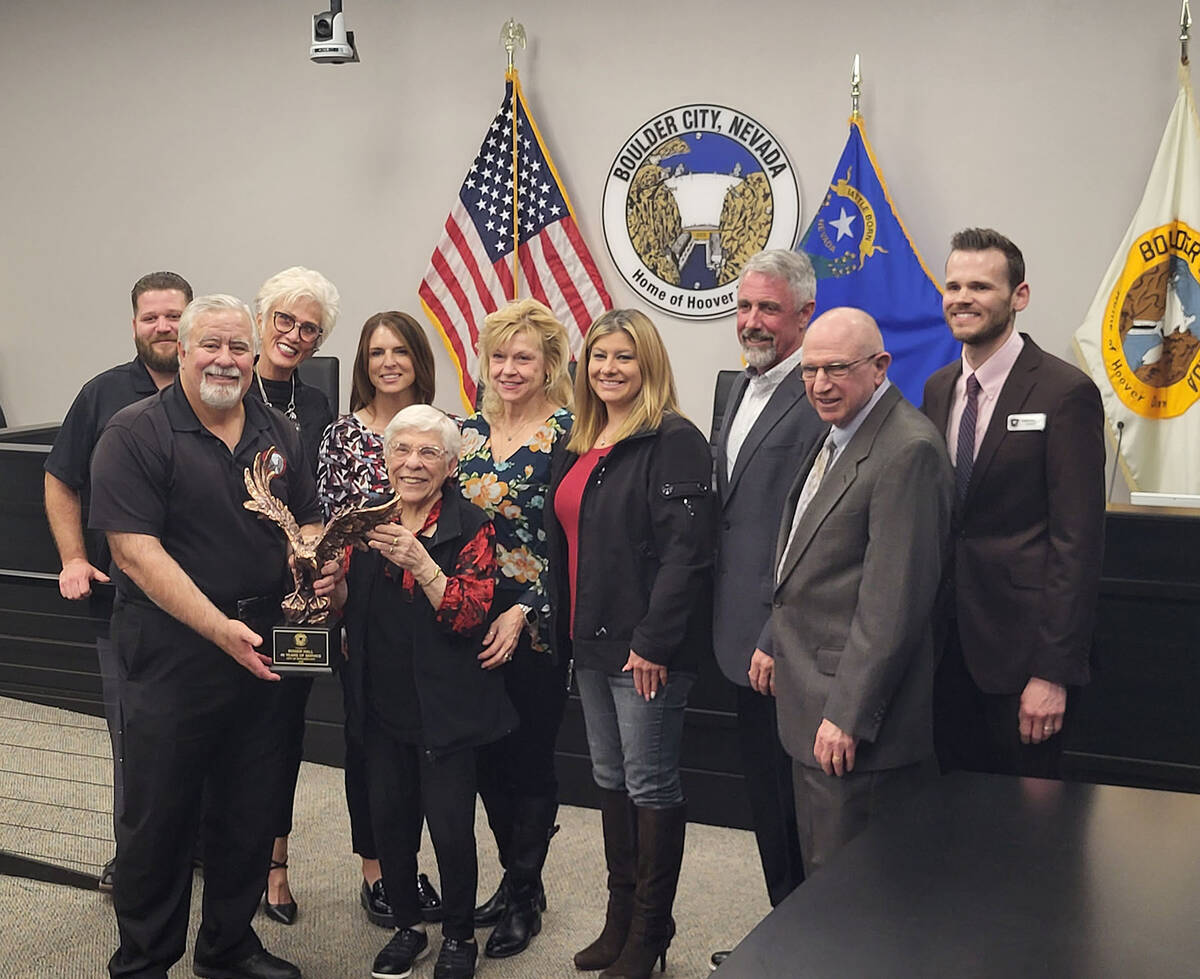 Working for the city as director of the Parks and Recreation Department is more than just a job for Roger Hall. It's a calling and a passion.
And, after 45 years, he has no doubts about how much he treasures his work.
Hall was honored Tuesday, Jan. 24, by the City Council for his service to the city.
"I feel honored to be honored here. It's kind of unique; not many people stay in the job this long, but I love my job and it's very nice that they take the time to do that for me," he said.
"Roger, obviously, you are the face of Parks and Rec. You're also the face of Boulder City. I appreciate that, and I appreciate your friendship," said Mayor Joe Hardy.
"It's not many people that get to stay long enough to live within the legacy that they have helped create. … it's a real special time to have the chance to celebrate your legacy that you're still building," said Councilman Steve Walton.
Councilwoman Cokie Booth called him a "blessing to this whole community."
Hall is currently the longest tenured municipal employee. But for him, "it just seems like yesterday" that he started working for the city and he can still vividly remember that August 1977 day when it was 115 F, a far different environment than Greeley, Colorado, where he had been living and going to school.
Planting roots
He said one of the reasons he has stayed in Boulder City so long is because he wanted his family to have roots.
The son of a 30-year Air Force veteran, Hall traveled the world growing up, living in places such as Japan, Canada and Germany.
He graduated high school in 1971 while the family was stationed in Munich. He also earned an associate degree while in Germany, from the University of Maryland through its overseas program.
From there, he enrolled at the University of Northern Colorado in Greeley, where he earned his Bachelor of Science in recreation administration.
Hall, who said he has followed his dream career path, noted that he is one of a few fortunate people who has been able to apply everything he learned in college to his profession.
Hall learned about Boulder City from a friend and colleague, Chuck Reynolds, for whom he served as an undergraduate assistant in the University of Northern Colorado's intramural department. When Reynolds became recreation supervisor for Boulder City, he called his friend and asked him to start a sports program.
"I was right out of college," Hall said.
But the part-time job was perfect for the sports enthusiast who played basketball, soccer, baseball and football.
Plenty of firsts
When Hall started working for the city's recreation department, there were only three employees. He served as sports coordinator until Rich Robles, the recreation supervisor, moved on. He was named director of the department in 1984.
During his career, Hall has been instrumental in helping establish a volunteer program and getting sponsorships to underwrite costs. He also oversaw construction of the back nine holes on the city's first municipal golf course and was the first manager of the pool.
Hall recalls the department's early days when they did it all — from planning programs to implementing and leading them. They even cleaned the gyms, he said.
Today, the department has nine employees, four of which are janitors. He said his staff is great and can do a lot with what resources they have.
They also rely heavily on their volunteers, who help run events and serve as coaches.
Boulder City Parks and Recreation Department offers a variety of programs and classes, serving everyone from young children to centenarians.
"I am very proud of our accomplishments," he said. "I would put us up against any other department."
During his career, Hall and his department have won numerous state and national awards including the Nevada Governor's Tourism Development Award; Nevada League of City's City of Innovation Award in 1993; and Silver State Legacy in 2021 for work with the Damboree.
He was also inducted into the Excellence in Education Hall of Fame in 2002 and presented, along with his wife, Tracey, the Alice Isenberg Award for community achievement in 2009 by the Boulder City Chamber of Commerce.
Part of community
Hall said his favorite part of the job is working with staff members, both in his department and in other city departments.
During his tenure Hall has worked for nine city managers, and with countless members of the City Council.
Aside from the growth in the department, Hall said the overall growth of the community has been the biggest change he has seen in the past 45 years. When he moved to Boulder City the population was around 6,000. Now, it is closer to 16,000.
In addition to his work for the city, Hall has become an integral part of the Boulder City community. He is a member of Boulder City Elks Lodge No. 1682, has served as chairman of the Damboree committee since 1995 and has been part of the Boulder City Sunrise Rotary club for 32 years. Recently, he joined the independent review panel for the Southern Nevada State Veterans Home, where his mother, Erma Hall, now lives.
"Roger is a valuable asset to the community. He is a dedicated member and past president of Boulder City Sunrise Rotary. We all continue to benefit from not only Roger's public service, but also from his "Service Above Self' approach with his community service," said Eddie Garcia, president of the Rotary club.
When not working, Hall said he enjoys traveling with his wife in their motor home. Last year, they traveled 2,276 miles through five states.
He also enjoys fishing, hunting and photography and is often seen behind the lens of a camera at community events.
And, of course, he said he is happy to spend time with his four children and eight grandchildren, who live nearby.
Although he has no current plans to retire, Hall said it's not as far off as it used to be.
"There's always that possibility to retire," said Hall, who will turn 70 in June. "I've had a great career. This is a wonderful place."
Hali Bernstein Saylor is editor of the Boulder City Review. She can be reached at hsaylor@bouldercityreview.com or at 702-586-9523. Follow @HalisComment on Twitter.