Parade lights up downtown
November 29, 2017 - 4:29 pm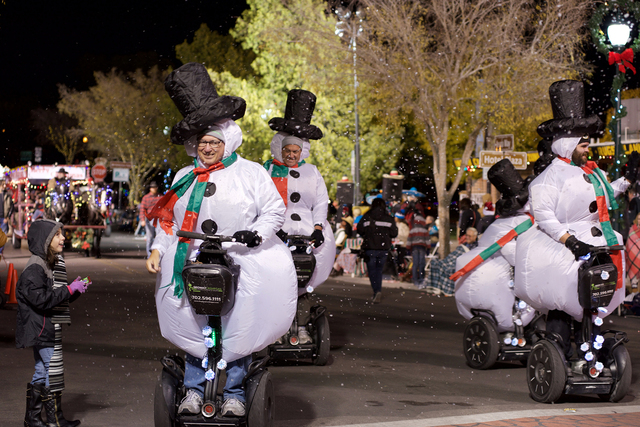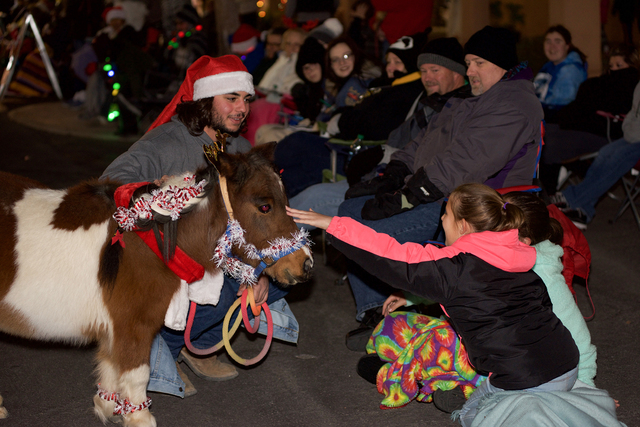 Boulder City's long-standing Christmas tradition, Santa's Electric Night Parade, will be held Saturday.
The parade is put on by the Boulder City Chamber of Commerce and features floats, bands, music, entertainment and a visit from special guests, Santa and Mrs. Claus. It is the capstone of the weekend's Christmas celebration.
"Santa's float has gone through a remodel and is brighter than ever before," said Jill Rowland-Lagan, CEO of Boulder City Chamber of Commerce. "Quite a few of the entries this year have music of some sort. Many did before, but there seems to be more this year."
This year's parade also features more entries than last year's. Rowland-Lagan said that there could be 98 entries, and last year there were 89.
The parade begins at 4:30 p.m. on Nevada Way near Wilbur Square Park. It will travel down Nevada Way toward Fifth Street and then continue to Avenue B. Rowland-Lagan said that it will last approximately one hour, giving people time to head to Lake Mead for the Parade of Lights at 6:30.
Each entry will be judged during the parade by category: individual adult, individual youth, religious organization, youth group, business, band/marching unit, community organization, motor/car group, dance unit, military/civil group, equestrian and family/club. Winners receive a certificate from the chamber as well as a gift certificate to a local chamber member business.
Rowland-Lagan also hopes the weather for the event will not disappoint.
"That can always make or break an outdoor event and good weather that day leads to a full day of fun activities and lots of happy little people with sugar plums dancing in their heads!" she said.
Prior to Santa's Electric Night Parade on Saturday are several other Christmas activities hosted by the chamber of commerce. The Christmas celebration for the weekend starts with tonight's Luminaria and Las Posadas, Friday's Christmas tree lighting at Frank Crowe Park, and Saturday's Santa's Picture Party from 11 a.m. to 2 p.m.
Contact reporter Celia Shortt Goodyear at cgoodyear@bouldercityreview.com or at 702-586-9401. Follow her on Twitter @csgoodyear.
If you go
What: Santa's Electric Night Parade
When: 4:30 p.m. Saturday
Where: Downtown Boulder City along Nevada Way to Fifth Street and Avenue B