Owner: Gun shows safe, 'family event'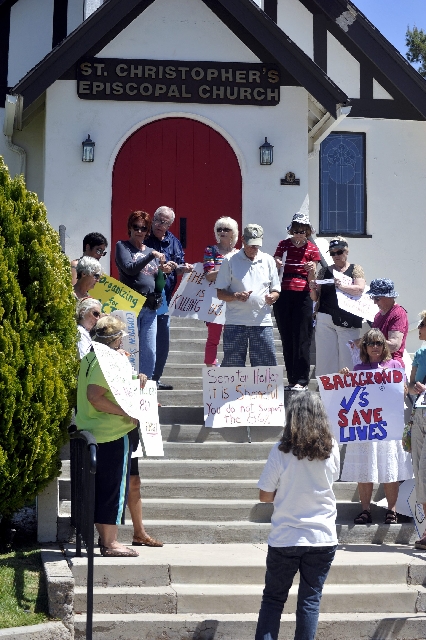 A small group gathered Saturday to protest the gun show scheduled for this weekend at the Boulder City Chamber of Commerce's annual Spring Jamboree.
About 20 people from Boulder City, Henderson and Las Vegas gathered in front of the Boulder City Recreation Department, where the Western Collectibles & Firearms Gun Show will be held. They then went to the steps of nearby St. Christopher's Episcopal Church.
The protesters chanted, "No BC gun shows," while holding signs that protested the gun show and urged Congress to pass gun-control legislation strengthening background checks for gun buyers.
Protesters took turns speaking about gun violence and reading the names of 67 children killed in America by gun violence in the months since the Dec. 14 shooting in Newtown, Conn.
Las Vegas resident Esther Sass held a sign with pictures of her brother-in-law's brother, Steven Ercolino, who was shot by a former co-worker in New York last year. One photo showed him lying in a pool of blood.
"He was no wimp," she said. "If his murderer came after him with a knife, he'd be alive."
Protest organizer and Boulder City resident Barbara Polk said the Chamber of Commerce's decision to invite a gun show to the Spring Jamboree is "inappropriate," and changes the focus of the longtime event.
"It's a commercial focus drawing people who are interested in guns, and that has not been the focus," she said.
Chamber CEO Jill Lagan said the gun show was solicited by the chamber in an effort to consolidate items such as antique guns, gun accessories and knives, which have been sold by various Spring Jamboree vendors in the past.
"If we're kind of going this direction … my feeling is it needed to be in a more enclosed environment," Lagan said in the April 18 Boulder City Review.
Despite Lagan's assurances that guns will not be allowed into the traditional Spring Jamboree areas, and acting Police Chief Bill Conger's statements that he anticipates a peaceful show, the chamber's decision is still being criticized.
Protester and Boulder City resident Myreen Aschenbach said she is concerned that someone could get a gun from the show and shoot it at Spring Jamboree.
And like Polk, she is concerned that the show will change Spring Jamboree.
"It might change the whole ambiance of Spring Jamboree, because people who go to gun shows are different from people who go to Spring Jamboree," she said.
Protester Teresa Crawford raised concerns about an accidental gun discharge in Boulder City.
"Accidental discharges happen at gun shows every weekend across the country," she said. "The chances of an accidental discharge happening in that building or in the parking lot are not zero."
Western Collectibles owner Bill Johnson said Monday he disagrees with the claims that gun shows are not a family event.
"Fathers and sons take their kids to gun shows and go with their families," he said.
Johnson said accidental discharges are rare, and he has never had an accidental discharge or any other incident in his 16 years of promoting gun shows.
Every gun in the show will be zip-tied to prevent it from firing, and everyone with a concealed carry permit, except for law enforcement, will be required to remove the clip from their gun before entering the show, Johnson said.
Two security guards during the day and three at night will staff the event, and police will do a walkthrough every hour.
"I'll tell you that if anyone steals a gun from the gun show they are in big trouble because stealing a gun is a federal offense," Johnson said. "And we'll prosecute them, and it won't be hard because the police department is across the street."
Johnson said background checks are required when firearms are purchased from a dealer at a gun show, addressing claims by some critics of this weekend's show that background checks are not required.
The background checks are performed on site, by the dealer calling an FBI hotline, he said.
"If a background check comes back denied or delayed, you're not getting a gun," he said.
Buying a shotgun from a private seller, in which case a photo ID has to be presented, or buying an antique firearm, do not require a background check.
About 70 booths at the show will be selling modern and antique firearms, Civil War memorabilia, custom knives, medical emergency supplies, bulletproof vests and other items, Johnson said.
The National Rifle Association will have a booth, distributing information for children about gun safety, Johnson said.
The protest did not receive any opposition Saturday, but after a video was posted on the Boulder City Review Facebook page, a few people commented on the post criticizing the protesters.
"This is ridiculous. The gun show will be inside and it will cost money to get into it. People who want to attend will go in. Those that don't do not have to. Get over it. It's a free country, unless these people get their way," local Dave Griffith wrote.