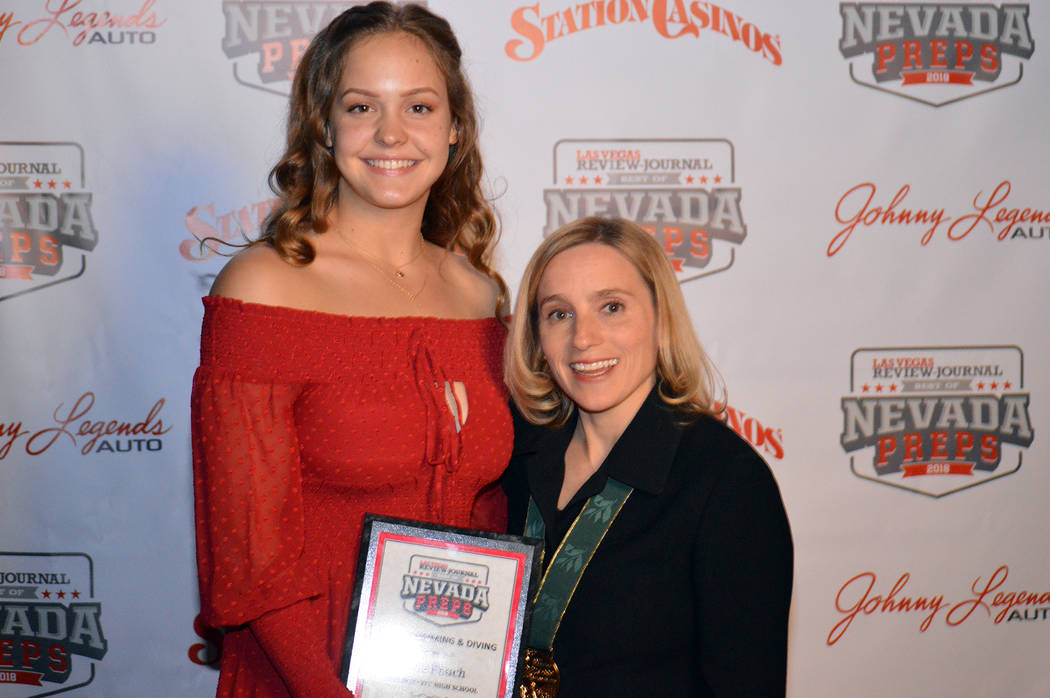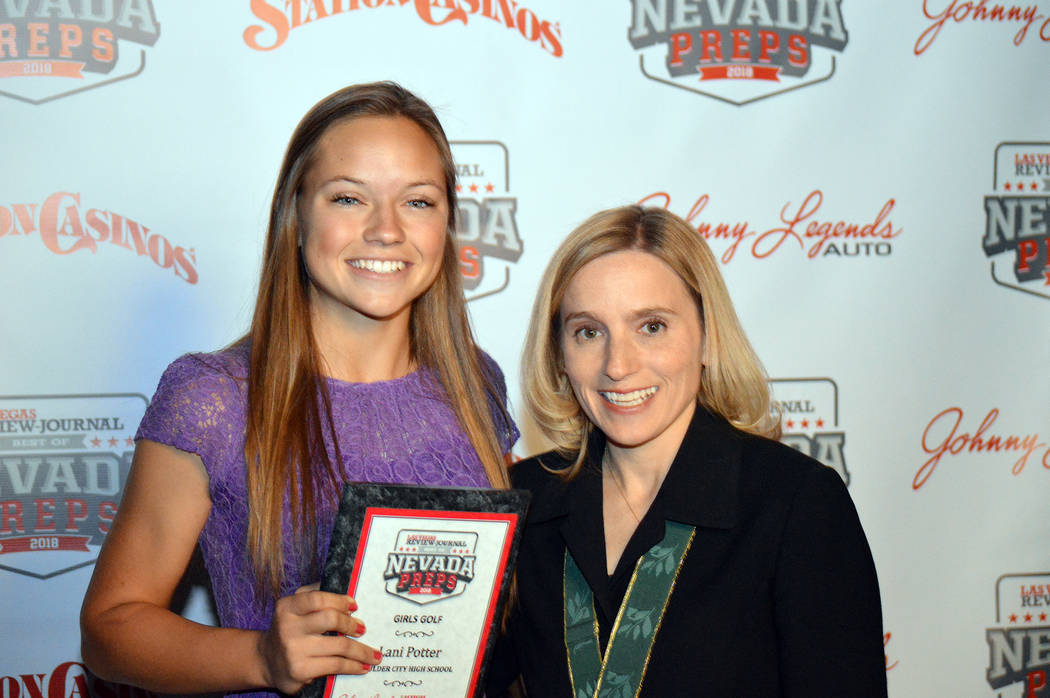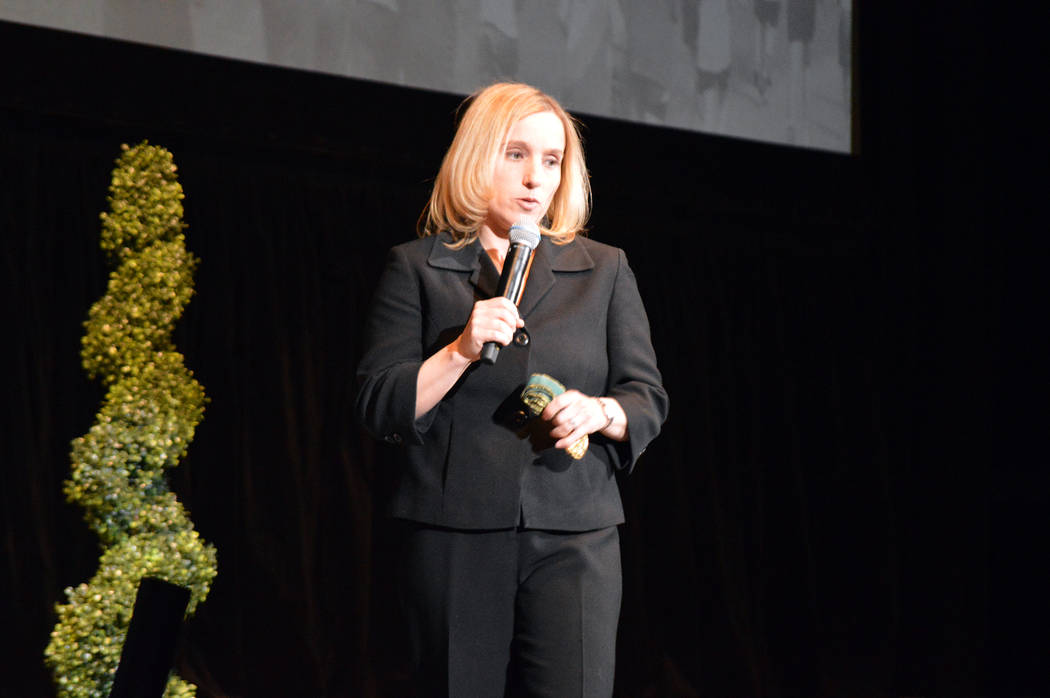 Two Boulder City athletes were named the best in their sports at the Best of Nevada Preps 2018 program Sunday, June 3.
Lani Potter, who graduated in May, was named the winner for girls golf, and junior Rose Pouch won for girls swimming and diving.
The Best of Nevada Preps, organized by the Las Vegas Review-Journal, is a program started three years ago that honors Nevada's high school athletes. It determines and honors the best of the 846 athletes in 24 sports at the 112 high schools throughout the state. The 2018 program was held at the Thomas & Mack Center at UNLV.
"It feels great accomplishing my goals," said Pouch at Sunday's program.
Pouch helped the girls high school swim team earn its sixth consecutive state championship as well as being named the regional swimmer of the year.
I'm always pushing myself to go higher," she said.
In her high school golf career, Potter was named the individual state champion twice and runner-up once.
"I think the reason it means so much to me is because it means so much to my parents," she said after being named the Nevada Preps 2018 winner. "I wouldn't be anywhere without them. They've supported me nonstop through absolutely everything."
She recently committed to play golf at South Dakota State University.
Olympic Gold medal gymnast Kerri Strug was the keynote speaker for Sunday's program, and she encouraged the athletes to be committed to their goals.
In 1996, Strug was part of the United States women's gymnastic team known as the Magnificent Seven. She is well-known for performing a vault while injured during the team competition at those games, which guaranteed that her team would win the first team gold medal for the United States.
Strug said she had wanted to be a gold medalist since she was 6 years old and that when she saw her hero, Mary Lou Retton, win gold at the 1984 Olympic games, she imagined what she would say when she won gold.
"When you truly believe in yourself and block out every distraction … you can do just about anything," she told the athletes.
Strug encouraged them to implement four core values: doing the right thing, trusting in teamwork, being bold and authoritative leaders, and perseverance.
"The character traits of an athlete will never go away," she said. "Become world class in every opportunity, not just sports."
Several other Boulder City athletes were also honored Sunday night.
Swimmer A.J. Pouch, a junior, was runner-up for boys swimming and diving, and volleyball player Maggie Roe, a 2018 graduate, was named runner-up for girls volleyball. Both were also named to the Nevada Prep 2018 first team for their sports.
The Las Vegas Review-Journal is the Boulder City Review's parent company.
Contact reporter Celia Shortt Goodyear at cgoodyear@bouldercityreview.com or at 702-586-9401. Follow her on Twitter @csgoodyear.
Boulder City High School athletes honored by the Best of Nevada Preps 2018
Blake Schaper, second team, boys golf
Jackson Wright, honorable mention, boys golf
Connor Mikkelson, second team, boys tennis
Breton Erlanger, honorable mention, boys tennis
Boen Huxford, honorable mention, boys tennis
Preston Jorgensen, honorable mention, boys tennis
Bailey Bennett-Jordan, second team, softball
Lily Osman, honorable mention, softball
Aimee Garcia, first team, girls swimming and diving
Olivia Mikkelson, first team, girls tennis
Natalie Bowman, honorable mention, girls tennis
Katelyn Fox, honorable mention, girls tennis
Kamry Bailey, honorable mention, girls volleyball
Blake Schaper, second team, boys golf
Jackson Wright, honorable mention, boys golf
Connor Mikkelson, second team, boys tennis
Breton Erlanger, honorable mention, boys tennis
Boen Huxford, honorable mention, boys tennis
Preston Jorgensen, honorable mention, boys tennis
Bailey Bennett-Jordan, second team, softball
Lily Osman, honorable mention, softball
Aimee Garcia, first team, girls swimming and diving
Olivia Mikkelson, first team, girls tennis
Natalie Bowman, honorable mention, girls tennis
Katelyn Fox, honorable mention, girls tennis
Kamry Bailey, honorable mention, girls volleyball