Open for business — sorta; restrictions pave road to recovery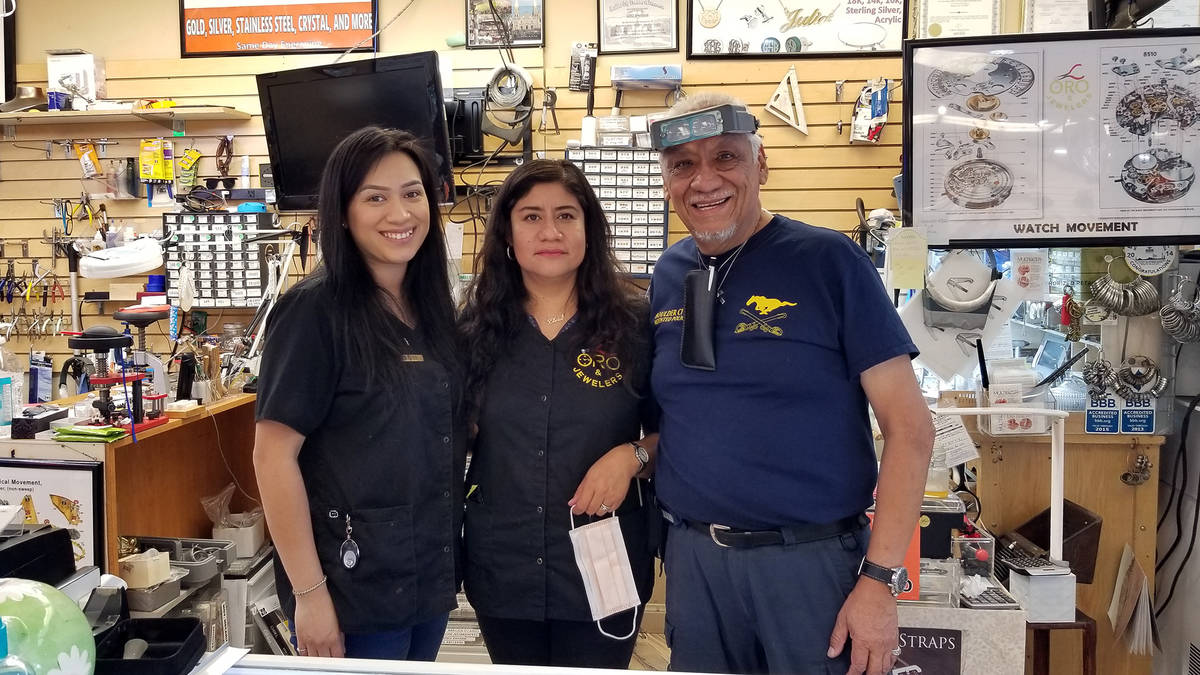 The road to recovery has started for local businesses, albeit with restrictions and limited operations.
On April 29, Gov. Steve Sisolak eased restrictions on Nevada's retail businesses, allowing some to reopen Saturday, May 1, for curbside service or delivery.
Ooh La La Pet Boutique owner Candy Santana-Moncayo said she is "happy" about reopening even with having to do grooming curbside.
"It's going to be a different situation. … I'm glad to be back to work," she said.
Local jeweler Frank Santoyo said he is "excited" to reopen Oro Jewelers with regular business hours. He said the store will be offering curbside service for jewelry repair at a customer's request as well as letting people inside on a limited basis.
"We believe we can let our customers … come inside the store since usually we do not have more than five people, including our staff in the 1,000-square-foot business customer area," Santoyo said.
He said his staff will be disinfecting the store's shelves often and will be offering hand sanitizer and masks to all customers.
"We will encourage customers without a protective (mask) to take one to protect everybody," he added.
Boulder City Florist is now open for no-contact delivery and curbside pickup, said owner Kris Thompson.
"We're scheduling pickups at the door … every half hour, so we don't have a lot of people at our door at once," she said.
Thompson said after the closures began, she could not buy flowers from any of her wholesalers and growers.
"We can finally get flowers," she said. "All our wholesalers and growers closed down. They started opening up, which means we can serve our customers. This is Mother's Day (weekend). This is our biggest day of the year. It pays to be open right now."
As an essential business because of her inventory of home-improvement items, Bridget O'Neill, of Bloom, has been operating throughout the closure but on a much more limited basis offering online sales and curbside pickup.
With three locations — in Boulder City, Henderson and Las Vegas — to support, it's been a challenge.
"It crushed us," she said. "The curbside sales have been a blessing, but a lot of work."
O'Neill said the sales represent only about a quarter of her previous business, but is "better than nothing" and she is eager to resume normal operations.
In the past few weeks, she added Facebook live sales of furniture and decorative items. O'Neill said her customers have enjoyed the experience so much they have asked her to continue once COVID-19 restrictions are lifted.
She and her daughter, Madison O'Neill, are manning the Boulder City location full time, and staff members are working part-time at the other sites.
Despite being excited to reopen his business, Santoyo said Sisolak's new rules do not work for all businesses.
Santoyo said his shop was open three days a week throughout the COVID-19 closure for firearm sales, but there was "basically no business" since people were staying home. He said he used the time to clean and fix the equipment as well as clean the entire store.
"We hope we can go back to normal ASAP since, like most of small business, our bills are accumulating and the (Small Business Administration) finance help has not come yet," he added.
But not all businesses are pleased with the phased reopening restrictions.
"This bone that they've tossed us as an appetizer won't affect my operations," said Glena Dunn, owner of Back in Thyme Vintage Design on Wyoming Street.
As a boutique with handcrafted items, she said her customers want a complete shopping experience where they will be greeted by name, if possible, with "inviting aromas, inspiring displays and tempting new arrivals. They want a real 'visit' to a favorite shop."
Dunn said she doesn't want to "lower the bar" and hand purchases out the door in a bag.
"We will wait to embrace the shopping experience we enjoyed so much together before all this happened rather than settle for less."
In the meantime, Dunn said she is keeping busy redesigning her windows and displays inside the shop.
She said she sees the curbside options as a "gesture indicating that it won't be much longer," adding that she is hopeful the move didn't come too late for small shops to survive.
She also has not yet received any governmental aid to help with expenses and said she has been paying her bills by selling personal items and "precious metal jewelry."
Contact reporter Celia Shortt Goodyear at cgoodyear@bouldercityreview.com or at 702-586-9401. Follow her on Twitter @csgoodyear.
Hali Bernstein Saylor is editor of the Boulder City Review. She can be reached at hsaylor@bouldercityreview.com or at 702-586-9523. Follow @HalisComment on Twitter.