No horsin' around: Mounted unit's success prompts program's growth
November 14, 2018 - 4:55 pm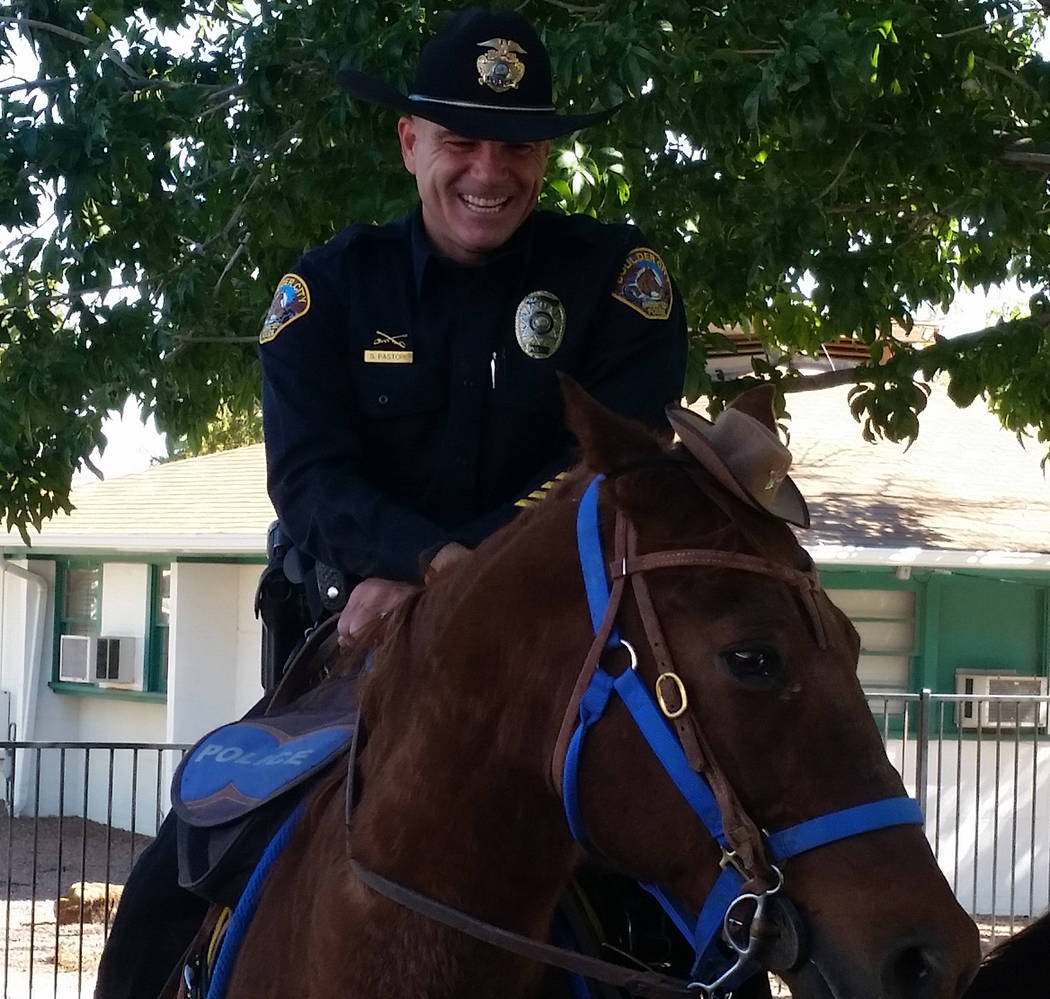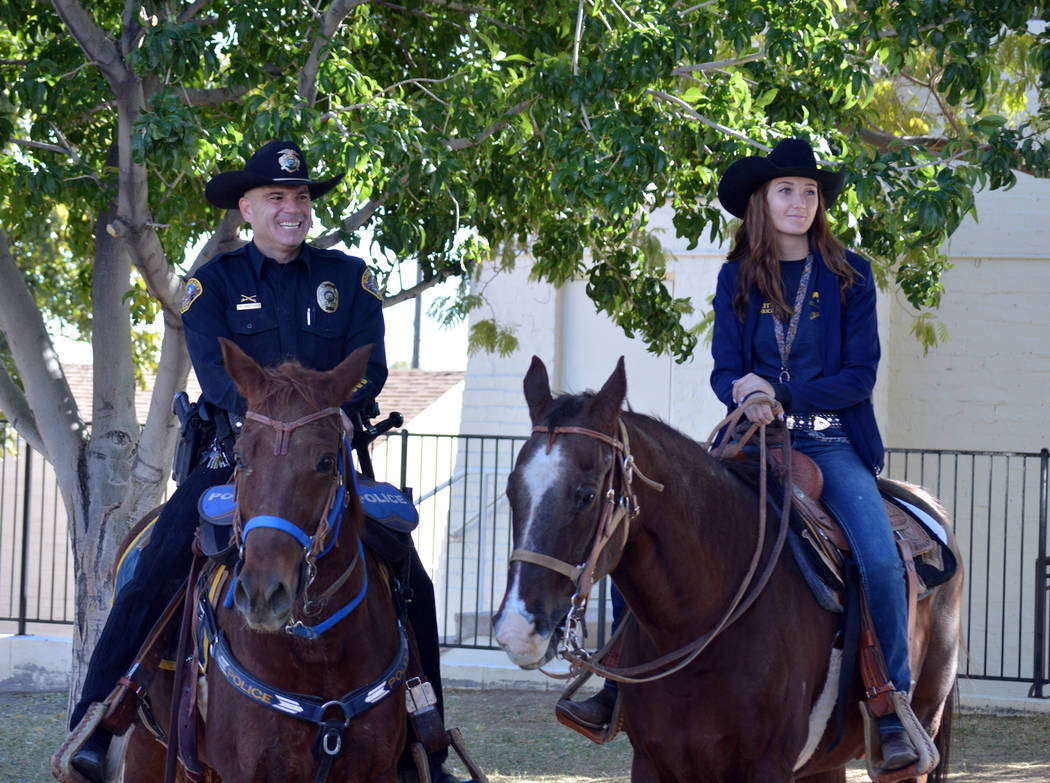 More than a year after its inception, Boulder City's mounted unit is going strong and has become a recognizable part of the community.
"It's always been my dream to be a mounted officer. … It combines a passion with always wanting to be a police officer with a love of horses," said Boulder City police's sole mounted officer, Scott Pastore. "It's a home run. I appreciate the opportunity."
The police department debuted its mounted unit in July 2017 with Pastore at the helm. He had been working for eight years to bring it back.
Since then, he and his horse, Odie, have become ingrained in the community by being a part of local events and school presentations and getting to know the town's residents.
"It's been great," Pastore said. "We've been involved in every event in Boulder City. We've had a great response from people when they see me and the mounted posse."
The mounted posse is a volunteer organization that helps the mounted unit by accompanying Pastore and Odie at events.
"The volunteers who work with officer Scott Pastore are wonderful folks," said Boulder City Police Chief Tim Shea. "They have far surpassed my expectations. Their enthusiasm and love of what they are doing is evident."
Boosts community relations
"It's a great bridge for community relations," he said.
"We've had amazing feedback from the community regarding the mounted unit," Shea said. "Children are especially drawn to horses. So when kids are meeting officers with a positive experience, it helps set the tone for a great relationship as they become teens and adults."
Shea has worked with mounted units before and said they can help build positive relationships with law enforcement.
"Some years back there was a series of tense negative interactions in Seattle over some recent police shootings," he said. "During one particularly difficult situation, Seattle's mounted unit was deployed. An angry protester was walking by holding a little girl by the hand. Just after she walked by, she stopped, turned around and approached the officers. Instead of a continuation of barbed, angry complaints the officers were expecting, the lady asked, 'Can my little girl pet the horse? Of course.' As she held the child while she was petting the horse's nose, she was talking with the mounted officer. Within a couple of minutes, several others were doing the same thing. It was a moment where we found common ground and opened discussion and understanding. I felt the experience rebuilt a bridge that had been destroyed between the police and citizens."
Plans to expand
Pastore has plans to grow Boulder City's mounted unit and its success prompted him to begin working with a second horse, Bowie.
Unfortunately, that came to an abrupt end Tuesday when Bowie died unexpectedly.
Kyandra Jeannotte of Boulder City High School's rodeo team, his riding partner for the rodeo, appearances and training, was practicing for this weekend's rodeo grand entry. According to Pastore, Jeannotte was riding him in the arena, carrying the Nevada flag and, after the national anthem was sung, Bowie sat down so she could "dismount safely and then stood back up and suffered a heart attack."
"He passed in glory. Riding in the arena, carrying the flag and waiting until the national anthem was finished," Pastore said.
He said Jeannotte was devastated as was his wife, Angela, who "had an amazing bond" with Bowie.
Pastore said Bowie, a thoroughbred and former race horse, was originally supposed to be his horse for the mounted unit, but when Odie came along he did so well that he became the main horse for the unit. He said only about one of every 10 to 20 horses meets the basic requirements for a mounted unit.
He said he also hopes to add officers to the mounted unit so it can do more. The Police Department put him through training so he can now train other officers.
He said the Nevada Department of Wildlife has reached out, and he will put four game wardens through the program.
Pastore said that in addition to events in town, he and Odie have been asked to help the Metropolitan Police Department in Las Vegas with different events. They've patrolled the residential area around Alta and Rancho drives, participated in National Night Out at Meadows Mall and helped with New Year's Eve.
Contact reporter Celia Shortt Goodyear at cgoodyear@bouldercityreview.com or at 702-586-9401. Follow her on Twitter @csgoodyear.