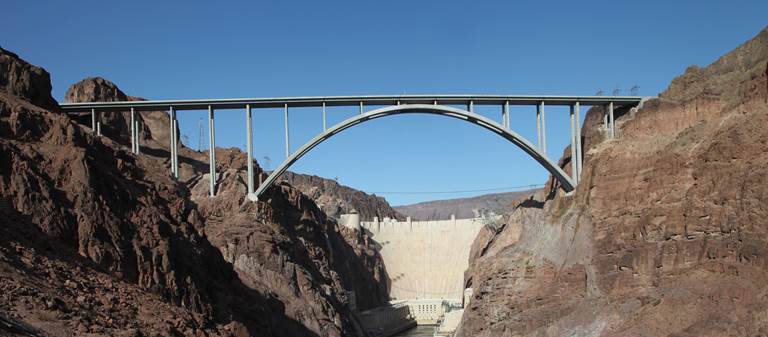 Survey ranks Nevada bridges nation's best for fifth year
The Nevada Department of Transportation's bridges were ranked the nation's best for the fifth consecutive year. The American Road and Transportation Builders Association recently released an analysis of the country's bridges, showing that only 1.6 percent of Nevada's nearly 2,000 public bridges are structurally deficient, earning it the top ranking nationwide. The national average is 9 percent.
"We utilize federal and state transportation funding to make important enhancements to keep Nevada bridges the nation's best, and, most importantly, to keep Nevada motorists safe on our bridges," said NDOT Director Rudy Malfabon. "Keeping everyone safe and connected on Nevada's roads is our primary focus."
The term "structurally deficient" describes a bridge in need of some rehabilitation or potential replacement. It doesn't necessarily mean it's unsafe or dangerous. Rather, these bridges are due for corrective measures; a vehicle weight restriction may be posted as a result.
NDOT inspects all bridges statewide, including city- and county-maintained structures, every two years, regardless of condition.
State veterans home given high rating by national publication
The Nevada State Veterans Home in Boulder City was recently given a five-star rating in U.S. News & World Report's Best Nursing Homes ratings.
"In any health care setting, particularly with skilled care, earning top ratings and awards is not easy," said Gov. Brian Sandoval. "Earning the U.S. News & World Report's 5-Star, Top Performer distinction demonstrates the exceptional commitment and care of the staff and administration at the Nevada State Veterans Home. I'm very proud of the skill and talent of the care providers at our state veterans facility. Our veterans deserve no less."
The five-star rating is based on health inspections, nurse staffing and measures of medical quality of care.
Additionally, the American College of Health Care Administrators once again identified the veterans home as one of the nation's top performers.
Each year, the organization recognizes the leaders of America's top-performing skilled nursing facilities through its Eli Pick Facility Leadership Award. The award is a distinction of significance, with only 11 percent of facilities nationwide qualifying. The award is determined by a review of quality indicators or measures, occupancy and three years of survey data.
The award will be presented at the group's 52nd annual convention in April in Orlando, Florida.
Park service closes two trails for summer
The National Park Service is closing several trails in the Lake Mead National Recreation area for the summer.
Goldstrike Canyon Trail will close April 15 through Sept. 30, and Arizona Hot Spring Trail will close May 15 through Sept. 30.
The earlier closure for Goldstrike Trail is required because construction for Interstate 11 will shift traffic onto U.S. Highway 93. Access to the trail via U.S. 93 will be closed, starting April 15. Once construction is complete, the annual summer closure will be in effect through Sept. 30.
Park management began seasonal closures on the two trails four years ago after public safety incidents significantly increased.
Goldstrike Canyon is a strenuous hike, requiring bouldering and climbing. It leads to Goldstrike and Nevada hot springs and the Colorado River. The area known as White Rock Canyon has multiple trails leading to the Arizona Hot Spring, Liberty Bell Arch and Colorado River. During the closure period, visitors may still access the popular hot springs via the Colorado River. Other less strenuous trails through the park will remain open.
Maps of the closure areas can be viewed at http://bit.ly/2IYKWOJ.
Police warn about telephone fraud
The Boulder City Police Department is warning residents that telephone fraud remains a problem in the community.
According to Police Chief Tim Shea, residents should be leery of calls from those trying to imitate a grandchild or lawyer representing a grandchild. The callers ask for money to be sent immediately, often though services such as Western Union and MoneyGram.
The police department recommends asking questions that would be hard for an imposter to answer correctly, such as the name of a pet or date of their mother's birthday, to confirm identity before sending any money. Additionally, the department says it is a good idea to contact the person who the caller claims to be directly.